The Jazz Journalists Association, in advance of its annual June awards program has announced the recipients of its 20th annual Jazz Heroes award. The significance of this award must not be overlooked on the overall canvas of the JJA's awards to jazz practitioners, producers and writers. JJA Jazz Heroes are often the catalysts of a particular movement or community entity, or an actual jazz practitioner who has given selflessly of him or herself to the uplift of jazz in their community, or in some cases they are the outright non-performing backbones of their given home jazz communities. With that in mind, in addition to introducing you to this year's Jazz Heroes we asked JJA president and driving force Howard Mandel to speak to the absolute necessity of these Jazz Hero citations. But first, here's a look at this year's Jazz Heroes recipients.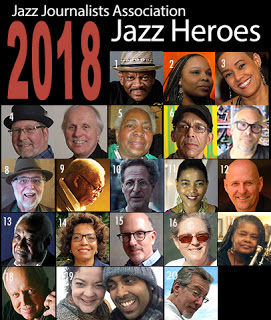 1. Atlanta: Dr. Dwight Andrews
2. Baltimore: Lea Gilmore
3. Chicago: Margaret Murphy-Webb
4. Detroit: Jim Gallert and Lars Bjorn
5. Denver: Charleszine "Terry" Nelson
6. Hartford: Maurice Robertson
7. Miami: Robert D. Bielecki
8. Minneapolis-St.Paul: Larry Englund
9. New Orleans: Ellis Marsalis Jr.
10. New York City: Bruce Lee Gallanter
11. Philadelphia: Rhenda Fearrington
12. Tucson: Pete Swan
13. Pittsburgh: Roger Humphries
14. Portland OR: Marcia K. Hocker
15. San Diego: Daniel Atkinson
16. Seattle: Karen Caropepe
17. SF Bay Area: Angela Wellman
18. St. Louis: Jim Widner
19. Tallahassee FL: Therese & Christopher Seepersaud
20. Washington D.C.: Larry Appelbaum
When we first initiated Awards for "activists, advocates, altruists, aiders and abettors of jazz" the JJA's idea was that there were a lot of under-appreciated people who support jazz in ways that are neither necessarily music-making nor journalism. At that time the Jazz Foundation had recently been organized and it seemed clear that Dr. Billy Taylor and Herb Stouffer had done something significant and selfless in order to try to provide some health care and other safety net benefits to musicians who needed them. The establishment by Dr. Frank Forte (also a guitarist) of the Dizzy Gillespie Cancer Center was really the impetus — the JJA felt that Center should be acknowledged, and attention of the public directed to the health care issues affecting even well-known jazz stars.
The other underlying goal of the Jazz Heroes initiative has been to provide local communities with a news peg in order to gain local coverage by mainstream publications and media platforms during Jazz Appreciation Month. The Smithsonian's JAM program did not have activities extending to communities across the US beyond offering an online registry of April jazz activities to whoever wanted to post them. International Jazz Day also did not provide actions for local jazz communities to take. The JJA (it was our web administrator's idea) set up JazzApril, trying to connect JAM and IJD to US localities with a broad range of inexpensive, DIY media-activation strategies. These strategies are still posted for anyone to see and use at http://www.jazzapril.com/ although the JJA has suspended promoting JazzApril, since the nomenclature seemed to confuse groups trying to celebrate JAM and IJD, and neither the Smithsonian nor the Monk Institute reciprocated the JJA's efforts.
We still think local jazz community activists can get local newspaper, radio and sometimes tv coverage highlighting the "human interest stories" of community members (neighbors) who devote themselves to jazz. The longterm goal of the JJA as well as all other jazz-connected entities is to grow the jazz audience. We can only do that if we put "jazz" in front of people who aren't already IN that audience. Human interest stories — profiles of local individuals – may attract interest where "jazz" may not. The JJA is eager to help local jazz fans learn how to create situations OTHER THAN MUSIC PERFORMANCES that might gain coverage, and to learn how to connect with mainstream journalists or use media themselves to promote their programs.
Nominations for Jazz Heroes are requested from JJA members and a few unaffiliated collaborators every January and February, and are mulled over by the JJA board and various committee members. Nominators must be able and willing to follow through on what it takes to make these Awards happen: providing bios that speak to the nominee's "heroism," photos, contact numbers and organizing presentations, if possible at free events, if possible getting official proclamations honoring the Heroes from local politicians. Nominees who are named "Heroes" in a given year are kept on file for later consideration. With rare exceptions, we don't give posthumous Awards or give Awards to organizations. We look for people who our presenters are excited about, and we are intent on showing that Jazz Heroes represent all demographic categories of Americans. I'm very proud of the Heroes we've recognized and celebrated since 2001.
For more on the Jazz Journalists Association and its Jazz Heroes awards, please visit here:
http://www.jjajazzawards.org/p/2018-jazz-heroes.html