Pittsburgh's own soulful baritone, Allan Harris, has led a rich and varied career. No stranger to accepting vocal challenges, Allan has embarked on all manner of projects through the throughly productive artistic partnership he has established with his wife and manager Pat Harris – ranging from numerous iterations of the Great American Songbook (including putting a jazz flavor on the R&B chapters in that endless book), to his deep exploration of the still little-known history of the Black Cowboy in America through his Cross That River project, which has morphed from a recording to a stage production. For his latest challenge Allan has just released a tribute to the late, great jazz vocalese pioneer Eddie Jefferson. On Tuesday, June 12th he will play that project at the DC JazzFest on an evening at the Hamilton in downtown DC (for complete DC JazzFest information visit: www.dcjazzfest.org. Clearly some questions were in order for the intrepid Allan Harris.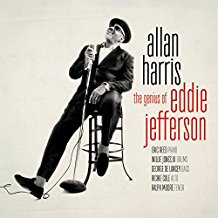 Given your many projects, notably including your black cowboy saga "Cross That River," which has morphed from recording project to stage play, what led to your deciding to fete the legacy of Eddie Jefferson?
Having studied and performed the music of a myriad of America's well known crooners and stylists from Bing Crosby, Nat Cole, Billy Eckstine,Tony Bennett, Frank Sinatra even Brooke Benton and Arthur Prysock, I felt that I had more than mined the American Songbook. Plus, now that I am entering a more seasoned stage of my career as a story teller, I felt like my growth and vocal prowess was reaching a plateau bordering on stagnation. In other words to use the old adage, 'been there done that!' Delving into the Eddie Jefferson Songbook added an exciting new dimension to my lyrical and melodic knowledge as a performing vocalist, especially in the arena of Jazz Vocalese.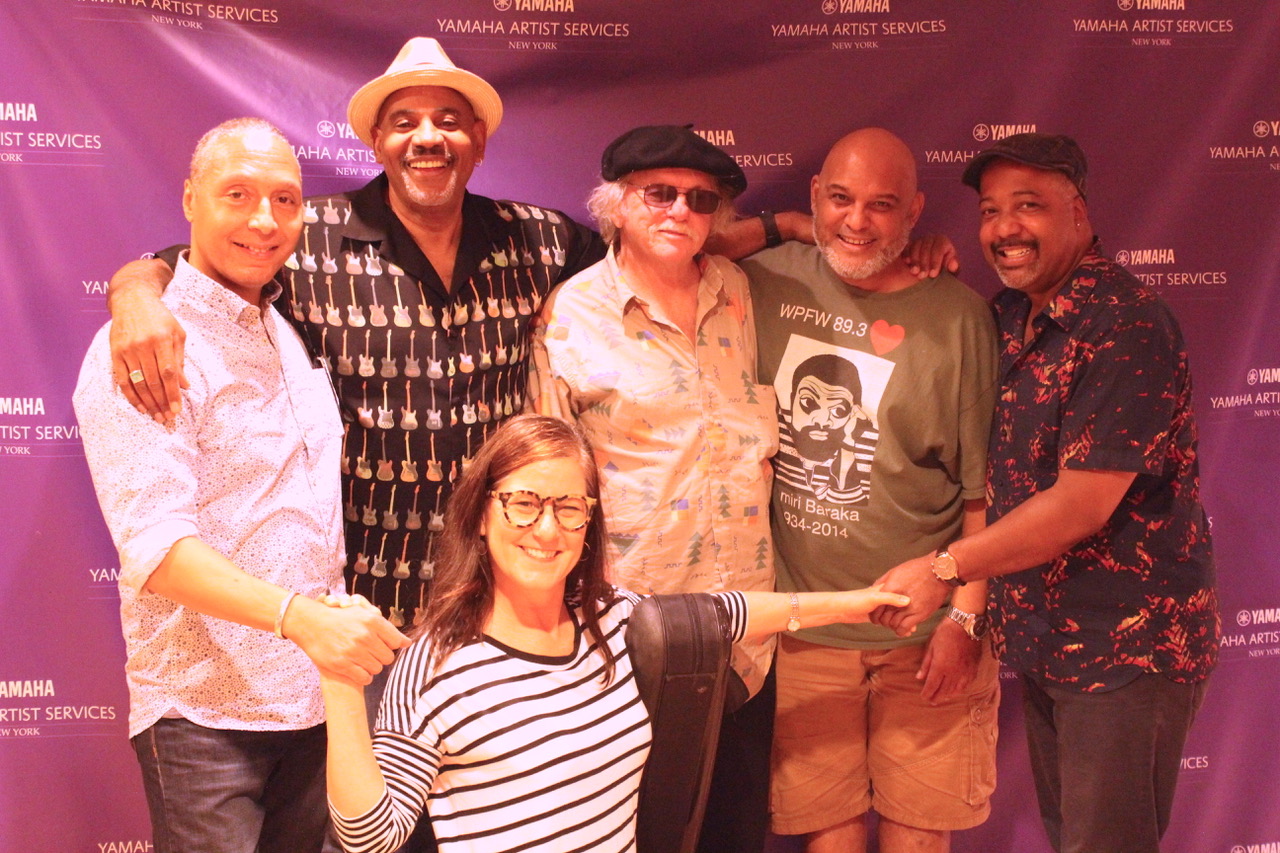 Eddie Jefferson recording studio scene: l to r Ralph Moore, Allan & Pat Harris, Richie Cole, producer Brian Bacchus, Eric Reed
What is your sense of the art of vocalese, and is there some sense that Eddie Jefferson has never really gotten his due for that genre?
To pair one's prose and poetry to those who have put their stamp on some of the greatest solo's in the jazz cannon takes a lyricist who not only understands and feels what the soloist is saying, but also knows how to marry their words to the story without losing the composer's vision of the tune. Eddie Jefferson, as I now have come to understand, was a genius in staying true to the vision of these giants of Jazz. Unfortunately I allowed my prejudice of his not-so-smooth sounding vocals over-shadow his unbelievably hip and precise stories. Eddie Jefferson was an unsung man of letters.
Just curious, but the song that really put Eddie Jefferson on the map was "Moody's Mood For Love," his vocalization of James Moody's instrumental approach to the standard "I'm in the Mood for Love," a tune that for a time was incorrectly credited to King Pleasure, who actually stole the piece from Eddie. Given that touchstone in Eddie's career, what made you determine not to address "Moody's Mood" on this record?
Having performed his landmark tune Moody's Mood For Love often enough to deliver it while standing on my head, I felt I had no need to revisit it again since I had included it on my last recording, Nobody's Gonna Love You Better. I wanted to stretch my creative membrane and continue to grow as an artist which is why I ventured into the camp of Eddie Jefferson.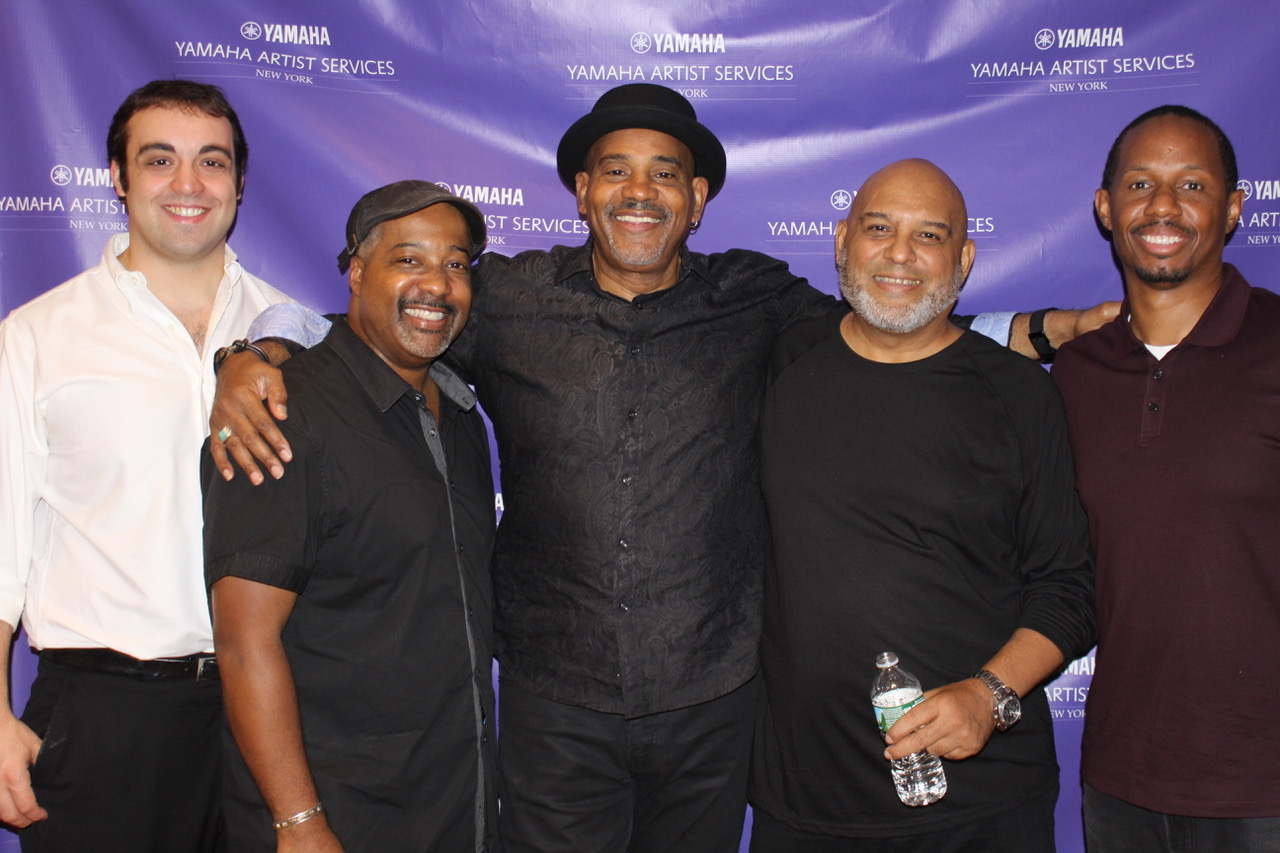 Allan Harris and Brian Bacchus in the studio with Eric Reed and Willie Jones 111
How did you and producer Brian Bacchus go about selecting the material for "The Genius of Eddie Jefferson"?
I had such an advantage in choosing the songs for this project. First off my producer Brian Bacchus is a huge Eddie Jefferson fan and choosing pianist Eric Reed to arrange and play on the session was a no-brainer because we had performed a concert of Jefferson's music years ago in the Appel Room at Jazz at Lincoln Center. Brian, Eric and I had several long and passionate discussions on Skype about choosing the songs…everyone had their favorites. The songs that ended up on the recording were all songs that we felt strongly about doing. The last one, Waltz For A Rainy Bebop Evening was one that Brian really wanted me to do. This tune was composed by Eddie Jefferson's long standing sax player and friend Richie Cole. It was added during the last moments of the session, and Eric Reed brilliantly put an impromptu arrangement on it and it has now become one of my favorites on the project. I have worked with Brian on my last two projects, Black Bar Jukebox and Nobody's Gonna Love You Better, so we have a groove in the studio which helped me ease my way into the swinging yet intricate book of Eddie Jefferson.
Talk about the musicians you worked with to realize this Eddie Jefferson project and why you felt they were apropos for this record.
I knew that the only pianist I wanted to do this project with was Eric Reed. We recorded Love Came, the Songs of Strayhorn together years ago and we've been long-time friends, so I knew he had a passion for Eddie Jefferson's music. I asked him to choose the rhythm section that he wanted to work with and he brought in Willie Jones, III who I have long wanted to sing with and a bassist I didn't know named George DeLancey who's groove reminded me of Ray Brown, who I recorded with on my first album, It's A Wonderful World. Eric also did the arrangements and we all agreed we needed Richie Cole on alto and Ralph Moore on tenor. Ralph has recorded with everyone from Oscar Peterson to Freddie Hubbard and he brought his own flavor to some of the tunes.
What can folks expect when you bring the project to the Hamilton Live in June for your first DC JazzFest appearance?
When I come to the Hamilton as part of the DC Jazz Festival this June, I intend to come in swinging hard with the help of pianist Orrin Evans, drummer Shirazette Tinnin, and bassist Nimrod Speaks. Of course I will not be straying too far from those landmark sounds and grooves that fans of Eddie Jefferson have come to know and love. But bear in mind even though the tunes will stay true to the flavor that Eddie has wonderfully put his stamp on, I will always let my audience see that there still is Allan Harris under this wonderful blanket of creative swing that the genius, Eddie Jefferson, laid down for us to listen, groove and swing to!
https://youtube/U3qGYjMpXA0 f