In light of NEA Jazz Master saxophonist-composer-bandleader Donald Harrison's shocking heart attack last week while in Hawaii playing a festival, and (thank goodness!) his ongoing recovery, I'm re-posting an Independent Ear piece from 2009.  Our prayers and good vibrations for Donald's complete recovery remain ongoing, however he did respond quite positively to a message I sent him and appears to be on the road to recovery.  For some who may see Donald referred to as Big Chief Donald Harrison, there may not be a real sense of where that "Big Chief" sobriquet arrived or was bestowed. Read on…  FYI the annual Gnaoua Festival in Essaouira, Morocco takes place the weekend of June 23rd.  For complete information on the 2023 edition visit www.festival-gnaoua.net.  And – as an old friend used to say in closing his radio program, "Good Lord willing and the creek don't rise…" you can catch Big Chief Donald Harrison at the 19th annual DC Jazz Festival on Labor Day Weekend (9/2-3 at The Wharf.
Our April 2009 installment of The Independent Ear detailed a then-forthcoming project to take Donald Harrison's Congo Nation to Morocco for the 12th annual Gnaoua & World Music Festival.  Supported by a grant from USArtists International, the project which brought together Harrison's Mardi Gras Indian (or Black Indian as he would likely prefer) traditions in collaboration with ensembles from the rich Gnaoua (or Gnawa) black Moroccan traditions (read more background on both in the April 2009 edition) came together beautifully during the recent festival, the weekend of June 25-28 in the lovely Moroccan seaside town of Essaouira on the shores of the Atlantic.  There are hopeful signs that a project is in the works to reverse the equation and bring a Gnawa ensemble to New Orleans for the 2010 New Orleans Jazz & Heritage Festival and a second collaboration with Donald Harrison's Congo Nation.  Stay tuned…  In the meantime, here's what happened in Essaouira last month:
Through a grant from USArtists International that was arranged via Jason Patterson's not-for-profit Jazz Centennial organization (Jason is the proprietor of New Orleans' leading jazz club Snug Harbor) we facilitated a historic collaboration with deep ancestral roots between Donald Harrison's Congo Nation and the master Gnaoua musicians of Morocco (or Gnawa as it is spelled in some references; as died-in-the-wool Africanist and frequent Gnawa collaborator, NEA Jazz Master Randy Weston has been known to chuckle, in Africa there are often multiple spellings of the same word, term or title).  The event was the 12th annual Gnaoua & World Music Festival (www.festival-gnaoua.net) June 25-28, 2009 in the seaside town of Essaouira, Morocco.  Each June that idyllic, tranquil town of 70,000 inhabitants is transformed by hundreds of thousands of festival goers who descend on the seaside for this unique free festival.  One interesting sidebar: the festival is produced by the A3 organization based in Casablanca — an all-woman production company!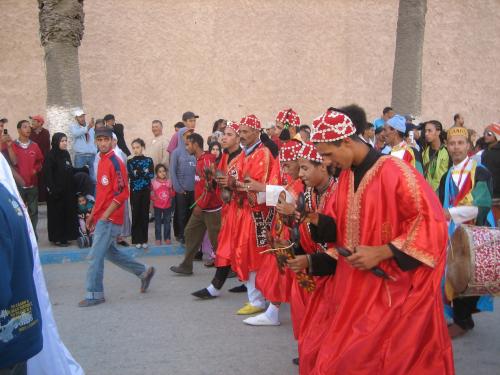 The opening of the Gnaoua & World Music Festival includes a grand parade of Gnawa ensembles through town which was the first of many epiphanies for Donald Harrison, who found this grand processional uncannily reminiscent of Black Indian and Second Line parades in New Orleans.
The Gnaoua & World Music Festival plays two massive outdoor plaza-stages; the most vibrant is on Moulay Hassan Square adjacent to the town's bustling fishing boat docks.  Additionally the festival has a lively beachside stage that hosts all manner of deejay-powered electronica and world music hook-ups.  After the action concludes on the three outdoor stages, at approximately midnight or so, it moves indoors to two (ticketed) spaces which are converted to club settings for jams that run deep into the night.  Congo Nation arrived in Essaouira the Monday prior to the festival's Thursday evening kick-off to necessitate what turned out to be congenial communal rehearsals with the Gnawa and to get acclimated.  Essaouira has a colorful history, having hosted the filming of Orson Welles' version of Othello (there is an Orson Welles statue and square just off the medina or old city).  Additionally such counter-culture types as Jimi Hendrix, Jimmy Page, and members of the Rolling Stones among others found the town to be a congenial 60s-70s era vacation haven.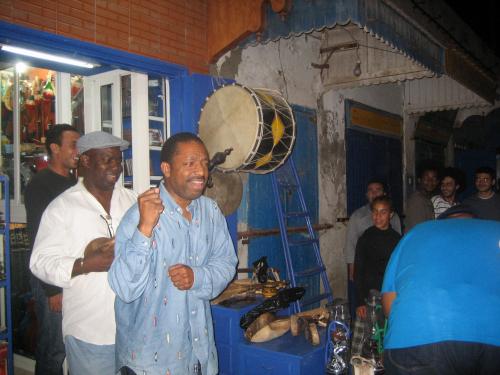 One evening after one of our many communal dinners Donald Harrison, Congo Nation guitarist Detroit Brooks (blue cap), percussionist Gerald French (back turned in blue shirt) and other members of the band struck up an impromptu New Orleans rhythm & chant at a music store across the street from the restaurant; needless to say they soon drew a delighted and curious crowd of Moroccan onlookers with their organic Crescent City groove.  This impromptu stop included several instrument purchases; during the festival Essaouira also morphs into a fascinating retail haven.
After the revelations of Thursday evening's opening festival processional (see first photo) had time to marinate with Congo Nation, Friday night's first scheduled festival gig couldn't arrive soon enough.  The first of their two performances was a midnight hit Friday night at one of the after-hours club spaces, Chez Kebir.  This was particularly apopos for Jason & Sylvia Patterson, serving as Congo Nation's road managers for the journey, since they're diehard club people.  Any trip to Africa is bound to be full of surprises and this night was no exception.  On their way to the club Congo Nation assumed they would hit with the Gnawa ensemble they'd been rehearsing with.  Instead this was slated as a real deal jam as they were paired instead with musicians they'd never met, a Gnawa ensemble from Agadir, a city down the coast from Essaouira.  The impromptu nature of this jam actually heightened the deeply spiritual aspect of the Congo Nation/Gnawa collaboration.
Chez Kebir, with its thick stone walls and vaulted Moroccan archways, proved to be a natural acoustic treasure once the sound reinforcement issues were ironed out.  As Congo Nation checked sound Suzan and I received separate breathless text messages from our daughters that Michael Jackson had suffered his fatal heart attack (note: there's a 7-hour time difference between the west coast and Morocco).  We spread the shocking news to Congo Nation and befitting the art of an improviser, Donald quickly put together a Michael Jackson medley for the band's opening piece.  After their short opening set the Gnawa followed with a short set, then came the first of the two grand collaborations.  Sometimes such efforts at bringing different cultures together fail because one of the proposed partners defers too much to the other, or dominates the proceedings.  Congo Nation, totally respectful as guests, were able to comfortably lock into the Gnawa groove and inject some of their own folkloric chants and rhythms ("Big Chief" etc.), weaving their traditions seamlessly with the Gnawa.  They positively lifted the room for the next two hours; it was a truly magic moment.
One of the keys to the Gnaoua Festival has long been their custom of inviting improvisers from the West (along with artists and bands from sub-Saharan Africa) to the festival to interact with Gnawa musicians.  These invited guests have included such notables as Archie Shepp, Wayne Shorter Quartet, Joe Zawinul Syndicate, Pat Metheny Trio and many others, including a host of soloists.  After their Chez Kebir hook-up the Gnawa musicians were effusive in excitedly informing Donald and the other members of Congo Nation that this evening marked what for them was their closest, most successful collaboration ever with Western musicians!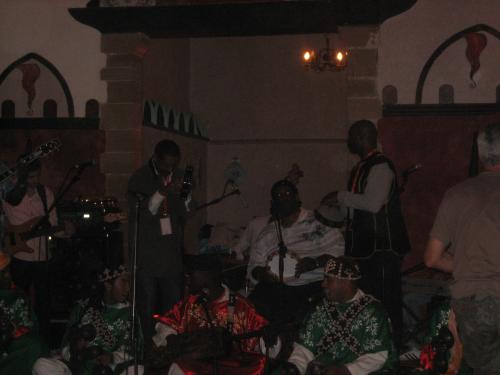 Jammin' at Chez Kebir; from left: Congo Nation guitarist Detroit Brooks (hidden except for his axe), bass guitarists Max Moran, Donald on tambourine, Gerald French seated on tambourine, Shaka Zulu (vest) on tambourine), and the Gnawa from Agadir seated in front.
The next night was the grand collaboration with the Gnawa ensemble led by Maalem (or Master) Mohamed Kouyou on the big stage at Moulay Hassan before tens of thousands of celebrants as far as the eye could see all the way to the sea wall.  As detailed in our April 2009 preview of this project, a major part of this mission was to not only bring distinctive New Orleans rhythms and songs to this festival in collaboration with the Gnawa, but most specifically to bring Black Indian (or Mardi Gras Indian if you prefer) traditions to Morocco.  Take note of the colorful costuming of the Gnawa in photos above and later in this piece.  Clearly the injection of "masking" (as the rich Black Indian costuming traditions of New Orleans are referered to in NOLA) Indians in collaboration with the Gnawa presents at the very least the prospects of a grand and glorious mosaic of costumes.  When we were laying the groundwork for this project last fall over lunch one afternoon at Mothers on Canal Street, Big Chief Donald Harrison was very clear in his contention that he had long ago determined that masking and playing the saxophone were entirely too arduous to sustain for an entire performance, and never the twain shall meet, so Donald didn't bring one of his Indian suits.  (Later he was mildly regretful of that omission when he experienced the opening festival parade.)  Instead the plan was for his two percussionists, Shaka Zulu and Gerald French, both members of separate Indian sects, to mask.  The best laid plans… on arrival in Morocco Gerald was deeply dismayed to find that Royal Air Maroc had lost his costume case!  Fortunately Shaka's suit was recovered.
As had been the case at Chez Kebir the preceeding evening, Congo Nation (Harrison, Brooks, Shaka, French, and the brilliant, precocious young rhythm section of NOCCA grads, bassist Max Moran, keyboardist Conun Pappas, and drummer Joseph Dyson) opened the proceedings with a short set that evolved from Donald's "Ain't No Party Like a New Orleans Party", through a now-more refined Michael Jackson tribute to the Indian chant "Hu-Ta-Nay."  They remained in place as the Gnawa ensemble took the stage and played a couple of their traditional songs.  What followed was a kinetic collaboration that successfully melded the distinctive Gnawa rhythms and traditional songs seamlessly with New Orleans tradition, the likes of "Big Chief", "Hey Pocky Way," and assorted improvisations from Congo Nation.  The set reached an additional peak when Shaka strode offstage and got in costume, masking in vivid green.
Shaka Zulu masking onstage with the Gnawa
In the ensuing days Donald Harrison was interviewed by all manner of print and electronic journalists from across the globe, including New Zealand, France, Spain, the BBC, sub-Saharan Africa and several parts of Morocco.  We're working towards producing a radio documentary of this project once additonal funding is in place, to originate at WPFW in DC and be carried by fellow community radio stations WWOZ (New Orleans), and KFAI (Minneapolis-St. Paul).  As they say in radio parlance…  Stay tuned!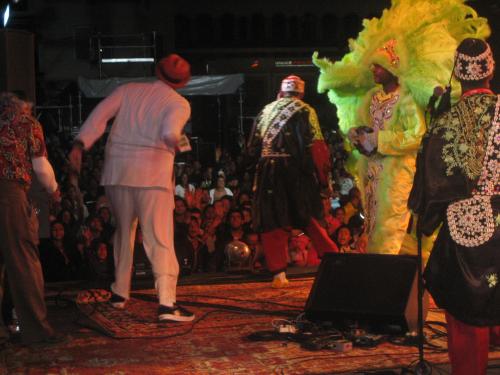 In true Crescent City spirit, Jason Patterson had the good sense to bring along a bag of Mardi Gras beads towards the end of the set; the Gnawa quickly got in the spirit and grabbed some beads to toss.  That's yours truly, back turned in white with red hat tossing beads to a delighted crowd that soon got in the Mardi Gras spirit of "the catch", alongside members of the Gnawa ensemble and Shaka Zulu.   
(All photos are by Suzan Jenkins.)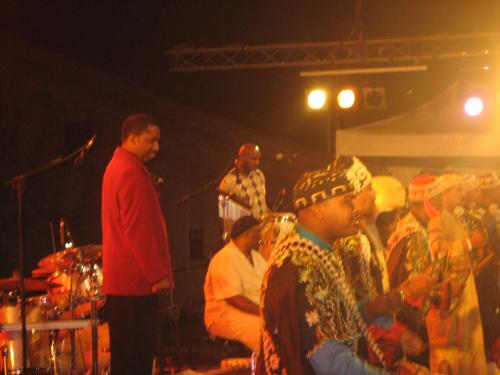 Donald Harrison (red jacket) and members of Congo Nation checking out the Gnawa set that followed their opening set, preceding the collaboration.