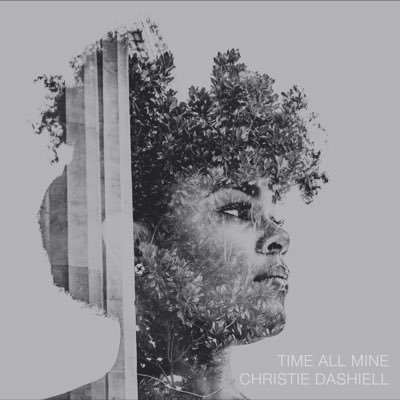 Last night at the Kennedy Center Jazz Club was a special evening of jazz song. Vocalist Christie Dashiell, daughter of the master bassist and educator Carroll Dashiell, may be onto something when she cheerily speaks of she and her brothers becoming a "Dashiell jazz Dynasty," at least based on last night's evidence. Here in DC we've been fortunate to view Christie's arc, from her outstanding work as part of Howard University's award-winning vocal ensemble Afro Blue, her participation in the Kennedy Center's annual Betty Carter Jazz Ahead invitational for outstanding young talent, to her occasional guest shots with others and various of her gigs around town, to her sparkling Fall '16 release Time All Mine, to last night's brilliant showcase at the KC. All along it was clear that this was a voice to watch, but beyond her lovely, rangy voice Christie Dashiell proved last night that she is definitely ready for prime time.
Working in a rhythm-based quintet of piano, bass (Romeir Mendez), drums, and hand percussion (Soloman Howard, on holiday from his primary pursuit as an opera singer!), and here we clearly delineate her participation as in her quintet, as opposed to with, alongside, or backed by because of the comfort, mutual respect and sheer joy with which she interacted completely with her unit. Significantly that unit included pianist Allyn Johnson, DC's most accomplished keyboardist who is steadily evolving onto the world stage (just ask Russell Malone, who played with Allyin at the recent Mid-Atlantic Jazz Festival and came away from the experience positively raving), and Christie's brother Carroll, or C.V. Dashiell as he prefers professionally likely to delineate his own considerable identity from their Dad. C.V. was positively on fire last night, exhibiting a new level of passion driving and supporting, seeming to reach another level alongside his sister last evening.
As for Christie's charms, she is quite cannily building her book of material, already displaying a fine balance of her own originals with her clever arrangements of standards, all of which highlight her prodigious vocal gifts. Those gifts include a fine range, a warmth of delivery and lovely tonality, blended with an appealing sense of vocal risk-taking and the ability to improvise and scat like a veritable demon. And as Suz remarked afterwards, she's got the full package, including great poise and professionalism onstage, an ability to warmly engage her audience with a superb sense of stagecraft. Christie Dashiell is certainly one to watch, her considerable gifts are evolving at a carefully plotted, quite impressive pace. Don't sleep this young woman!