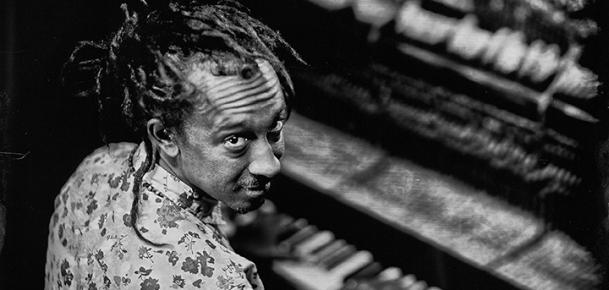 A performance of Gerald Clayton's "Piedmont Blues" project exemplified the DMV's jazz concert calendar recently at Strathmore Music Center in suburban Maryland
The DC metro area, which we refer to hereabouts as the DMV (DC, Maryland and Virginia) is a strong concert market where jazz performance is concerned. Certainly we have our share of stalwart clubs who present the music, Twins Jazz and Blues Alley among them. Those two pillars are bolstered by all manner of clubs, bars, and restaurants which host the DMV's robust community of world class resident artists. And then there are the pop-up space presentations of the cutting edge entities known as CapitalBop, and Transparent Productions. In fact, besides being a potent jazz and experimental music presenter, CapitalBop also serves as a sort of online clearinghouse for all things jazz in the DMV, including their always-healthy online calendar of live jazz presentations available at www.capitalbop.com, a good source to refer visiting friends and others coming to our Nation's Capital seeking live jazz.
Vibrant DMV jazz scenes can be found in several manner of non-traditional spaces as well, including such healthy community scenes as the extremely popular Friday evening jazz fish fry at Westminster Church, where a recent visit yielded an uplifting performance by the Bobby Felder Big Band. Equally popular on the DMV's weekly jazz calendar is the Wednesday & Sunday evening sets at the Jazz and Cultural Center (curated by DC trumpeter DeAndrey Howard), known as "Jacs". Both are testaments to a DMV presence which can unfortunately be quite scarce in certain communities – the presence of large, primarily African American audiences for jazz.
An example of the "pop-up" nature of CapitalBop's presentations came a couple of Saturdays ago when they presented percussionist Kahil El'Zabar's Ritual Trio, with David Murray on tenor sax and Harrison Bankhead on bass at a basement space on bustling U Street. That gig had a listed duration time of 6:00-10:00pm… certainly a bit odd timing for a Saturday evening presentation of such questing explorers as El'Zabar, Murray and Bankhead, who one might ordinarily expect to encounter roundabout midnight. And there's where the pop-up nature of CapitalBop's venue for that evening came into view. The main attraction was a bit delayed on their turnpike journey down from NYC, so following the impressive tenor saxophonist Brian Settles' bristling opening trio set, a loooong change-over ensued. But CapitalBop had a strict curfew for that evening's pop-up, so once the Ritual Trio got set it was off to the races for its spellbinding set. Kahil is particularly adept at casting spells when he takes up his kalimba or sits at his cajon and burnishes the room with his incantatory vocal exhortations. Fact was, the pop-up venue in question had another event later than night, thus the 10pm cut-off.
There remain plenty of opportunities to catch great live jazz in smaller, more intimate spaces, but the DMV is also blessed with an unusual amount of jazz concert opps. That starts with the healthy slate of Kennedy Center jazz presentations, though even that venerable institution has carved out its own intimate Kennedy Center Jazz Club; and that's the venue that will predominate the KC's 2016-2017 jazz season, at least until the renovation of its main home, the upper level Terrace Theatre, is completed next October. Recent jazz at the KC activity has included an incredibly uplifting election week performance by the Wayne Shorter Quartet that included the performance of a new Shorter piece with wind ensemble, at the end of a week when many of us needed some spiritual uplift. Coming mere days after the tumultuous 2016 presidential election, from the explosive audience response to the Shorter performance it was quite clear that many in the house truly needed some soul-satisfying music that particular Saturday evening. The next weekend came a KC Jazz Club performance by the ebullient saxophonist Tia Fuller's quartet.
The DMV's impressive jazz concert calendar was recently augmented by sightings of two of the music's most promising young musicians, in suburban Maryland. The Clarice, a handsome performing arts complex on the campus of the University of Maryland in College Park, has in recent seasons shifted much of its jazz performance activity to the club/cabaret-like environment of the Kogod Theatre. One recent Friday evening they presented trumpeter Christian Scott Atunde Adjuah's rough riding sextet, significantly featuring two DMV-based artists in Christian's touring unit: alto saxophonist BraxtonCook, and bassist Kris Funn, two more of Howard University's many contributions to the DMV scene. Christian Scott is a young artist who has always been on the get-ahead, making obvious advances with his music with each sighting. Further regional flavor came to his unit from the Virginia Tidewater area, courtesy of drummer Corey Fonville. Also notable was the presence of one of the most impressive new artists on the scene, flutist Elena Pinderhughes. The expectation was high and Christian Scott delivered completely, playing as much trumpet as anyone out here today.

The following Saturday evening brought another of this season's performance highlights, the "Piedmont Blues" project conceived and composed by pianist Gerald Clayton, part of an ongoing sort of blues extensions series being presented by the Strathmore Music Center in North Bethesda, MD. This new work, which one certainly hopes will be recorded, was originally commissioned by Duke University, which compelled what became a two-year immersion in the Piedmont blues culture of the Carolinas, an odyssey the extent of which was conveyed backstage afterwards by Gerald's proud dad, the master bassist John Clayton.

The work was superbly realized by Gerald Clayton & The Assembly, including saxophonists Logan Richardson, Tivon Pennicott, and Dayna Stephens, guitarist Alan Hampton, Gerald's longtime trusty bass partner Joe Sanders, Kendrick Scott on drums, and an extra special contribution from the gifted tap dancer Maurice Chestnut. Of special note were the contributions of vocalist Rene Marie, who brought a certain sass, mother wit and great drama to her vocal cum recitation role in the ensemble, where significantly she sat alongside the horns throughout the performance. Even more impressive was the fact that Ms. Marie was actually a replacement player for Lizz Wright, who was originally slated to perform a similar role. Somehow Rene Marie's temperament and ability to bring heaps of drama to the role seemed more appropriate to a work of this magnitude than even the remarkable Lizz. Gerald Clayton managed to not only deliver the folkloric aspects of the Piedmont Blues tradition, he also brought a sense of freshness from a very old place. In addition to his piano playing, Clayton also engaged certain laptop-triggered field recordings, and largely original field recorded video footage that further enhanced the audience's sense of place with this work.