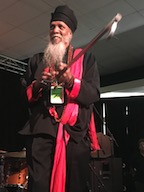 Newly-minted NEA Jazz Master Dr. Lonnie Smith held Hammond B-3 court at the Nightclub at MJF '16 (photo: Ron Scott)
MONTEREY JAZZ FESTIVAL COLD NIGHTS HOT MUSIC
By Ron Scott
While waiting in the Los Angeles Airport (LAX) for my Monterey flight I noticed a familiar person sitting quietly to my left. It was the multi-talented Quincy Jones. I went right over and introduced myself. We had a nice chat about the festival and his being honored at the 59th annual Monterey Jazz Festival (September 16-18) "Celebrating Quincy Jones the A&M Years." At that point it was apparent my first visit to the MJF was going to be one of those walking in space moments.
The following evening the MJF Board of Directors hosted their 10th annual Jazz Legends Gala fundraiser at The Inn at Spanish Bay (the only thing missing was the red carpet and paparazzi). The filmmaker, actor, and jazz man Clint Eastwood presented the Jazz Legends Award to Jones, the 27-time Grammy award winner. He stated, "Quincy's music is God's voice." Jones humbly accepted noting, "Jazz ain't going nowhere and at 83 I feel like I'm just getting started." He also praised young talented musicians like Joey Alexander and the Next Generation Jazz Orchestra "they assure us the music will move forward."
Joey Alexander's performance with his trio bassist Dan Chmielinski and drummer Ulysses Owens, Jr., received a rousing standing ovation. His being only 13 years old was a factor but his playing of a Thelonious Monk tune and Coltrane's "Giant Steps" was most impressive. He has grown since last year and now stands on occasion when the music gets good to him, like Monk. He stated, "Thanks for supporting this music which is not very easy to play." Although he makes it seem effortlessly.
September 16 was the beginning of the mad jazz festival rush. My mission on the Monterey Fairgrounds was attempt to see over 115 performances in six venues that included a variety of music from tributes, big bands to piano trios, fusion, straight-ahead jazz, blues, world music, a string of conversations, films and exhibits. Seeing all those acts didn't happen so here are some highlights. The Jimmy Lyons stage (the largest venue) was filled to capacity on that cold Friday evening with many folks wearing down jackets and others covered with blankets.
They were enthralled by the versatile vocalist Cecile McLorin Salvant and Trio featuring pianist Aaron Diehl, bassist Paul Sikivie and drummer Lawrence Leathers. Salvant is a daring jazz vocalist, who can engage in a blues and shout song like "John Henry" and easily move into show tunes like "Wives & Lovers" and "If a Girl Isn't Pretty."
The international bassist Richard Bona took the stage with Mandekan Cubano. The vibes were hot and the horn section was steaming with Cuban reflections.
The evening concluded with the Tribute to Quincy Jones "The A&M Years" featuring the MJF Orchestra with guest musical director Christian McBride and conductor John Clayton. Their repertoire featured music from Quincy's three legendary albums Walking in Space, Gula Matari and SmackWater Jack. They ignited on "Walkin in Space" with the trumpeter Sean Jones, crazy solos by the saxophonist James Carter, Lewis Nash on drums, pianist Dave Grusin, Paul Jackson, Jr. on guitar, and the amazing harmonica flow on "Brown Ballad" by Gregoire Maret, the outrageous flute of Hubert Laws and lead vocalist Valerie Simpson. Laws, Simpson, and Grusin contributed to these milestone albums and this time around they displayed that same explosive energy. When Quincy closed the show by conducting "Killer Joe" the audience was hysterical transcended to a higher power that swung their socks off. As I left the fairgrounds in my summer sweater it was the music that kept me warm. With a big smile it was evident I had just witnessed one of the best jazz performances ever.
The next day it was 85 degrees and everyone was baking as the dynamite Maceo Parker paid Tribute to Ray Charles" featuring the Ray Charles Orchestra and The Raelettes. The band was hittin' hard and Maceo like Charles had that soul and blues thing down to a science. Folks didn't seem to miss James Brown's main saxophonist "take me to the bridge, Maceo" not playing sax, as he ran through favorites like "How Long Has This Been Going On," "I Can't Stop Loving You," and "What'd I Say."
The Garden stage featured the young organist and vocalist Cory Henry & The Funk Apostles. They are a roaring version of Sly & the Family Stone, George Clinton, and Jimmy Smith. His arrangement of "The Way You Make Me Feel" was highly explosive. His Hammond B-3 swings with deliberate gospel influences.
The vocalist Somi performed to a sro crowd in Dizzy's Den offering a few originals like "My Lost Song," and her version of "Four Women" her story of Four African Women. Standing ovations were in order for this Harlem resident.
Even the lawn was filled with listeners, who couldn't get anywhere near the outdoor Garden stage for pianist/composer Joey Alexander. His repertoire ran from John Coltrane's "Count Down" the title of his latest album (Motema), to Michael Jackson's "Human Nature."
Teri Lyn Carrington's Mosaic Project "Love & Soul" was an all-star configuration formed by the noted drummer/composer. The ensemble featured the pianist Helen Sung, vocalist Lizz Wright, who crafts a touching story similar to Roberta Flack. She later joined Valerie Simpson for the heartfelt spiritual "Walk With Me." Elena Pinderhughes played flute, Ingrid Jensen on trumpet, and Tia Fuller played alto saxophone.
Branford Marsalis the solid bandleader and tenor saxophonist went straight-ahead with some dips and turns along with his longtime quartet and special guest vocalist Kurt Elling, whose deep bass settled like thick honey.
The Manhattan School of Music senior Elena Pinderhughes is blossoming into her own as a flautist and vocalist as she demonstrated on the Garden stage with her quintet.
The saxophonist Donny McCaslin Quartet with keyboardist Jason Linder played on the outer edge of jazz reality to a packed room of afternoon believers.
Walking the fairgrounds was like being in a cozy town of jazz inhabitants where everyone was into the music and running into Quincy Jones and Clint Eastwood, who were just as enthusiastic as us mortals about checking out the various venues made it more special.
The conversation with Jones and Eastwood covered a ton of jazz and film history with inside tidbits only revealed among friends.
The seasoned pianist/composer Stanley Cowell played the Coffee House with his trio bassist Jay Anderson and drummer Billy Drummond. His daughter a full-time attorney also sang.
Wayne Shorter the festival's "commissioned artist" and his fearless quartet with pianist Danilo Perez, bassist John Patitucci and drummer Brain Blade were joined by the Moneterey Jazz Festival Wind Ensemble to premiere his commissioned work "The Unfolding." It was another journey with Shorter that proved to a newfound experience in his ever-winding musical enclave.
The saxophonist Kamashi Washington, a native Californian was in his element as his blazing tenor seemed to smoke coming from the keys. He has that bold hearty tone similar to Pharoah Sanders. His large ensemble included the dancer/vocalist Patrice Quinn, trombonist Ryan Porter, keyboards, bassist Miles Mosley and two drummers steered from straight to the "West Coast Get Down". Washington featured his father Sonny on flute and sax.
Gregory Porter the spirited preacher, blended spirituals with jazz and blues into originals like "No Love Dying Here" or "Poppa Was A Rolling Stone."
While guitarist Pat Metheny was playing in Lyons Arena, Dr. Lonnie Smith Trio with guitarist Jonathan Kreisberg and drummer Jonathan Blake were in prophet mode at the Night Club venue. It was the Reverend Dr. Smith preaching from his Hammond B3 organ from Monk's "Well You Needn't" to his soul version of "Wine and Roses." The Dr. received two extended standing ovations and for an encore he played on his cane.
And just that fast the Monterey Jazz Festival came to an end. So intoxicating, it is a must for next year.
-19616-