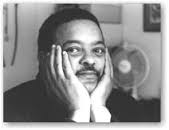 My friendship with author-educator Robert Fleming dates back over 40 years. We both grew up in an area of the East side of Cleveland known as Mt. Pleasant and as budding writers we bonded over our mutual passion for jazz music. As 20-somethings we spent many hours immersing ourselves in the latest jazz releases in his 3rd floor walk-up; his thirst for and knowledge of the music a constant source of inspiration. Equally inspiring was our mutual interest in writing, and in my case that was particularly writing about jazz music. One afternoon in 1974 we spent an unforgettable afternoon picking Miles Davis' brain for interview insights from the master. Miles was playing a weeklong stint at the former Cleveland jazz haunt known as the Smiling Dog Saloon, learning ground for not only the two of us as jazz aficionados and jazz writers, but also for our Cleveland contemporaries drummer Greg Bandy (long known as "The Mayor of Harlem" and Joe Lovano. (This was the Miles unit featuring Sonny Fortune, Mtume, Michael Henderson, Al Foster, Reggie Lucas, and he had just flown in a young French guitarist named Dominique Gaumont for an acid test tryout.) The Dog was the site of endless jazz discovery for both of us, from the earliest versions of Weather Report and Return to Forever, to my initial experiences with Charles Mingus, Miles, and many others, including an incredible 3-week residency by the Sun Ra Arkestra!
Robert made his exit from Cleveland years ahead of me, encamping in uptown New York in the Morningside Heights neighborhood of Columbia University. We've kept up through the years, and have both continued to write traveling down admittedly divergent paths; still sharing the common denominator of jazz music. Recently Robert added the jazz listening guide "Free Jazz (Creative Originality, Controlled Surprise)" to his impressive list of book contributions. Obviously some questions were in order, but first some bio insights on my old friend & colleague.
Robert Fleming, a freelance journalist and editor, formerly worked as a writer-consultant with ex-CBS News president Fred Friendly, boss of the legendary Edward R. Morrow for the PBS TV show, Media and Society, after graduating from Columbia University's Journalism school. Employed throughout the 1980s and into the 1990s, he served as a reporter for the New York Daily News, earning several honors including a New York Press Club award and a Revson Fellowship in 1990. He worked as a freelance editor and book doctor at Random House's imprint, One World. He taught courses in film and journalism at Manhattan's prestigious The New School. His articles and reviews have appeared in many publications such as The New York Times, The Washington Post, U.S. News and World Report, Essence, Black Enterprise, Omni, Black Issues Book Review, Quarterly Black Review, and Publishers Weekly. He has written several non-fiction books such as Rescuing A Neighborhood, The Success of Caroline Jones Inc., The Wisdom of the Elders, and The African-American Writer's Handbook. His fiction consists of such works as Fever In The Blood, Havoc After Dark: Tales of Terror, Gift of Faith, Gift of Truth, and Gift of Revelation. He edited three anthologies, After Hours, Intimacy, and the Muntu Poets Anthology Volume 2 – 47 Years Later with Russell Atkins
Anything you want to add of a biographical nature?
There are several entries that should be included: the three-book series of the Gift novels; the in-the-works book on Project Innocence; a short fiction collection, and an upcoming memoir, "Driving In The Wrong Lane," which will include my early New York days, my news magazine job with Nikki Giovanni and Ida Lewis, among others.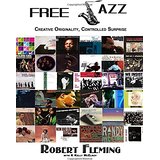 Of all your efforts as an author, would it be correct to characterize this as your first total jazz effort, and as a true buyer's guide for the genre?
Yes, this is my first jazz effort. Currently, I'm talking to a Scottish publisher to publish a collection of author and musician interviews from 1972-2013. These are the guys who published my blues anthology, "Too Much Boogie" years ago. As a buyer's guide for free jazz, I only wish I had something like this when I was coming up. I used to spend my paper route money for albums by Bird, Bud Powell, Monk, Mingus, Miles and Fats Navarro. Some times it was guess work, for I didn't know the personnel. I'd buy them at Giant Tiger or Woolworth's back in Cleveland. Some of these albums I still have from back during that time.
What was your original motivation for contributing this book?
It was very important to feature the original artwork from the albums. There was so much history there. After the essay which leads off the book, those images are critical to the enjoyment of the music. Like I said earlier, a buyer's guide like this would have been a much treasured gift to me as a young jazz fan. In fact, we're preparing a similar guide of reggae, complete with a long essay, interviews from the legends, and artwork of the quality that is featured in the free jazz book. Thank you, Brother K. Kelly McElroy, who is my partner on these jazz and reggae projects. That will be out at the end of the year.
There are some who might tend to split hairs with some of the selections you've made as not necessarily falling under the category of various academic definitions of free or avant garde jazz. How would you respond to such a criticism?
I know haters will hate. Just joking. I remember the late sax man Julius Hemphill saying to me one night that there is no difference between Sun Ra and Aretha Franklin. I never forgot that. That was the same thing the pianist Ahmad Jamal said to me when I did an magazine profile on him. He stressed this Black Classical Music is a part of a musical and cultural continuum, one continuous organic process. I heard this in the music of Mingus, Art Ensemble of Chicago, World Saxophone Quartet, even the electric fusion of Miles the Sorcerer. I tried to do honor to this aspect in this book.
What was your process for making the record selections to highlight in this volume?
I didn't take the selections lightly. I anguished over the entries. First, I made long lists of the music under the categories, often playing them repeatedly to see if they would fit under the labels. Choosing the music was very, very, very difficult.
Ultimately what do you sense will be the benefit to reader's exploring Free Jazz?
Free Jazz, as I wrote in the introduction, is the most challenging, demanding,but ultimately rewarding of the most original of American music, jazz. So many choices, so many possibilities, so many options. All I wanted to do with this guide was to make the buyer's choices easier and more significant. In this current economy, every dollar counts. I wanted to give the buyer more bang for their buck.
Given your career as a professor, if you were to teach a course on Free Jazz, what elements would you emphasize?
When I taught film at The New School years ago, it was the aesthetics of the art form that held me in a trance. Similarly, the history of our music still remains fascinating to me. I can't get enough of the intriguing characters who pioneered this music, often at great personal sacrifice. As you know, it was the personalities that captured my attention when I start writing on jazz back in the 1970s. Also, there is a sense of freedom, adventure, and excitement in the music, keeping up the traditions while venturing out into new explorations. Honestly, I have trouble keeping abreast of the young innovators and their sounds. That's why Independent Ear is so special.
If stranded on a desert island, which five of the recordings featured in Free Jazz would you choose?
If I was stranded on Gilligan's Island or some such thing, I'd chose the following: Free Jazz – Ornette Coleman, Out To Lunch – Eric Dolphy, Ascension – John Coltrane, Point of Departure – Andrew Hill, and Tanjah – Randy Weston. Really quality listening.
HERE ARE TWO OTHER ROBERT FLEMING LITERARY CONTRIBUTIONS: