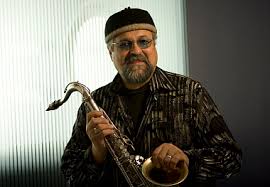 Joe Lovano is a true renaissance man of jazz, one of the music's most diverse and most restless explorers, never content with one format over another, never prone to repeating ensembles for more than a tour, two at most. Scanning his robust discography one finds symphonic encounters, little big band explorations, sundry trios, quartets and quintets; duos (notably with Hank Jones), the borders of contemporary chamber music, celebrations of two signature Italian tenors: Enrico Caruso and Frank Sinatra; bebop reflections, including a notably bristling romance with the music of Charlie Parker, two-drummer bands, and various encounters with younger musicians, just for starters. Its been a pleasure observing his constantly evolving arc, from the time we were both growing up on the East side of Cleveland and encounters at the old Smiling Dog Saloon.
On one memorable occasion while sitting at the Dog's bar awaiting the night's hit, Joe strolled in and the featured bandleader Elvin Jones (with whom Joe would later tour and record), seated on a nearby stool in his inimitable growl the great drummer inquired about the whereabouts of the man everyone in the music referred to as Big T, Joe's tenor playing dad Tony Lovano, clear evidence of the elder Lovano's jazz world stature. Befitting his name, Big T had a robust sound and was often featured in B-3 combos around town.
Joe working with men like Elvin Jones, an early stint in the Mel Lewis Orchestra at the Vanguard upon shifting from Cleveland to New York, his more recent ongoing dialogues in several band incarnations with Lewis Nash, and more recently the two-drummer band with Francisco Mela and Otis Brown lll, clearly mark Joe Lovano as a tenor man deeply invested in the rhythmic universe; a fact further substantiated by Lovano being a closet drummer himself.
Last weekend at the KC Jazz Club Lovano further substantiated his rhythm man bonafides, landing on the Kennedy Center's penthouse, or Terrace, level for two superb nights with his Village Rhythm Band. Clearly this is not only another chapter in Joe's fascination with the hues of the rhythmic universe, its also his most African-centric viewpoint to date. At its core the band boasts two African expats, Nigerian bassist Michael Olatuja and Senegalese percussionist Abdou Mboup. Keys to the mix also are trap drummer Otis Brown lll, a refugee from Lovano's two-drummer exploration of Bird, and the thoughtful, inventive guitarist Liberty Ellman. Two special guests, trumpeter Tim Hagans – a longtime Lovano intimate – and Joe's vocalist-wife Judi Silvano, further broadened both the rhythm (particularly via Silvano's wordless explorations) and melodic parameters of this unique Village Rhythms Band. The program ranged from heated originals all the way to that classic beauty spot, the Ellington lovely "Single Petal of a Rose." A particularly arresting interlude came when Mboup plied his kora, the distinctively African stringed instrument with string board attached to a resonating gourd, guitarist Ellman gazing on in deep concentration. One certainly hopes the Village Rhythm Band will be chronicled on record, given the broad base of Joe Lovano's ever-expanding Blue Note Records discography.
Here's a taste of Joe Lovano's Village Rhythm Band: