Producer LeRoy Downs interviewing Terence Blanchard for the premier edition of "The Jazz Creative" on the Aspire network
Over the last few years a fixture at Dizzy's Den on the grounds of the Monterey Jazz Festival, has been the hip, aware, and informative voice of venue MC LeRoy Downs. The Cali-based jazz broadcaster has developed a promising 21st century jazz television format that recently launched on Magic Johnson's Aspire network. Having worked intimately with the most recent jazz-on-television hopeful to emanate from an African-American network myself, BET Jazz, news of LeRoy's project is quite hopeful, so we sought him out for a few questions. But first, exactly who is LeRoy Downs?
LeRoy Downs is a person deeply entrenched in the music and driven by passion! Currently he is a jazz broadcaster in Los Angeles on several stations including KJazz 88.1 FM, KPFK 90.7 FM, KCRW 89.9 FM. He has also broadcasted on KXLU 88.9 FM and 94.7 FM & 1410 AM KRML in Carmel located in the Monterey area. He has been the host of the Monterey Jazz Festival for 15 years as well as The Jazz Cruise, The Playboy Jazz Cruise, KPFK's Hero Awards Tribute to Billy Higgins, The Angel City Jazz Festival, Terranea Resorts Jazz Through the Generations, The Thelonious Monk Institute of Jazz West Coast competitions, Producer of The World Stage 25th Anniversary Concert, Curator for Jazz for the Holidays series with Arts Brooksfield, Jazz Curator of the Steven James Buchanan Jazz Collection at the Mayme Clayton Jazz Library and Museum, owner and journalist for the website TheJazzcat.net, producer of the made for television pilot "Hangin' with the Jazzcats" and The Brand New Show on airing on the Aspire TV Network called "The Jazz Creative"
Independent Ear: How and why did you make the leap from radio to this new television show?
Well, not a leap but more like an addition! I have always believed for many years that jazz needs more that one sensibility for your average layman to pay attention to the music. Those of us who get it, have it in our blood! For the others, I thought that if we could enter their homes through the common platform of television they could listen, learn and experience the human behind the music. Once that human became their friend, so would the music!
Talk about the overall design of the show. When viewers tune in what exactly will they experience?
"The Jazz Creative" is a conversation and performance platform. We will have the opportunity to speak with the contemporaries of our time in different relaxed environments, listen to their interesting life in the music and see some live performance. On our Premier segment of "The Jazz Creative", viewers will have the opportunity to hear from Grammy Winning/ Nominated Jazz Artists Terence Blanchard, Christian McBride and Jason Moran as well as live performance by DVRK Funk trumpeter Theo Croker and the Planetary Prince, Cameron Graves.
Terence will talk about scoring some of the 46 films that he has scored as well as how real life and life in the music "Breathe" together. Jason Moran speaks about his experience scoring "Selma" and show how life and inspirational thought spark language through music. Christian McBride talks about growing up in Philly, his influence of Gamble and Huff and how "Grease" is a major ingredient in his sound! Theo Croker shows how the "New Millennials" get down and let's everyone know that, "It's Gonna Be Alright" and "West Coast Get Down" pianist Cameron Graves, "the Planetary Prince" offers some new dimensions in sound!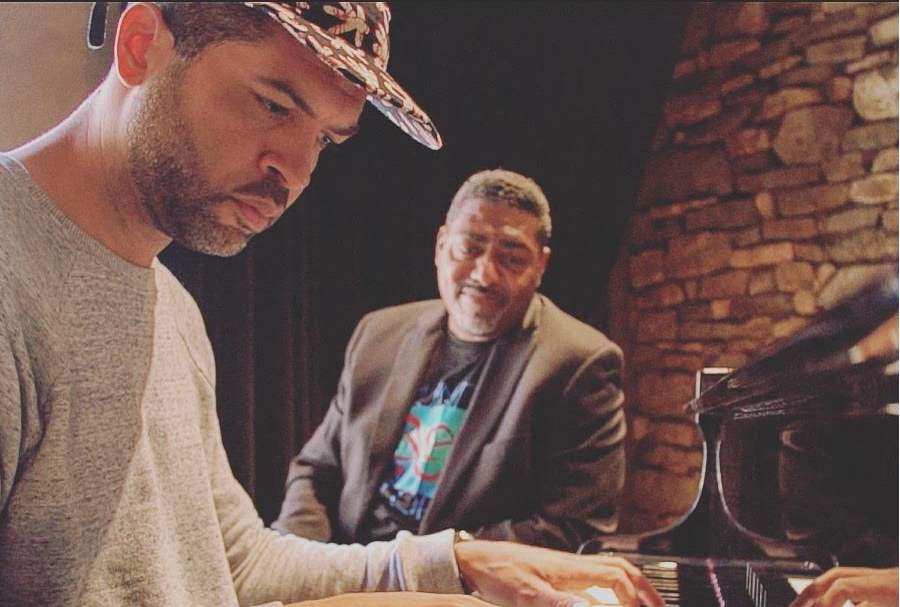 Downs with pianist-composer Jason Moran from the premier edition of "The Jazz Creative"
How will "The Jazz Creative" differ from past efforts at jazz television?
Well, when you say the word "Jazz", people immediately go to whatever the first reference is in their minds. There is usually not any common ground until there is further conversation or clarification of what exactly is being talked about. We just want to offer some fresh perspectives in the present tense. Let folks know how well the music is "LIVING", where they can see, hear and feel what is happening right now in the music.
Having been a host, producer, and writer at the former BET Jazz for over 10 years, and witnessing that once-promising entity dissolve slowly down the drain of corporate disinterest and neglect, what gives you confidence that this is a new day and you have a new jazz/television concept, and that Aspire is a welcoming host for The Jazz Creative?
Well, we live in a new day! Music in general is a struggle but, is a viable part of everyone's life. This concept of "free and instant gratification" is not in the best interest of the artists and musicians who dedicate their lives to creating music and content for all to enjoy. There is not much in terms of original music on television. If you hear it, chances are you are hearing something popular that you have been hearing for most of your life and it has become a routine sound wave. We think that there are people out there who want more than they are generally offered: something new, something original, something different. Knowledge is king and although you don't get a chance to learn too many new things when you flip through hundreds of channels of reality tv, it is our hope that music, presented in an appealing environment, from artists who speak the truth through their sound will captivate and encourage people to be delighted and seek more through the sounds of JAZZ!
Give us a sense of the first couple of episodes of The Jazz Creative.
Hopefully I have given you a great sense of our first episode. We have lots in the can. Interviews with Russell Malone, Tierney Sutton, Ashley Khan, David Gilmore, Luis Perdomo, Peter Erskine, Joe Sanders, Ben Williams and a few others. We would like to do something really special for our next show which airs on Friday March 25, 2016. We are connecting with some of the folks who have another brand new film coming out in April and if we can swing it, I think "The Jazz Creative" will be miles ahead of its time!