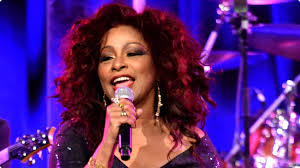 Chaka Khan
New Year's Eve 2015
Kennedy Center Concert Hall
Seeing Chaka Khan on the Kennedy Center bill for New Year's Eve was instant magnetism. The most recent sonic evidence of her continued potency was provided by drummer Terri Lyne Carrington's latest Mosaic incarnation, where Ms. Khan served as one of several guest singers. Recorded evidence of Chaka Khan's current artistry has been scant over the last decade, consisting mainly of guest appearances and greatest hits compilations; upping the curiosity equation in anticipation of this evening.
On arrival at the Concert Hall, which was sold out in advance, easing into our seats amidst assorted New Year's Eve revelers scurrying for the free party favors provided for the Kennedy Center's annual New Year's Eve after-party, all decked out to celebrate the close of '15, we were greeted by Chaka herself wafting from the house system. A bit peculiar, most artists discourage if not outright prohibit their music being played in the house pre-concert. Shades of Chaka engaging "Round Midnight" and other jazz standards increased the curiosity factor for what was coming. Would it be Rufus-era Chaka, the almighty funk queen Khan, or some measure of her occasional forays with improvisers?
As her razor sharp band – two keyboards, guitar, bass, drums and three backup singers – eased in place with some prelude music, Ms. Khan floated in to a warm welcome, clad in sparkly shoulder-to-toe periwinkle blue, proud red mane engulfing her ageless face, she ripped off a tone setting dance groove. Much of her opening was spent dusting off her Rufus book, which never sounded dated, the true mark of a self-assured artist. As she essayed her set list, one had to be struck by how her songwriting has been a somewhat overlooked facet of her creativity. On this momentous evening that side of Chaka Khan's book produced a marvelous retrospective set.
But it was the abundant gifts of her prodigious vocal instrument that carried the day, the Holy Ghost still such a constant presence in those pipes, particularly in her upper middle register. Humor arrived in songs like "Pack the Bags," a song immortalizing her first husband. Several of her songs were autobiographical, including "Troubled Little Angel," which helped her deal with depression at certain junctures. Later she sang an especially touching song dedicated to autism, inspired by an autistic nephew and her subsequent work on behalf of the condition.
About 70 minutes into her set, Khan eased offstage promising to be "back in a few." Although the band kept playing throughout this break, the audience took it as their cue to get up and stretch, hit the facilities, grab some party favors, check their devices and generally treat this as intermission. The band soldiered on, business as usual for jobbing musicians I suppose, but a bit incongruous nonetheless.
Khan's return superbly capped off this greatest hits night, as she eased back to the spotlight clad in billowing black cape, black-on-black head to toe. "My Funny Valentine" gave way to a succession of her most memorable moments, including "Sweet Thing," "Tell Me Something Good," "To The Fire," and her empowering anthem "I'm Every Woman," which lifted the sisters out of their seats, brothers quickly following suit throughout the diverse audience. It was a superb greatest hits sort of night, without a hint of the kind of cloying nostalgia such seasoned artists often resort to, literally coasting on a sea of familiarity. Chaka Khan was far from that scene, proving to be a timeless powerhouse and a splendid New Year's Eve vocal curator for her completely thrilled Kennedy Center audience.
— Willard Jenkins