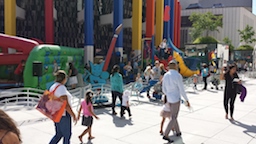 Festival International de Jazz de Montreal may well be the most family-friendly of all major jazz festivals
Perhaps the world's largest such event, Festival International de Jazz de Montreal, recently celebrated its 36th running June 26-July 5. The festival occupies approximately one square mile of the city's prime downtown real estate. With the handsome arts venue/shopping mall/Musee D'Art Contemporary (the contemporary art museum)/Metro station complex on rue Ste-Catherine known as Place-des-Arts as its hub, the festival operates five huge outdoor satellite stages (designated as Scenes) on adjoining streets and the adjacent plaza that sits atop the mall plateau. At one end of Ste-Catherine, across the street from the Maison Du Festival (festival headquarters) building – which also houses a festival gallery/hall of fame, two club spaces which presented throughout the festival, and at street level Le Balmoral Bistro de Festival restaurant – next to one of two extensive festival merchandise boutiques (located at each end of the festival grounds) sits Jazz bars Heineken, a semi-open beer garden tent which hosted performances throughout the day. You get the drift, this is a massive event, with a kind of noon-to-midnight jazz-based street fair atmosphere. Adding to that street fair mentality are strolling brass bands, stilt walkers, and all manner of family-friendly diversions, including an extensive area on the plateau devoted to children's pleasures. Consequently I cannot recall another festival that caters more directly to entire families, which turned out in abundance throughout the festival.
With the exception of the venues of Place-des-Arts, which include four modern, woody, acoustically superior concert halls, the vast majority of the action around the plaza, including the Scenes stages, is free. In addition to the Place-des-Arts halls, where the highest profile artists of the festival performed, the ticketed concert spaces also included a venue in the Hyatt Hotel across from Place-des-Arts, the two clubs in the festival headquarters building, and several indoor venues in easy walking access around the festival perimeter, including Club Soda, and two favorite venues, the lovely church Gesu, and Monument-National on the cross street Saint-Laurent. And that's just a sketch of the festival geography; so if you get the sense of a jazz festival on a massive scale, you've got the picture. Drawing approximately 2 million celebrants over its 10-day run, Festival International de Jazz de Montreal has a $25M operating budget.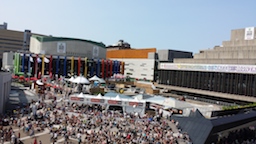 As is customary with large-scale jazz festivals, this event offers a fair share of presentations that are either beyond the broadly-defined borders of what we know as jazz, or what might otherwise be seen as musical offshoots or sisters of the jazz tradition. The name of that tune is one festival presenters and producers know all too well, but it is precisely that broad sense of the music which draws the kind of aggregate numbers Montreal can boast with civic pride. Certainly if that broad music menu is what enables this grand event to present among many others the jazz mastery of the Wayne Shorter Quartet, Dee Dee Bridgewater, a quartet led by John Scofield & Joe Lovano, Vijay Iyer Trio, Abdullah Ibrahim (for 3 separate evenings!), Kurt Rosenwinkel, Dave Douglas, The Bad Plus Joshua Redman, the emerging South African pianist Kyle Shepard, Marc Cary's Focus Trio, John Pizzarelli, Eliane Elias, Johnny O'Neal, Dave Douglas, John Medeski (solo), or the by equal turns elegant & burning new acoustic quartet known as Heads of State, and dozens of other variations on the jazz groove… then so be it!
On Friday arrival night, armed with a pace-yourself sense of the immense scope of this festival from prior experiences, we eased into Montreal mode with a stroll across the festival byways absorbing the sights & sounds (including the startling artistry of David Altmejd at Musee D'Art Contemporary). Eventually we settled in at the 9pm performance by the young trumpet ace Theo Croker (grandson of the great Doc Cheatham) at Le Club, the street level venue at Maison Du Festival. Breathing fire from the jump, with another of DC's impressive coterie of young bassists Eric Wheeler on acoustic, Croker piloted a nice, tight unit that clearly enjoyed playing together. Croker, who plays eyes shut tight, boasts a nice middle register and growing fluency, which he displayed to good measure on a solid program of originals, and jazz familiars, including a second set opening foray on Joe Henderson's "A Shade of Jade," the leader impressively delivering his hard bop bona fides. Elsewhere he lent a puckish smear to his theme statement on Stevie Wonder's "Visions," and expressed new found love for Hugh Masakela, skillfully navigating the South African's "Bone Masakela, a particular feature for Wheeler's supple bass solo.
After a day of pleasant retail strolling, Saturday evening brought the Stanley Clarke Band to Theatre Maisonneuve, the leader largely on acoustic bass save for his bass guitar opener and encore. Clarke's quartet (with the volatile young drummer Mike Mitchell) essayed material ranging from his late pal George Duke's "Brazilian Love Affair," to a gorgeous reading of Joe Henderson's "Black Narciussus," which brought out the nuanced craft of the excitable Mitchell's trapsmanship. All these years later, Stanley Clarke's acoustic bass facility remains astounding.
As the Monday evening dinner hour approached and folks began jockeying for tables at the inviting sidewalk restaurants and cafes aligned on one side of rue Ste-Catherine with a view of much festival action, a robust crowd gathered a block away at Scene TD (TD Bank is a major festival sponsor) for Toronto-based saxophonist-flutist Jane Bunnett's latest Afro-Cuba immersion, the all-women ensemble Maqueque. The young sister at the piano elicited obvious shades of Chucho Valdes in her rippling facility, and throughout their set Jane's sinewy soprano and attractive flute cut distinctive figures as focal point of Maqueque's Afro-Cuban percussive exuberance. Their Justin Time album "Jane Bunnett and Maqueque" copped the prestigious Juno (Canada's music awards) for Jazz Album of the Year. Here are a couple of video clips to give you some sense of this fierce assemblage:
That evening presented one of the week's heartiest menus. Following Maqueque's set, at 8pm it was on to Theatre Maisonneuve for the imposing John Scofield/Joe Lovano Quartet, with their locomotive integration of tenor and guitar, buoyed by the distinguished rhythm section of drummer Bill Stewart and bassist Larry Grenadier. Lovano rolled out his bristling tribute to recent ancestor Ornette Coleman "Ettenro". The animation in Lovano's performance was particularly vivid as his portable mic enabled him to do a deft soft shoe around his place on the stage in deeply concentrated reaction to the music.
At 10:30 we made our way around the corner on rue De Bleury to the lovely chapel Gesu for a new assemblage of masters known as Heads of State: Gary Bartz, Larry Willis, Buster Williams, and Al Foster (don't sleep their new release on Smoke Sessions). Grace and deep swing defined this assemblage as they dipped into the book of McCoy Tyner for "Passion Dance" and "Search for Peace," stopping along the way to honor Monk with Bartz "Uncle Bubba." What a veritable sonic buffet, and all that in one evening!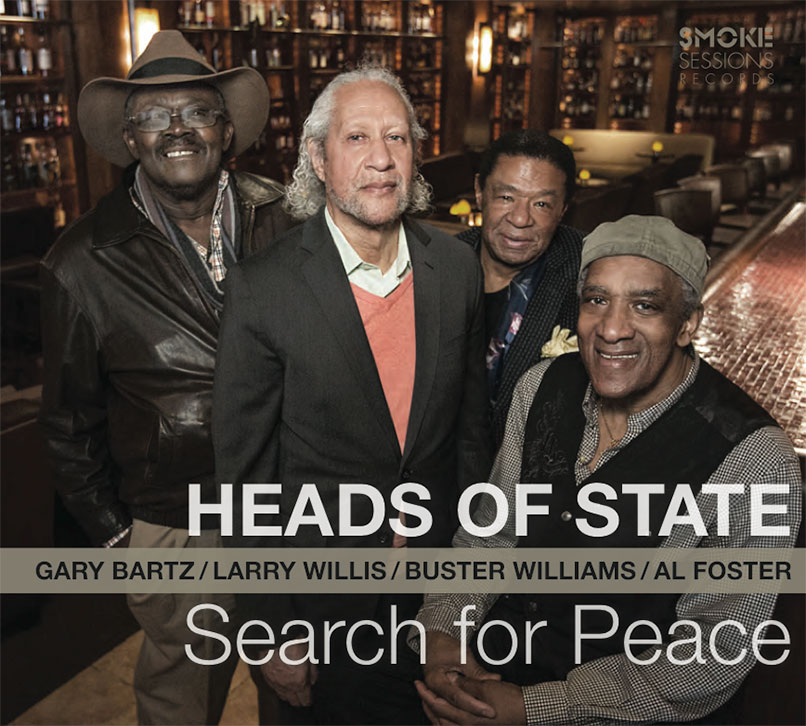 Tuesday evening's happy hour brought the charming Brazilian chanteuse Joyce Moreno (known largely on records as simply Joyce, in that typical one-name Brazil parlance) at Club Soda, seated comfortably at a stool, legs crossed to accommodate her accompanying guitar, with piano-bass-drums trio. Her sublime solo take on Jobim's "Waters of March" ("Agua de Beber") was worth the visit alone.
Eleven year old Joey Alexander opened the 8pm Wayne Shorter Quartet concert at Maison Symphonique with solo aplomb and a maturity belying his youth. Technically facile it will be intriguing to watch his development once he's lived more of life's vicissitudes. Shorter's set, with the familiar Danilo Perez/John Patitucci/Brian Blade unit, unfolded like a mystery, befitting the Mysterious Traveler aspect of the master and reflecting his noted cinematic immersion. These days Wayne remains seated, shifting seamlessly between tenor and soprano as the feeling strikes him, playing in bursts, deftly reflecting the "we always solo, we never solo" credo that's been his since Weather Report days. Shorter listens intently, particularly to Danilo who is the central nervous system of this band.
The next evening following a day of strolling among the city's numerous delights and (an ethnic coincidence I assure you) lucking into a beautiful Indian meal after lack of reservations denied entry to another boîte, it was on to Monument National to climb the steps for the Vijay Iyer Trio, with Stephan Crump on bass and the eminently musical Tyshawn Sorey on drums. There's an architectural quality to Vijay's tune development, particularly evident on two potent covers he delivered – on Monk's tricky "Work" (which appears on his current ECM release), a reading of Henry Threadgill's "Little Demons", and the leader's own "Our Lives." In his outro to the first seamless medley of tunes, Vijay deftly likened the set to a DJ mix tape.
The next two evenings were spent in the agreeable, street level confines of Le Club. But first we stopped over at Gesu for the first of three evenings of Abdullah Ibrahim, one of the festival's two special Invitation Series artists (the other was guitarist Kurt Rosenwinkel). A true mark of distinction for this festival, the Invitation Series invites multi-faceted artists to perform in different contexts for a series of evenings. Ibrahim chose to open his 3-evening series solo, which was quite enchanting. He followed the next evening with a trio performance that never seemed to click, his trio mates on bass & cello, and drums seemed attached tightly to a veritable string and the interaction never meshed. There simply wasn't much joy onstage that puzzling evening. The music seemed to amble from through-composed pieces to improvised forays. A familiar fragment would peak through now and then, but with tantalizingly disappointing briefness. Ibrahim's final evening found him in the company of his Ekaya Septet, but alas that was travel day for us.
After Ibrahim's solo set, Le Club presented the East African singer Somi, whose artistry seems to grow exponentially with each sighting, reflecting both her origins and her immersion in Nigeria. She quite effectively channeled Nina Simone, Miriam Makeba, and even Fela… though the end result was pure Somi and not the least bit imitative. And she has good taste in rhythm sections, with DC's own Ben Williams on bass and Otis Brown lll on drums, ample evidence that this is one singer who is not the least bit intimidated by mixing it up with her equal turns crafty and complimentary band members.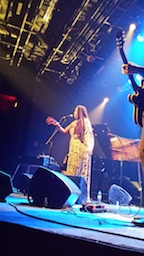 Still puzzling over Ibrahim's trio effort, ironically our last evening closed with another keyboard-bass-drums trio that thoroughly meshed, in the person of Marc Cary's Focus Trio. There was plenty of tension and modulation in the ebb and flow of Cary's unit, with yet another young DC bassist, Rashsaan Carter, and drummer Sameer Gupta's distinctive groove, leavened with East Indian textures via his tabla set-up. Cary is a consistent carrier of the flame, from the moment he struck Harold Mabern's incendiary "The Beehive" Cary, no stranger to the groove factor on his Fender-Rhodes keyboard, which acted up a bit technically, offered a Gnawa groove inspired by his time in Essaouira, Morocco at the great Gnawa Festival. He even surprisingly served up Hermeto Pascoal's mini-gem "Little Church," with a nice outro anecdote about a chance encounter with Pascoal on a trip to Brazil. With much of the music based on his latest Motema release "Rhodes Ahead Vol. 2", Marc Cary beautifully capped off our Montreal experience.