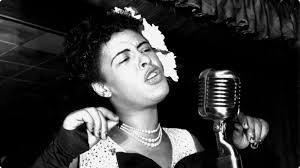 Lots of inertia surrounding 2015 as the centennial year of the birth of American music immortal Billie Holiday. The tributes have included several recordings, most notably Cassandra Wilson and Jose James separate re-imaginings of Lady Day. From the literary perspective on Billie comes John Szwed's very worthwhile new book Billie Holiday: The Musician and The Myth (Viking). John Szwed is a longtime professor (notably director of the Center for Jazz Studies at Columbia University, one of the more unique jazz studies programs, with its focus on the academic rather than the pedagogical side of jazz studies), jazz critic, and author of exceptional biographies of Sun Ra, Miles Davis, and the intrepid oral historian Alan Lomax.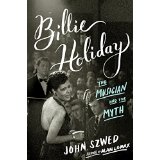 Two recent prints bore wildly divergent viewpoints on Szwed's treatment of Billie. In his monthly JazzTimes magazine column, The Gig, New York Times critic Nate Chinen (multiple JJA Awards winner for jazz journalism), after listing some of this centennial year's recorded homages to Lady Day, writes this" "She was a fount of swinging ebullience and a doyenne of dirges: Our Lady of Sorrows. She was vulnerable and flinty, a tragic case with little use for your pity. "All those who have attempted to write about her have discovered that there are many Billie Holidays, " John Szwed writes in the introduction to his slim but illuminating book Billie Holiday: The Musician and the Myth (Viking), the most rewarding bit of Billieana to surface in any form this year."
Meanwhile in the May 22 edition of the Washington Post (Style section), Matt Schudel's rather churlish review includes the following: "Holiday, who was often called "Lady Day," would seem to be a natural subject for a first-rate biography, but for some reason that has not been the case. The best of a mediocre lot is perhaps Donald Clarke's "Wishing on the Moon," published in 1994." So in one fell swoop Schudel dismisses at least two very worthy treatments of La Holiday, notably by two of Szwed's Columbia colleagues: Robert O'Meally's Lady Day: The Many Faces of Billie Holiday (1991, Arcade), and Farah Jasmine Griffin's If You Can't Be Free, Be a Mystery: In Search of Billie Holiday (2001, Simon & Schuster)! Or perhaps he slept those fine editions to the Holiday bibliography.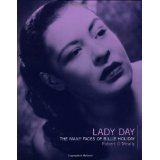 Schudel goes on to say: "In a sense, Holiday's life was one long spiral toward tragedy, but Szwed seldom takes biographical advantage of the rich documentary material he finds." One must assume by that passage that Mr. Schudel would have preferred heaps more lurid details, dirt, and a chronicle of Holiday's long slide down the degradation tunnel of drug addiction, poor spousal choices, and new sexual affairs revelations. Later Schudel declares: "The most interesting sections of this diffuse and poorly conceived book are two chapters in which Szwed analyzes Holiday's singing style." Frankly, that level and depth of analysis is one of the real hallmarks of Szwed's approach to Billie, and the author's central purpose! One wonders if Schudel ever got far enough in Szwed's treatment to read this end game Szwed declaration on p. 197 of his 219 page treatment: "I set out to write a book that cast new light on the extraordinary artist who was Billie Holiday. My intention was not to deny or gainsay the tribulations and tragedy of her life, but to shift the focus to her art. The consistency and taste she brought to nearly every performance, even those when her body was failing her, display a discipline, an artist's complete devotion to her work, and a refusal to surrender to the demands of an insatiable world." That pretty much says it all about John Szwed's approach to his subject, particularly when one considers that the lurid details of her life are at this point so much ad nauseam, which is one reason this writer found Szwed's take both refreshing and illuminating.
Instead of chapters on, perhaps the initial dabble with heroin spiraling into addiction, or her various affairs and assorted smarmy details, Szwed chose to write detailed chapters on a re-examination of the often dismissed William Dufty co-authored autobiography Lady Sings the Blues, in which Dufty himself is treated more kindly than previous examinations of the book that led to Berry Gordy's entertaining but hack film of the same name. Holiday's arc as a singer and a musician are explored, with very real delineations between those two sides of her artistry. Perhaps the most exhaustive Szwed chronicle of all is the songs Billie chose and why she chose those vehicles. Above all his is a sensitive, intelligent, and musicological detailing of this most unique of all singers, and as such is highly recommended.