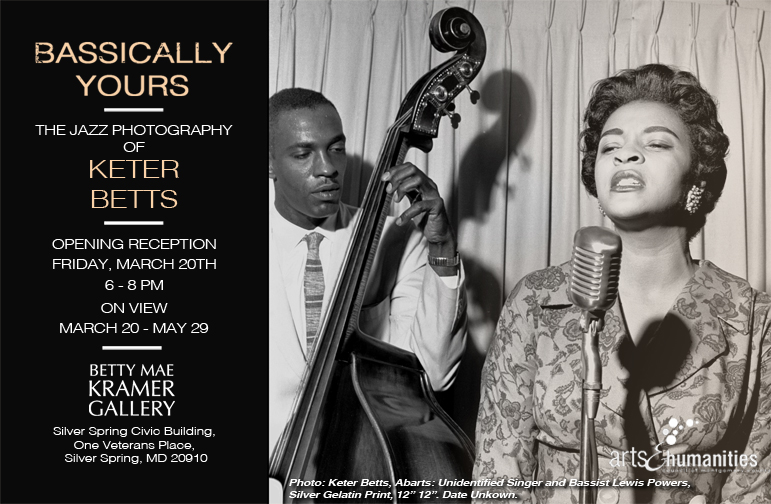 So what is it about playing the bass and developing a keen eye for photography? Remember those three superb coffee table photography books by one of the great jazz bass pioneers, Milt Hinton ("Bass Line", "Over Time", and "Playing the Changes")? And what a gracious, storytelling man he was! One can absolutely feel the stories poring forth from the roving photographic eye of Milt Hinton in his on-the-road chronicles of the jazz life in those pages. I fondly recall one agreeable afternoon in Fano, Italy, a lovely beach town on the Adriatic Sea coast where Umbria Jazz producers had come to extend the abundant charms of their festival from the Etruscan hillside charms of Perugia to the "Italian Riviera". As we sampled an amazing array of seafood at a large roundtable with fellow journalists, Milt regaled us with tales of early jazz lore. At one point his gracious wife Mona piped up "…he can remember what happened in 1925, but can't remember what he had for breakfast this morning!" As always, Milt was strapped with his trusty camera, but I never got to ask him how he came to be not only one of the finest exponents of his instrument, but also such a keen photographic chronicler of his age.
A few years later came an assignment from the Smithsonian to conduct an oral history interview with bassist Keter Betts at his Silver Spring, MD home. You remember Keter, right?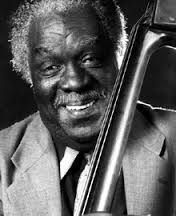 THE EVER-EBULLIENT KETER BETTS
Keter was the steady bulwark behind so much of Ella Fitzgerald's small group work; with a fat sound and warm-heart, the ebony-hued presence of Keter, with his quick smile at some inside bandstand joke, the presence who gave lift to Ella's girlish, scat-tastic flights. During our interview I asked him about the Billie Holiday contention that the most important musician in her ensemble was always the bass player. He responded that for his place on Ella's bandstand, he always strategically planted himself directly behind Ms. Fitzgerald and aimed his bass at a figurative bullseye he'd paint directly in the small of her back; that was one key to their long partnership.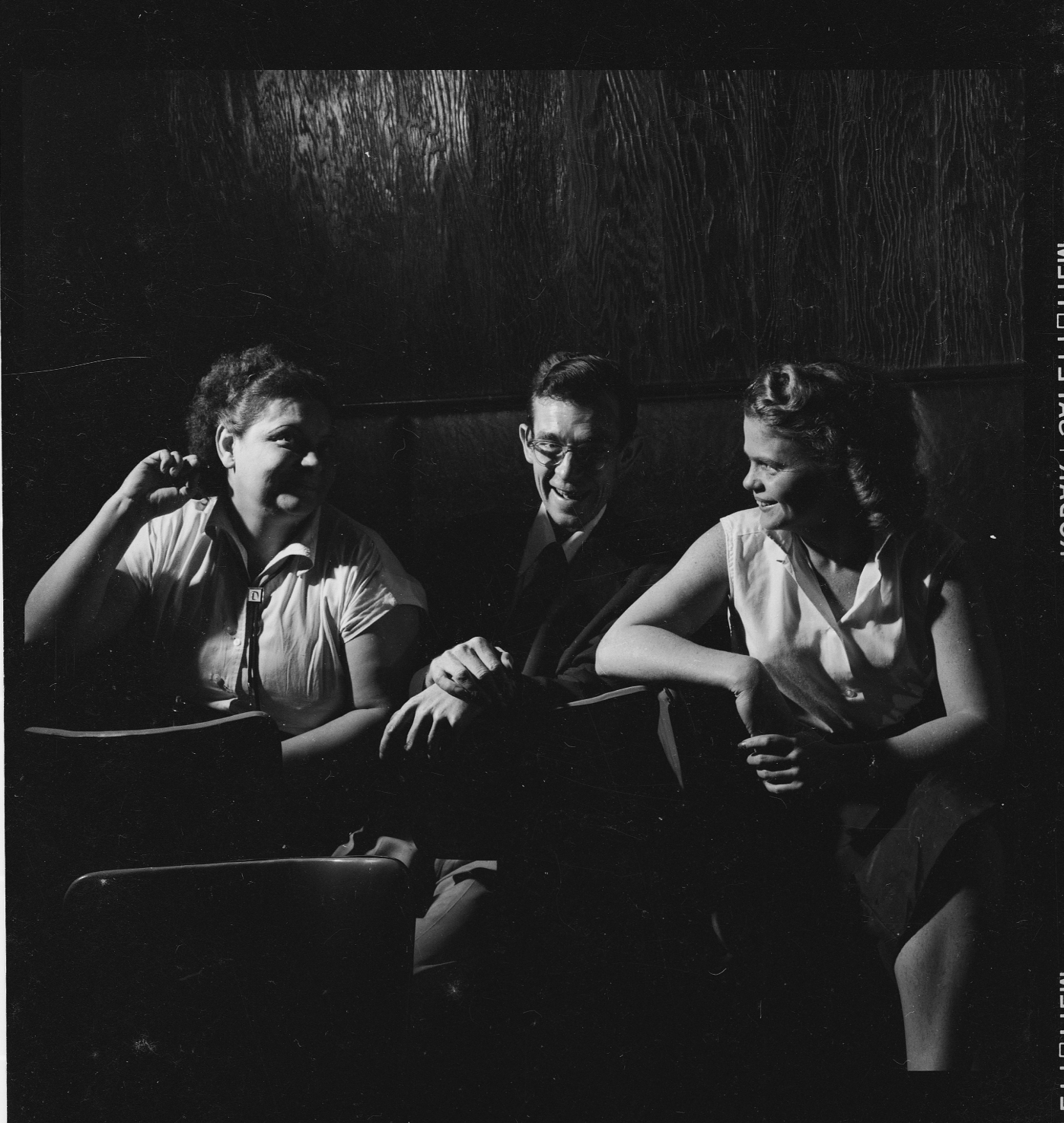 ONE OF KETER'S IMAGES OF THE FANS
Another major bullet point in Keter Betts' career was his lengthy stint with another of the DC area's musical pillars, guitarist Charlie Byrd. Though the modest Keter spoke about it with no apparent rancor, fact is the development of the 60s bossa nova craze might not have been quite the same without the bassist. Ahead of Byrd, and certainly ahead of Stan Getz – the biggest commercial beneficiary of all – it was Keter Betts who visited Brazil and carried home the compatible idea of jazz and bossa nova, hipping Byrd to the possibilities and leading to the historic Jazz Samba recording session at DC's All Souls Church on 16th Street, just up the hill from the capital's storied U Street ("Black Broadway") district.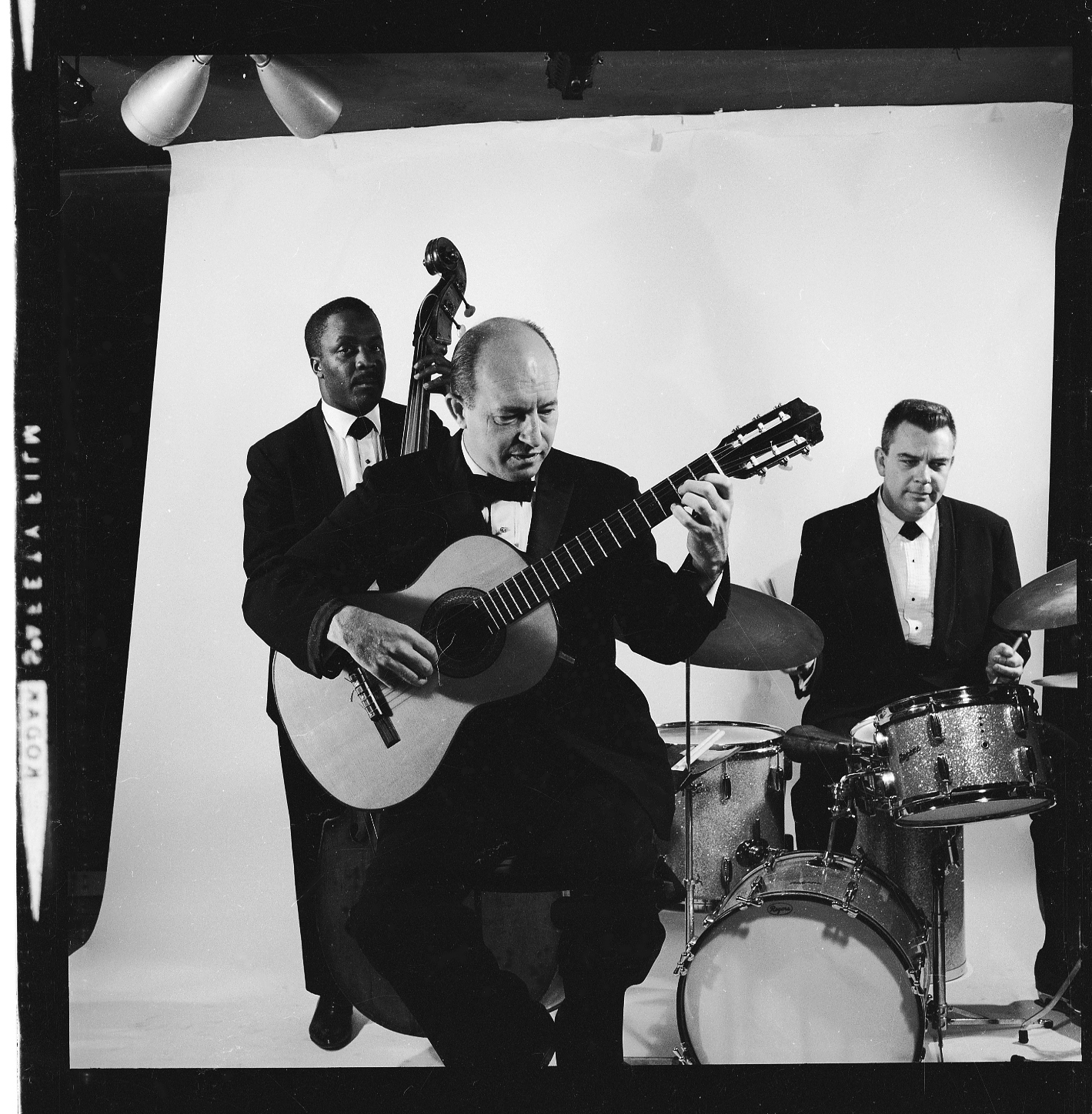 A KETER BETTS PRESS PHOTO SHOOT OF THE CHARLIE BYRD TRIO, KETER ON BASS
Betts was also bitten by the shutterbug. A significant sidebar to his career was capturing visual moments for posterity, particularly around the DC scene. Encountering musicians along the way who needed publicity shots, Betts even grew a side business of accommodating those self-marketing requirements of the trade, becoming an adept headshot hunter. Now, nearly 10 years after his '05 passing on to ancestry, the Arts & Humanities Council of Montgomery County (MD) has mounted a wonderful exhibit of Keter Betts' photographic artistry. (Full disclosure: Suzan Jenkins is the CEO of the AHCMC.) Curated by Amina Cooper, from the collection of Keter's daughter Jennifer Betts come images that tell stories of U Street jazz lore, capture delicious slices of the arc of DC's understated master chanteuse Shirley Horn, Byrd and other stalwarts like fellow bassist Wilbur Little, bringing to life several angles on the DC scene and the broader world as Mr. Betts experienced it. An additional treat, courtesy of the longtime Silver Spring, MD-based monthly JazzTimes, is a wall dedicated to the masterful work of ace JT photog Jimmy Katz.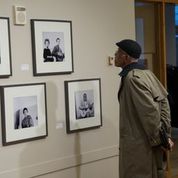 A FAN VIEWING THE CURRENT EXHIBIT
So just what is it about bass players and the art of photography? Both Milt Hinton and Keter Betts are lavishly credited with mentoring another highly-skilled contemporary bassist, DC's own Herman Burney. Tall, bespectacled and professorial in bearing, the affable Burney brings ample bottom and gravitational lift to whatever bandstand has the good taste to engage him. Spend enough time around Herman Burney and your image is likely to be captured by his trusty, ever-present camera. A major component of "Bassically Yours," the current Keter Betts photo exhibit, is three free programs featuring Herman Burney, including a conversation that promises to explore this whole bass player/photographer equation.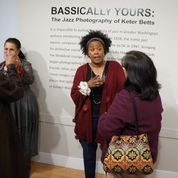 KETER BETTS DAUGHTER JENNIFER BETTS AT THE OPENING
Important Dates:
Friday, March 20 2015, 6pm – 8pm
The Betty Mae Kramer Gallery & Music Room Silver Spring Civic Building, One Veterans Place Sliver Spring, Maryland 20910
Monday-Friday, 9 AM – 6 PM
Exhibition Tour with Curator Amina Cooper
Thursday, April 16, 2015 at 12:00pm
Bass Choir Performance and Panel Discussion with Herman Burney, Kris Funn, & Victor Dvoskin Thursday, April 16, 2015 6:00pm – 8:00pm
A Special Performance of The Herman Burney Trio
featuring Herman Burney, Reginald Cyntje and Harold Summey Thursday, April 30, 2015 at 6pm
Exhibition Lecture – Bassist Herman Burney in Conversation with Willard Jenkins
Thursday, May 14, 2015 6:00pm – 8:00pm
Website: www.creativemoco.com/BassicallyYours