JAZZ TAKES A STAND
By Ron Scott
Regardless of America's ever-changing situation black music has always been its soundtrack depicting the mood of the times from war to peace, lynchings to chain gangs, segregation, civil disobedience, integration, to police brutality, and nonviolent resistance.
Jazz musicians may not always be directly involved in protest marches, or on picket lines but their music has always been heard loud and clear. It's the soul of black folks like the deep blues from the emotional river of Billie Holiday every time one hears her sing "Strange Fruit". No the song isn't about police brutality but it has everything to do with the killings of innocent unarmed black men, racism at its most sinister peak, and man's inhumanity to man. Even today when folks hear "Strange Fruit" they get a chill visualizing the bodies hanging from those trees and the thought is this should never happen again.
The protesters in New York City, California, Cleveland, Ferguson and throughout America are saying the same thing "We do not want to see this again; unarmed young black men like Michael Brown, Eric Garner, Timar Rice and many others being killed at the hands of police officers." The song "Stand" by Sly and the Family Stone is an anthem for any protesters march. "Stand for the things you know are right/it's the truth that makes them so uptight/Stand there is a midget standing tall and a giant beside him about to fall" for these purposes the giant is the system. These young men were "Young, Gifted and Black" as was the great poet Henry Dumas whose life was taken in 1968 by a Transit Policeman in a case of mistaken identity, he was 33 years-old just beginning a successful career.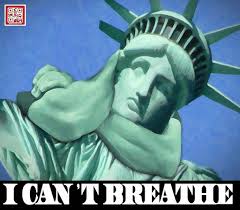 Young, Gifted, and Black" was sung by Nina Simone: "To be young gifted and black/ yours is the quest just begun. To be young gifted and black is where it is at." When they are so quickly taken away as in the cases of Brown, Garner, and Rice then for the parents these are "Stolen Moments" (Oliver Nelson). The dreams, aspirations, and hopes are gone and all that remains are memories.
In Her song "Why? (The King of Love is Dead)" she notes "Is it too late for us, and did he die in vain."
Simone's song "Four Women" depicts four black women whose lives are based on their skin color; Aunt Sara probably a slave as she says "my skin is black/my back is strong/strong enough to take the pain inflicted again and again." The pain crying out in black America started with Aunt Sara, and travelled through Simone's characters "Safronia" and "Sweet Thing" both misused and disenchanted by society. Simone finishes on a high note with Peaches. "My skin is brown/my matter is tough/I'm bitter because my parents were slaves/I'll kill the first mother I see." When equality doesn't work for the masses and the same deadly situations become a hideous habit in black communities then "Peaches" appears wanting action.
They call it civil unrest or "riots" But riots wouldn't occur if the problems were met with viable plans and solutions rather than politicians, commissioners, and others constantly living in the American tradition of reactionary mode. Let's talk about Rodney King in 1991, and deal with those issues so it won't happen again but here it is again. Dr. Billy Taylor wrote "I Wish I Knew How It Feels to Be Free," and today many are still wondering.
In 1960 Max Roach's We Insist! Freedom Now Suite was released on the Candid Records label. The cover reflects a sit-in of the Civil Rights Movement. The recording features five selections on protests, slavery, and the growing African independence movements of the 1950s. Only Roach and vocalist Abbey Lincoln perform on all five tracks, and one track features a guest appearance by saxophonist Coleman Hawkins.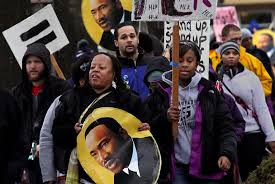 John Coltrane's "Alabama" appears on his album Live at Birdland (Impulse 1963). It was written in response to the 16th Street Baptist Church bombing on September 15, 1963, an attack by the Ku Klux Klan in Birmingham, Alabama that killed four young black girls.
In 2012 Trumpeter/composer Wadada Leo Smith recorded his 4/CD set Ten Freedom Summers that included "Emmett Till: Defiant Fearless" a tribute to the 14 year-old who was hideously killed in Mississippi, in 1955. Other titles in this collection include "Dred Scott, 1857", "The Freedom Riders Ride," Rosa Parks and the Montgomery Bus Boycott, 381Days".
In the 1970s Chicago (Columbia Records) recorded their four-movement composition "Better End Soon." The song reflects the tragedy of wars, and inequality, "people hating and hurting their brothers/they can't understand/better end soon we can make it happen/we can change the world."
The O'Jays say there is a "Message in Our Music." "There is a message in our song/we are going to talk about all the things that's been going down/so understand while you dance/trying to make you see things aren't the way they're suppose to be."
Whether people are marching, dying, demonstrating, or crying there will be jazz warriors playing rhythmic sighs and bold tones of injustice and pain, and the hipness of the swing as it relates to blacks and every one of America's freedom & justice movements.