Next week New York City will host a convergence of two annual arts conferences, starting January 8/9 with the burgeoning Jazz Connect Conference at St. Peter's Church, and merging with the Association of Performing Arts Presenters Conference January 9-13 at the Hilton Midtown Hotel. A major component of the Jazz Connect Conference will be sessions geared towards jazz concert & festivals presenting, with a significant overlap between conferees with interests in both conferences. One major upshot of each conference will be a dizzying array of jazz artists showcasing their wares for the assembled presenters, with opportunities to experience work at spaces large & small predominantly in Manhattan. But from the perspective of the art of the improvisers known as jazz, in many of its vast permutations, the crown jewel of those performance opportunities is the 11th annual NYC Winter Jazzfest. This unique undertaking is completely New York-centric. What other city on the planet could even approach presenting north of 100 performances at 10 venues over the course off three days?


EMERGING HARPIST BRANDEE YOUNGER PROMISES ONE OF THE MORE UNIQUE OFFERINGS AT WJF '15 AS SHE REMEMBERS DOROTHY ASHBY
The core of Winter Jazzfest is the Friday/Saturday, January 9/10 marathon performances. Thursday, January 8th at 8:00pm will be a bit of a soft launch of Winter Jazzfest, "soft" purely in terms of that evening's two lone performances: Blue Note Now! will showcase some of the venerable label's 30-something contingent, with the Robert Glasper Trio, vocalist Jose James, bassist Derrick Hodge's unit, and drummer Kendrick Scott's Oracle at Le Poisson Rouge. That same evening "Jazz Legends play for Disability Pride" will feature NEA Jazz Masters Ron Carter, George Coleman, Benny Golson and Jimmy Cobb, plus Renee Rosnes, Russell Malone, Brad Mehldau, Buster Williams, Mike LeDonne, Harold Mabern, Kenny Washington and more at The Quaker's Friends Meeting House at 15 Rutherford Place. Certainly some delectable appetizers indeed, an opportunity for those intrepid souls among us to get stoked for the Friday/Saturday marathon to come.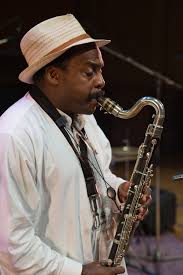 DAVID MURRAY WILL PLAY 3 WINTER JAZZFEST GIGS, INCLUDING ONE PROMISING PLENTY OF HIS BASS CLARINET
Those evenings, starting as early as 6:00 p.m. will present an incredible array of New York's finest, with an impressive sprinkling of global jazz citizens as well. Please visit www.Winterjazzfest.com for complete information, but allow your humble correspondent to offer more than a few recommendations of must-see opportunities, keeping in mind that these are largely club spaces or compact theaters, starting with the Friday, January 9th sessions. And given these diverse spaces, those hearty souls possessing Winter Jazzfest passes will need to strategize their choices as these joints tend to fill to capacity with a quickness. At Le Poisson Rouge (158 Bleecker St.) at 7:45 the ICP Orchestra (Instant Composer's Pool) features some of Europe's most progressive improvisers, including the madcap drummer Han Bennink and the brilliant clarinetists Michael Moore and Ab Baars. The Minettta Lane Theatre lineup will feature not one but two David Murray sightings: at 7:30 his Clarinet Summit with Don Byron, David Krakauer, and Hamiet Bluiett; followed at 8:45 in an intriguing trio setting with Geri Allen and Terri Lyne Carrington. The bountiful ideas of pianist-composer Vijay Iyer will join forces with Trio 3 (Oliver Lake, Reggie Workman, Andrew Cyrille) at 10:00pm. Then at 11:15pm the ever-inventive guitarist Marc Ribot will showcase The Young Philadelphians with Strings. Meanwhile, if you want to get your trumpet on, check out Judson Church's offerings at 55 Washington Square Park South, which will include an unveiling of keyboardist Jason Miles and trumpeter Ingrid Jensen's new Miles-flavored partnership Kind of New and their forthcoming new record. Then at 9:15pm, a man who never runs out of fresh ideas: trumpeter Dave Douglas Quintet.



ICP ORCHESTRA
Subculture, at 45 Bleecker Street, among its seven Friday evening performances will be bassist Linda Oh's Sun Pictures at 7:15pm, and drummer-composer Tyshawn Sorey's Piano Trio. Down the street at 147 Bleecker, the historic folkie haunt The Bitter End will fire up their stage beginning at 6:15pm with the Wallace Roney Quintet, offering yet more sustenance for trumpet enthusiasts, as will Igmar Thomas and The Cypher at 10:00pm, Silver with Eddie Henderson (who will also hit with The Cookers on Saturday night at Minetta Lane Theatre) at 11:30pm at Carroll Place (157 Bleecker Street), and promising young Bria Skonberg, who'll close down the Zinc Bar (82 W. 3rd St.) starting at 12:45am. Back to The Bitter End, the spousal team of drummer Marcus and vocalist Jean Baylor's Baylor Project hits right after Roney at 7:30pm, followed by what is sure to be one of Winter Jazzfest's most unique offerings, young harpist Brandeee Younger's tribute to jazz harp trailblazer Dorothy Ashby. Same joint, at 11:15pm features saxophonist Marcus Strickland's Twi-Life band.


SAXMAN MARCUS STRICKLAND WILL HIT AT SUBCULTURE
Over at The Players Theater (115 MacDougal St.) at 7:00pm its Mr. Excitement of the vibraphone, Joe Locke and his "Love Is A Pendulum" project, followed at 8:15pm by clarinetist Oran Etkin's "Reimagining Benny Goodman," a 21st century morphing of the King of Swing. In addition to Skonberg, the Zinc Bar will showcase vocalist Alicia Olatuja, with selections from her fine new Motema release. She is the first half of a vocal doubleheader of sorts, with Allan Harris to follow at 9:00pm. Then the modern state of the drums will be well-represented by the Dafnis Prieto Sextet at 10:15pm and Allison Miller's Boom Tic Boom at 11:30pm. I'm exhausted already and that's just a survey of some personal Friday evening highlight opportunities! Again, for the complete run-down visit www.Winterjazzfest.com.


ALLISON MILLER BRINGS SOME BOOM TIC BOOM TO THE ZINC BAR
OK, so sleep in, have a great Saturday brunch, stroll a few retail aisles. but whatever you do save some energy for Saturday evening's Winter Jazzfest offerings! At 9:00pm Le Poisson Rouge welcomes David Murray for a third Winter Jazzfest sighting, this time its his Infinity Quartet with spoken word artist Saul Williams. Saturday offers its own share of trumpet majesty, with Nicholas Payton's Trio closing down Minetta Lane Theatre at 12:30am, two Ambrose Akinmusire opportunities at Judson Church – at 6:45pm with vocalist Theo Bleckman's Quartet and 9:15pm with his own quartet; and Avishai Cohen will be with the SFJAZZ Collective and its 2015 program of original compositions and the music of Michael Jackson at Subculture. Other Saturday highlights – again from a purely personal perspective – will include keyboardist-vocalist Amina Claudine Myers' trio (7:30pm at Minetta Lane Theater), followed by inventive alto saxophonist Rudresh Mahanthappa unveiling his Charlie Parker Project for a WJF audience at 10:00pm. Meanwhile over at Subculture, in addition to SF JAZZ Collective, featured sets will include guitarist Lionel Loueke's Trio (8:30pm), and the brawny tenor saxophonist JD Allen's Trio at 12:15am.
Over at The Bitter End Oliver Lake's Organ Quartet (6:15pm) will be followed by the always worthwhile guitarist Matthew Stevens at 7:30pm., and later tenor man Walter Smith lll will close the joint at 1:45am. Saturday evening's Zinc Bar session commences with pianist Myra Melford's scenic Snowy Egret (6:30pm). Tired of racing from venue to venue to seek your faves? This might be a good evening to simply park at the Zinc, as they'll also feature tenor saxophonist Mark Turner's Quartet at 7:45pm, the exceptional Canadian vocalist Kellylee Evans at 10:15pm, followed by rangy percussionist Mino Cinelu's World Jazz Ensemble at 11:30pm, modern master drummer Nasheet Waits' Equality Quartet at 12:45am, and pianist-vocalist Loston Harris at 2:00am. Remember, this Winter Jazzfest is not for the faint of heart!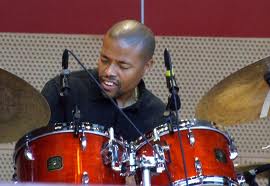 ZINC BAR BOASTS A RARE BANDLEADING GIG FOR THE SUPERB DRUMMER NASHEET WAITS
Bowery Electric has drummer-composer Jaimeo Brown's topical Transcendence ensemble inventively reimagining work songs at 6:30pm, followed at 7:45 by the bracing cellist-trombonist Dana Leong's Trio. Looking to get your feet en clave? In the midst of all this modernism and original composition, you may find your sensibilities in need of some old school; and if that's the case seek head over to the Greenwich House Music School (46 Barrow Street) and their "Hot Jazz Festival Night," with particular emphasis on vocalist Catherine Russell at 10:00pm. In need of a dose of La Clave, then head over to Carroll Place roundabout 12:45am for trombonist Chris Washburne's SYOTOS, which is promising some "Acid Mambo." And by the end of all this, your Sunday will be as The Creator originally intended it… a day of rest!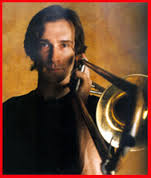 PROFESSOR OF LA CLAVE, CHRIS WASHBURNE
www.Winterjazzfest.com