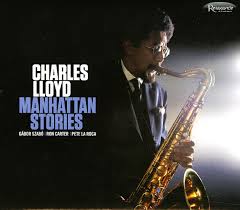 When producer, and tireless unreleased gems crate digger Zev Feldman asked me to write one of four essays to accompany his 2-CD Charles Lloyd discovery – Manhattan Stories (Resonance) captured live at Slug's and Judson Hall with his first band (Gabor Szabo, Ron Carter, and Pete LaRoca Sims) – the idea and the prep took the mind back to my first Lloyd sighting. Like many, my first full-blown exposure to 2015 NEA Jazz Master Charles Lloyd's artistry came via his classic Forest Flower (Atlantic). For this particular college freshman, that record was grits & gravy, taking me back to the crates for his prior efforts with Cannonball Adderley, Chico Hamilton, and his first leader dates on Columbia. For the alternative music heads among us, in my case becoming increasingly immersed in Sly Stone, Jimi Hendrix, Cream, etc., here was an acoustic jazz quartet that truly reached our over-amplified ears. Not that I hadn't been a bit of a jazzhead to start with, based primarily on my father's record collection which I would poach from time to time for my growing dorm room collection, but Dad's tastes didn't run towards guys like this Afro-ed (yes, even that wild white guy on piano named Keith Jarrett) crew with the somewhat outré sensibilities. Even the look of the Charles Lloyd Quartet spoke volumes to ears balancing the home-training jazz background with the guitar & vocal-based rock music explorations of my peers, an immersion quite different from the trips Miles Davis was about to take us on during that period. These cats were playing acoustic jazz for God's sake!
Lo and behold that same Quartet, now with Ron McClure subbing for Cecil McBee on bass, came to nearby Baldwin-Wallace College for a concert date. And what a memorable date that was, with Jarrett spinning and moaning at the piano bench, jumping up to pluck the inner strings, Jack DeJohnette cursing & thrashing on the tubs in the manner so aptly detailed about an Elvin Jones sighting by one of the many jazz critics whose musings I was thirstily imbibing in between (and oft times in place of, to the chagrin of my GPA) my Kent State text books. Meanwhile our leader was leaning into and bending his tenor at odd angles to more deeply capture the muse. I was in the bag, and have been for Charles Lloyd ever since.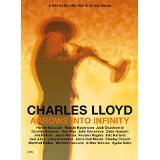 That's precisely why Arrows Into Infinity, the deeply biographical Charles Lloyd film so perceptively crafted by his wife Dorothy Darr and Jeffery Morse, tops my list of recorded material for 2014. (Too bad the assorted year-end best-of lists and critic's polls I've been privileged to participate in this month don't open those lists to make audio AND video releases eligible!) From the opening sequence of Lloyd assembling his saxophone and his distinctively Afro-ed soliloquy (in the film Michael Cuscuna correctly pegged his look back then as "Dartmouth professor"), through the early days revelation of his mother's home offering lodging to Jim Crow-era touring black artists, and homeboy-trumpeter Booker Little's warmth and wisdom when the youngster made it to New York to ply his trade, the viewer is hooked by the many revelations of a unique story unfolding through Darr & Morse's loving cinematic prowess. Seeing the late L.A. sage, saxophonist-flutist Buddy Collette recount Charles' entry into Chico Hamilton's band, through Charles' striking presence in the Cannonball Adderley Sextet, one gets the clear sense that Charles Lloyd was destined to be an artist of distinction.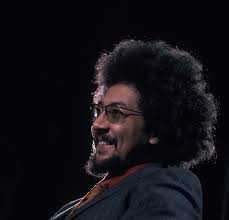 The underrated Lloyd partnership with guitarist Gabor Szabo, brought to bold relief by the Manhattan Stories release, is given just due for its potency. But on the wings of the Jarrett-DeJohnette-McBee quartet, Charles made a huge breakthrough. The momentous, chilly night on the Monterey Fairgrounds that gave us the enduring "Forest Flower" classic is vividly recalled in testimony on the impact of that record by folks like Phil Schaap and Healdsburg Jazz Festival producer Jessica Felix, and most compellingly by a gentleman who testifies about the visceral effect of hearing that music unfold that historic night at the Monterey Jazz Festival.
The film takes the viewer through Charles Lloyd's dark & light days in the relative isolation of the majestic Big Sur Pacific coastline. Stories include the beginnings of the blessed life partnership with Ms. Darr. Superb use of archival footage aptly travels the viewer through breathtaking scenes and the heartbreaking lows of his withdrawal period and his musical re-awakenings, first as a moonchild engaging in hippie musical culture, later as a new age woodwind shaman touring with the dramatic readings of actor Burgess Meredith. Throughout these periods are breathtaking scenes of deep contemplation from the lush, woody, sloping seacoast of Big Sur. The story of the late piano genius Michel Petrucciani's pilgrimage to find Charles Lloyd and reawaken his collaborative jazz instincts is simply and elegantly conveyed.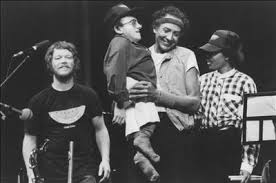 Lloyd lovingly cradling Michel Petrucciani
Among the revelations is Charles matter-of-fact declaration that his tenor sound came from Lester Young, declaring to an inquisitor: "That sound that [Lester] had was so tender and so beautiful to me, and I'm always feeling that the world needs more tenderness. I can play strong, but I like something about the ballads and the tenderness that Pres had," Lloyd reveals. The spiritual aspect of Charles Lloyd, so key to understanding his career, comes through the Indian practice of Vedanta, an adherence perhaps best musically detailed in the joy he derives from the trio Sangam, with tabla master Zakir Hussain and drummer Eric Harland. The film offers great footage of that band's inner workings, a partnership which also came through beautifully during Charles' residency at the 2014 Monterey Jazz Festival.
The magical collaboration with fellow NEA Jazz Master Billy Higgins – their Hyperion – is another moment of great cinematic warmth in this 113-minute film. Cuscuna's apt declaration that Lloyd has a master's touch when it comes to engaging challenging musical partners rewards the viewer with clips from his succeeding work with Bobo Stenson and his Norwegian ECM crew, bands with John Abercrombie and Billy Hart, Geri Allen's stint as quartet pianist, through his brilliant current quartet with Jason Moran, Harland, and bassist Reuben Rogers – including a deep performance of spirituals with contralto Alicia Hall Moran. There's even some lovely footage of Lloyd and compadre Ornette Coleman shooting pool! The scope of this film is amazing when you consider Charles Lloyd's fascinating career and ultimate impact. This holiday season if you're looking for a great recording to lay on that hip, aware family member, loved one, co-worker, or associate, look no further than Arrows Into Infinity.