A Jazz Connect Conference 2015 panel discussion on The Ways & Means of DIY Labels was moderated by Greg Osby, with bassist Mimi Jones making her point
What do you suppose are the ultimate benefits of attending jazz conferences? That's a legitimate question that I suppose many in the music business have asked themselves down through the years. For me, jazz conference attendance has been an absolute necessity for more years than I care to remember; but for the record, my jazz conference days date back to 1984. That year, after having been a jazz enthusiast-journalist-presenter-activist since undergrad years, I was fortunate to fall into a contracted scenario that would actually enable me to earn a living working on behalf of jazz! Learning of the position from a friend, musician-educator the late Dr. Reginald Buckner, I was contracted by the former regional arts agency Great Lakes Arts Alliance (GLAA, based in Cleveland), which served the states of Illinois, Indiana, Michigan and Ohio.
The task, which resulted from a NEA grant, was a one-year contract to travel and develop various instruments – interviews, questionnaires, etc. – to survey the needs of the jazz community in that region. The ultimate goal was development of a substantial jazz service effort in the region. As my friend the late, great performance poet Sekou Sundiata said, longstoryshort the results of that year revealed not only a vibrant regional community of musicians, educators, presenters, radio broadcasters, and enthusiasts, but also substantiated the need for development of some form of regional jazz service effort to seek to address some of those needs. During the course of that year of traveling the region, GLAA entered merger talks with their sister regional arts agency which represented the Upper Midwest states of Iowa, Minnesota, North & South Dakota, and Wisconsin. The resulting merger formed what is now the 9-state regional known as Arts Midwest.
David Fraher, who was director of the former regional in the Upper Midwest, as initiator of those merger talks would head Arts Midwest. David, who has always given great support to jazz, was so impressed by the results of that year-long needs assessment that he was determined to create the nation's first regional jazz service program as a core program of the new Arts Midwest. He wanted me to run the new jazz program at Arts Midwest, which required relocation to the Twin Cities because David's former Upper Midwest regional was based in a beautiful old building in downtown Minneapolis, the Hennepin Center for the Arts. But I digress; we were after all talking about the necessity of jazz conferences.
During that year at GLAA, coincidentally the National Association of Jazz Educators (NAJE) annual conference took place in Columbus, OH. In those days NAJE conferences were hosted by different cities annually. That first conference attendance was a blast, a wonderful opportunity to meet passionate jazz educators, musicians, and all-around enthusiasts all gathered under one big tent on behalf of the music; clearly there was a family reunion vibe in the air in Columbus. From that point on January was time for the annual NAJE conference, which later morphed into the International Association of Jazz Educators (IAJE). Not long after, Ira Sabin started the old JazzTimes convention, which was geared more towards musicians, the jazz record industry, and a broader sector of the jazz community than jazz education. Some years after its formation IAJE conferences became a kind of omnibus jazz community gathering as the organization sought to open its umbrella to include the entire jazz community, nationally and internationally.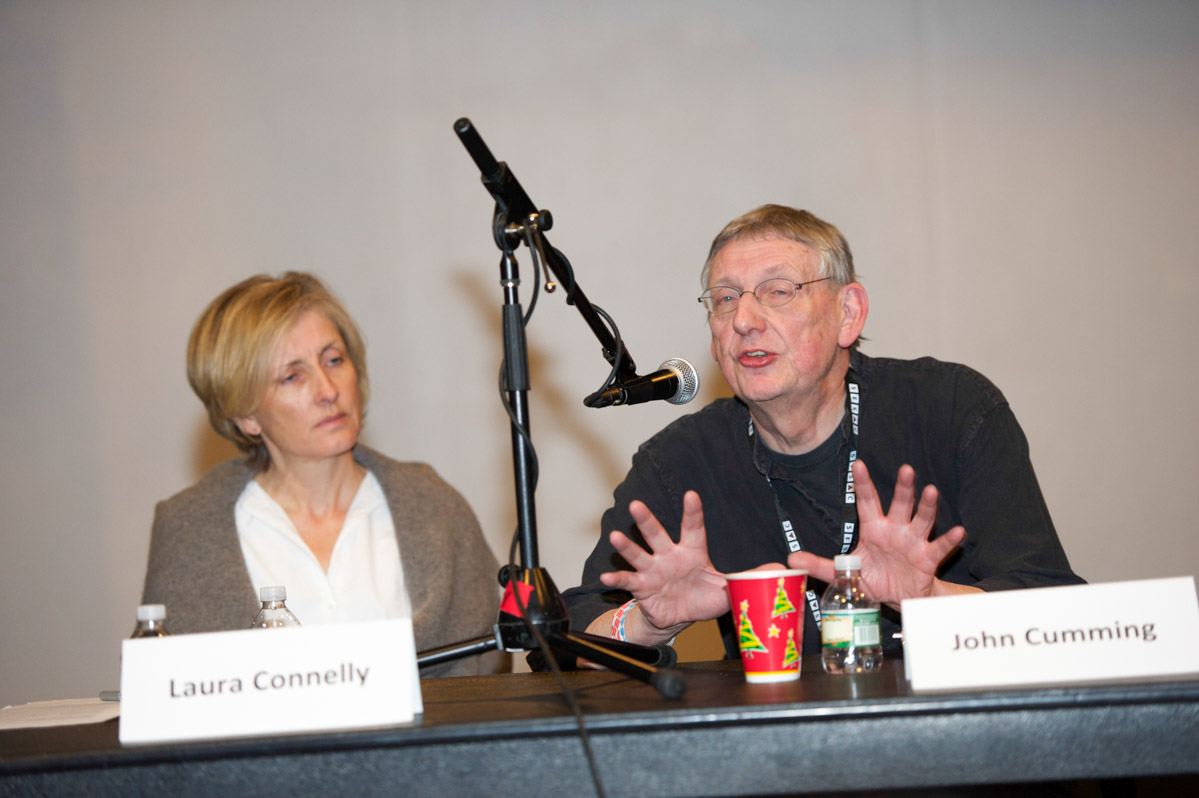 John Cumming of London Jazz Festival producer Serious organization, with Laura Connelly of the Hollywood Bowl looking on at an Artistic Director's panel at Jazz Connect '15
Anyone who attended any of these conferences annually – NAJE, JazzTimes, IAJE (and for jazz radio heads that also included the old Gavin Report confabs) – attendance became a must; a big tent atmosphere where one could connect with peers, catch up on the latest news, and simply engage in the joys of jazz community networking. This is a huge country and such opportunities to network under one roof proved advantageous, if for nothing more than to catch up with people you were doing business with, hoped to do business with, or needed to connect with in any manner. Eventually the old JazzTimes conference folded its tent and came under the IAJE conference umbrella, which included JazzTimes producing a tract of panel discussions and programs geared towards the other sectors of the jazz community, beyond jazz education.
For some key folks in the jazz education sector of the community – and let's face it, that's been one of the healthiest, fastest growing, most optimistic segments of the jazz business for years – there was the creeping sense that the old IAJE had lost its way, had simply grown too big at the expense of its jazz education mission. Some of those folks, determined to create a specific space for jazz education and educators to conference, founded the Jazz Education Network (JEN) (full disclosure: this writer is a former JEN board member). They skillfully re-instituted the January jazz education conferences, returning to the old NAJE model of conferencing in different cities and regions each year. This year's JEN conference was held in San Diego, and most reports from that conference, which included a keynote address from Herbie Hancock, were very encouraging.
Meanwhile, what about the other sectors of the jazz community, beyond jazz education? Up to the plate stepped – once again – JazzTimes magazine, along with the Jazz Forward Coalition (which includes activists who had been important initiators of IAJE conference activities) to develop the annual Jazz Connect Conference, also presented in January, and hosted in New York City, which had been home to the largest of the former IAJE conferences. Jazz Connect cannily aligned itself with the major annual arts presenter conference of the Association of Performing Arts Presenters (APAP) during January, which is also time for several other major arts conferences in New York, including the annual Chamber Music America conference. And one of the key draws for Jazz Connect Conference participants is the adjacent annual Friday/Saturday Winter Jazzfest, which pretty much takes over Greenwich Village clubs and venues over the course of an incredibly vibrant weekend for the music.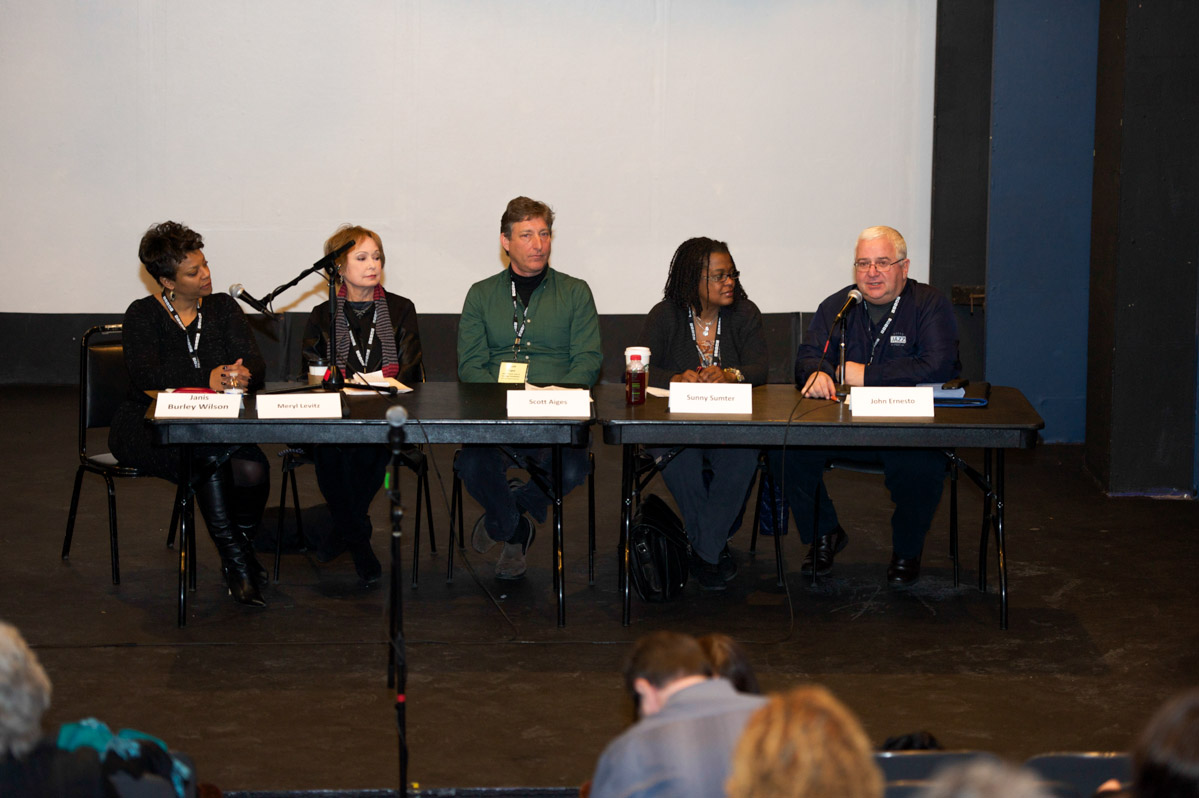 The Partnerships for Presenting panel discussion @ Jazz Connect '15
This year's Thursday/Friday January 8/9 Jazz Connect Conference, held at the jazz-friendly confines of St. Peter's Church on Lexington Avenue in midtown Manhattan, boasted the usual cornucopia of panel discussions, and all-around networking opportunities. In addition to Winter Jazzfest, NYC was awash with an incredible array of jazz performances and artist showcases which sought to take advantage of the APAP conference gathering of presenters and producers. Winter Jazzfest aside, it was entirely possible for the intrepid to catch four days of performances without spending a dime in admission! For example, on the Saturday afternoon following Jazz Connect as Suzan and I chilled until meeting friends for dinner and that evening's Winter Jazzfest hang, since she was scheduled to present a panel discussion at the APAP conference the next day, we went over to the Hilton Hotel so she could check in and get her conference credentials. As usual the Hilton was positively vibrating with the gathered energy of performing arts presenters from across the country. On each of three conference floors was a chain of rooms presenting assorted artist showcases throughout the day and evening. A young brother walked up and laid a flier in my palm for a showcase being sponsored by an organization new to me, known as IMAN for the Inner-City Muslim Action Network. Bingo, just by happenstance we eased into a showcase by a promising young Chicago singer-songwriter, on a daylong schedule of showcases that included progressive hip hop artists, performance poets, DJs, and assorted vocalists. It was just that kind of scene.
Among the Jazz Connect panel discussions I caught were sessions dealing with how jazz can be a catalyst for community development and organization, an artistic director's roundtable session that included the Kennedy Center's Jason Moran, and a session titled "Partnerships for Presenting" that included my DC Jazz Festival partner, executive director Sunny Sumter. There were just enough sessions to properly stimulate the mind, thankfully short of the kind of panel session coma one could easily lapse into at the old IAJE conferences. Refreshingly one of the plenary sessions, held in St. Peter's main sanctuary and traditional home to the church's storied Jazz Vespers programs, was a gathering of women in the business, moderated by artist manager Karen Kennedy. NPR hosted a reception for its new Jazz Night in America show. The keynote address was delivered with great humor leavened with appetizing doses of pragmatism by one of the busiest men in jazz, bassist Christian McBride. Following McBride's presentation, SF Jazz founder Randall Kline received the first annual Bruce Lundvall Visionary Award, a presentation whose warmth was enhanced by remarks from the man himself, Bruce Lundvall, who has been slowed by Parkinson's disease but whose spirit remains indomitable.

Bruce Lundvall inspires the Jazz Connect Conference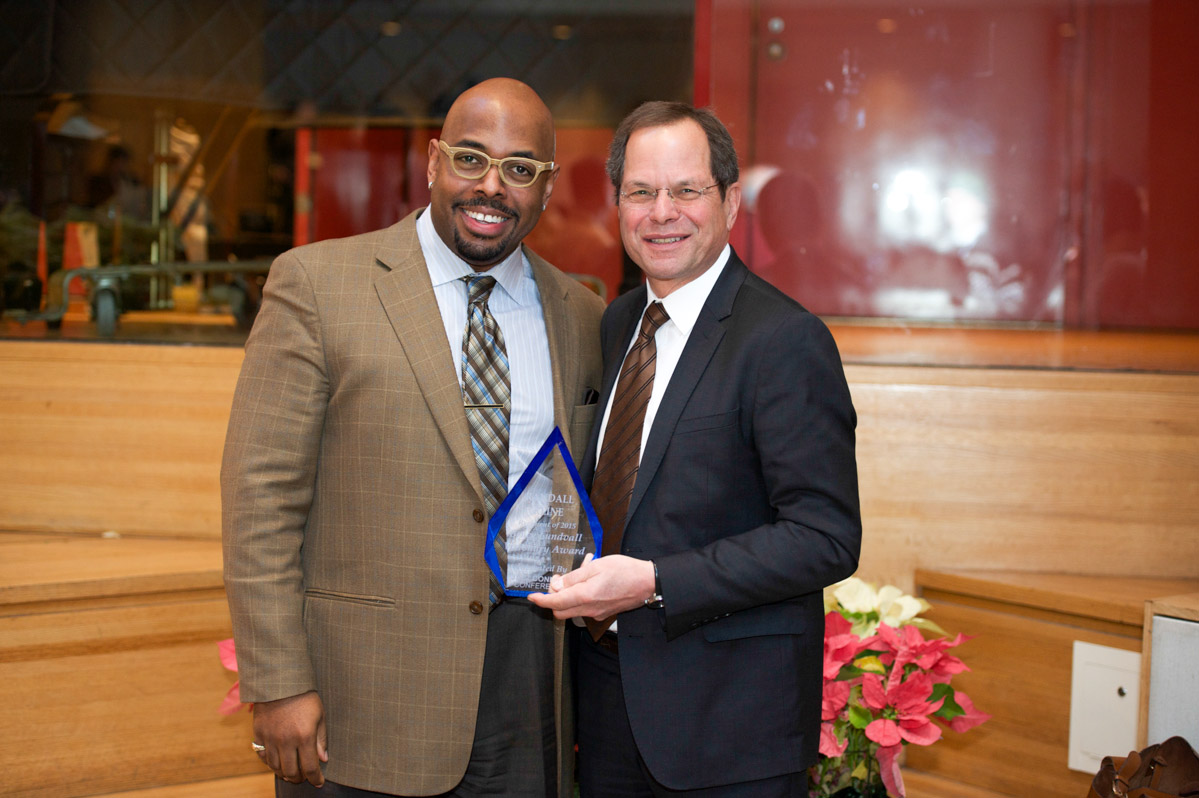 SF Jazz founder Randall Kline receiving the Bruce Lundvall Visionary Award from Christian McBride
Jim Eigo and Bret Primack, the Jazz Video Guy, threw a Jazz Connect Conference after party at the Somethin' Jazz Club; check that out here:

After finding ourselves a bit out of it with the Winter Jazzfest rhythm on Friday, out of tune with the overall timing of the fest, encountering long lines in the cold endeavoring to enter some of the venues, and allowing general fatigue to overtake us after standing at Judson Church for a rewarding Dave Douglas Quintet set – made all the better by the presence of MVP drummer Rudy Royston and a potent cameo from Douglas' fellow trumpeter Avishai Cohen, on Saturday we got the full effect of the WJF venue at Minetta Lane Theatre. Learning our lesson from Friday evening, when we failed to get in for what were reportedly two superb David Murray sets at Minetta – one with an assemblage of clarinetists, the other in trio with Geri Allen and Terri Lyne Carrington – we arrived in time to cop good seats, where we remained glued for three outstanding sets. First up for us was organist-vocalist Amina Claudine Myers, with the brilliant Jerome Harris alternating guitar and bass, and the resourceful Reggie Nicholson on drums. She was followed by an absolutely transcendent set by The Cookers, whose horn section raised the roof, particularly altoist Big Chief Donald Harrison. Next up was another flavor of alto saxophone entirely, Rudresh Mahanthappa playing his new and deeply-engrossing Charlie Parker project. Young trumpeter Adam O'Farrill, son of Arturo grandson of Chico, was one of the evening's revelations; and uh oh, there again was that crafty man of the drums, Rudy Royston! Now THAT was a triple header of impressive dimensions and stylistic breadth!
Back to the original point, the benefits of annual jazz conferences, those of us who've been around these things for more years than some of us would care to remember, seem to be in general agreement that what we have now are two annual January jazz conferences, each with its own flavor, each offering different benefits to different sectors of the jazz community. Curiously one could make the case that we're sorta back to the future – a return to the flavors of the former NAJE conferences and the JazzTimes conventions, this year held on opposite coasts. There are those among us who lament the fact that there are now two jazz conferences, somehow pining for the old IAJE conference model, but on the other hand, this new model just feels right!
ALL PHOTOS (c) COURTESY OF FRITZPHOTO GRAPHICS