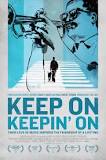 After hearing nothing but great things about the documentary film "Keep on Keepin' On," including a 'you MUST see this film' order from Christian McBride's Twitter feed, I got an email invitation to a screening of the film at the AFI Theater in Silver Spring, MD. On an inviting fall Saturday afternoon what a distinct pleasure it was to spend those 84 minutes with this lovely film! "Keep on Keepin' On" is a truly wonderful film and an abject lesson in mentoring young people.
Based on the warm and loving relationship between NEA Jazz Master Clark Terry, one of the purest spirits this music has ever produced, and the aspiring young pianist Justin Kauflin, "Keep on Keepin' On" is equal parts love letter to jazz, tribute to CT, object lesson in the importance of nurturing and mentoring young people, and above all a love letter to the human spirit. Throughout the film, despite his poor and often bed ridden state of health, owing largely to nearly a lifetime of suffering from diabetes, Clark Terry gives love and drops science on a young man who is likely to follow in Clark's footsteps, as a giving soul and as a significant player. Doubtless education will also become part of young Justin's future; how could it not after spending so much quality time with one of the pioneers of jazz education!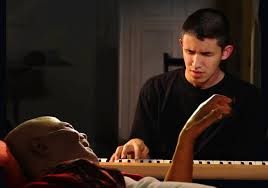 Justin Kauflin playing for Clark
That the film is produced by Quincy Jones, Clark Terry's first in an endless line of students and mentees, is all the more poignant as Q has in turn taken young Kauflin under his wing and is producing the pianist's debut recording. The film is also a tribute to the strength and love Gwen Terry shares with her husband. We meet Justin's parents and learn how a degenerative condition took his eyesight at age 11 and how neither that catharsis nor his ensuing challenges will keep this unusual young man from mastering the jazz piano. And director Alan Hicks, himself a Clark Terry mentee as a drummer, has skillfully woven in exceptional biographical footage of Clark Terry, from his St. Louis roots, through his Count Basie, Duke Ellington, and Tonight Show band triumphs. We hear Clark recounting how a certain churlish old musician purposely gave him false trumpet playing information as a youngster and how CT vowed he would never similarly treat young musicians he would subsequently encounter.
These elements are all satellites orbiting around the film's core – Clark Terry as giving spirit and mentor supreme. Filmgoers will witness Clark's troubles with the various infirmities of old age, including not only the loss of his sight but also the amputation of his legs and the very real sadness and resignation of that fate as Clark and Gwen go through medical regimens and eventual capitulation to the ravages of diabetes. Though he pauses to reflect sadly on that loss of mobility, his true spirit of giving is never dampened, never deterred. There is a touching mutuality between CT and Justin as each in his own way is uplifted by the other on so many levels, from their shared vision challenges to the challenges of playing the music in the true spirit of jazz. Throughout the film there are vignettes and testimony lovingly offered by other younger artists Mr. Terry has touched, such as a certain rail thin young trumpeter from East St. Louis, IL who declared Clark Terry his "first idol", a certain Miles Davis. Dianne Reeves, another student of the master, also extends much love in the film.
Every aspiring musician and parent of aspiring musicians should see this film, it is a triumph of the human spirit of both mentor and student. Here's a link to the trailer for "Keep On Keepin' On". If you see one film this season, you must see "Keep On Keepin' On".
http://trailers.apple.com/trailers/independent/keeponkeepinon/