Saxophonist-clarinetist Sue Terry, known in the music as "Sweet Sue" is a proud alum of Jackie and Dolly McLean's ground-breaking Hartford, CT urban arts academy the Artists Collective. Recently after viewing the very compelling documentary short film "The Source" which captures various facets of this vibrant artist, including her ongoing residency in the seemingly unlikely South American nation of Ecuador and glimpses of the obvious discipline she derives from her martial arts immersion, clearly its time for some questions for "Sweet Sue" Terry. Below we're included a link to view "The Source."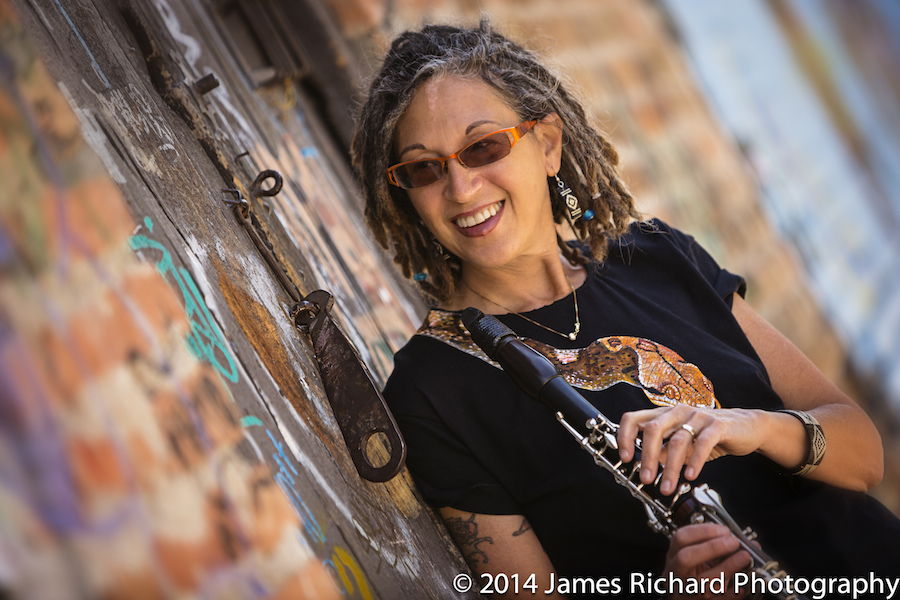 How'd you become known as "Sweet" Sue Terry?
When I was 23 I moved to New York City from Hartford, in 1982. I already knew a lot of New York-based players because they all would come through Hartford and play at the 880 Club. In the city I would hang at their gigs and often get invited to sit in. My three main mentors, Junior Cook, Clifford Jordan and Barry Harris, always called me 'Sweet Sue.' When Barry had the Jazz Cultural Theater on 28th and Eighth, he would often launch into the tune Sweet Sue when he saw me walk in. (The Jazz Cultural Theater was my second home, because I lived all the way up on 158th St. so if I went downtown I stayed downtown.)
To give you more of an idea of New York in the 80's: a lot of players lived up in my area, known as Washington Heights. In my building, Smitty Smith and Jeff Watts shared a crib on the first floor. Arthur Blythe lived across the hall from me on the third floor. Gust Tsilis, and classical musicians Dan Druckman and Barbara Allen lived upstairs. In the neighborhood were other musician friends: Sharon Freeman, Ken McIntyre, Gary Bartz, Ben Salzano, Marion Brown, Melba Liston, Dennis Irwin….
It wasn't the 50's, but it was still a great time to be in New York. You could get gigs more easily. If you were a musician you got into most of the clubs for free, and other things like housing and food weren't as expensive as they are today. As the cost of living got higher and higher, we had to work more and more. This is when jazz players really began exploring other avenues of income, like Broadway pit work and education venues.
What did your experience with Jackie McLean and the Artists Collective mean to your development as an artist?
I was just speaking with tenor saxophonist Jimmy Greene about that very topic. He is doing his doctoral thesis on the origins and development of the Jazz Studies program at our alma mater, The Hartt School. The program is now called the Jackie McLean Institute of Jazz and is headed by Javon Jackson.
Let me preface my comments with a little description of this era: In the 70's Jackie had recruited Paul Jeffrey, Jaki Byard and Walter Bishop Jr. to teach classes at Hartt. I took every jazz class that was offered. (After I graduated and moved to NYC, I played in both Jaki's big band the Apollo Stompers, and with Bish's small group.)
I went to Hartt with the express purpose of studying with Jackie McLean. I didn't know that I was also going to get the chance to study with Jaki Byard, Bish, Paul Jeffrey, and Al Lepak, the director of the Concert Jazz Band. Also at this time, there was a really happening jazz scene in the greater Hartford region. In addition to my studies at school, I was able to play gigs in Hartford, and go out to the various clubs to listen, and sit in. Many New York players came through, among them Dexter [Gordon], Slide Hampton, Frank Strozier, Dave Schnitter, John Scofield, Bill Hardman, Art Taylor. Hartford-based bassist Paul Brown was a close friend, and I met my mentors Junior Cook, Cliff Jordan and Barry Harris through him because he played with all of them. I learned from all the great players in Hartford at that time. In particular, the house rhythm section at the 880 Club was Donny DePalma, Joe Fonda, later Eddie Jones, and Mike Duquette. Tenor player Brian DePalma, vibraphonist Mattie Emerzian. Drummer Larry DiNatale & his wife Connie, a singer. A blues singer who sang like Joe Williams, his name was Big Al; Kitty Katherine, Norman Gage, Tiny Joe, Nat Reeves, Dave Santoro, Gene Bozzi, Genghis Nor, Rick Rozie, and several players around my own age: Jim Beard, Mark Templeton, Cindy Blackman, Wallace Roney, and Ralph the drummer whose surname I can't remember. There was yet another scene up in the North End, where I used to play with an organ trio and was usually the only non-African American in the place.
In addition to playing with all those people, I had classmates who were very accomplished and went on to professional careers, such as the late Thomas Chapin, Saul Rubin, Mark Berman, Tom Oldakowski, Gary Seligson, Steve Davis, Kris Jensen, Tom Murray, Antoine Roney, Pete Belasco, Mixashawn, Tom Disher, Pete Furlan, Ed Alton, and more. We also played with some of the Springfield cats, since it was only 40 minutes or so north of Hartford. There were two excellent drummers from the Springfield area with whom I often worked, Claire Arenius and Billy Arnold.
Jackie McLean always encouraged these off-campus ventures into the community, and he put me on the faculty of the Artists Collective [Jackie & Dolly McLean's award-wining arts academy] so I could have the experience of passing on knowledge and skills to younger students. I played all kinds of gigs, put together my own groups, had my own radio show, all while being a full-time student.
Jackie was always suggesting things for me to listen to, not only jazz but also 20th Century Classical music. He was a great storyteller; once he told me a story about walking down the street with Charlie Parker, and Bird pointed at the window of a fish store and said "Wow, look at that!" Jackie said, "What? It's a fish." Bird said, "No, look at the colors!" Jackie then noticed the scales of the fish, shining in a fantastic luminescent palette. He pointed out to me that someone like Charlie Parker had a different way of looking at things, and that was an aspect of his genius. Moreover, that aspect could be cultivated once you were made aware of it.
When I received the Alum of the Year award from the Hartt School in 2001, Jackie was at the ceremony and that meant a lot to me. I am proud to be part of his lineage, along with colleagues like Steve Davis, Alan Palmer, Jimmy Greene and Wayne Escoffery (whom Jackie used to call the Twin Towers), Abraham Burton, Eric MacPherson, and of course Jackie's son Rene, whom I've always admired and respected. (I know I'm un-intentionally leaving out some folks, those mentioned are who comes to mind at the moment.)
This month (September 2014) the Artists Collective is bringing me back to do a concert with my "Special Band" of Vic Juris, Bob Cranshaw and Steve Johns. It'll be wonderful to be back "home."


Talk about your residency in Ecuador.
I started traveling to Ecuador in 2008, and began meeting other players there, like pianist Francisco Echeverria in Guayaquil, and my old friend, trumpeter Walt Szymanski, based in Quito. There was very little jazz in Cuenca, the town I was most attracted to. But 3 years later pianist Jim Gala, from Rochester, founded the Jazz Society of Ecuador with his wife Debby, right in downtown Cuenca. I began corresponding with him and when I arrived in Ecuador, I began my relationship with the JSE, which continues to this day. There are performances, master classes and other events, and it's a favorite destination not only for locals, but also for the tourist crowd, particularly those from Europe and Canada. I perform regularly and I also teach. We have rehearsals either at the Cafe or at my house, where we go into more detail and explore the fine points of playing and composing jazz and creative music.
What motivated you to make this short film?
My friend Ashley Rogers, a wonderful film director from L.A. who relocated to Cuenca, had made some music videos for an Ecuadorian composition. She was working with the Venezuelan cinematographer Hernán Salcedo, and I thought their work was stunning. It's a lot more affordable to shoot in Ecuador so I thought I should take advantage of the opportunity. At first it was going to be a promotional film for my products, but then I thought, who cares about that? I've been making videos about artistry and education. I realized I could continue in this genre, this time working with a professional team. We are currently entering the film in a number of international film festivals.
Did you experience musical discovery in Ecuador, in terms of the interest in jazz and the resident musicians?
In 2013 I did a U.S. State Dept. tour of Ecuador, organized by the U.S. Embassy in Quito. My group included Walt Szymanski, and Ecuadorian rhythm section Miguel Gallardo, Daniel Toledo and Raul Molina. We traveled throughout the country giving workshops and concerts, and we found a LOT of interest in jazz. The music students we worked with (ranging from 5 years old to the university level) were fascinated with jazz and musical improvisation. The concert audiences were enthralled as well; it was very gratifying.
The three largest cities have the most jazz players: there are many fine players in Quito, as well as a full-time jazz club, El Pobre Diablo. Francisco Echeverria introduced me to many players in Guayaquil. In Cuenca, my home base while in Ecuador, we have the Jazz Society of Ecuador headquarters. In my film, I wanted to showcase some of the players we've been mentoring there. You get a chance to hear bassist Jonnathan Arévalo, guitarist Julio Bonnemaison, drummer Danilo Abad, violinist Cristabell Aguirre and HER student, Aria Serrano. Also my old buddy, pianist Bob Albanese, was on tour in Ecuador at the time and I was able to get him to come to Cuenca and do a guest appearance, which you see on the film as well.
What did you discover about yourself in Ecuador?I ask that because the film suggests a certain measure of self-discovery in your journey.
Well, wherever you go, you take yourself with you. Being in Ecuador takes me out of my geographical comfort zone, what with the 8,400 feet altitude and speaking Spanish all the time. Can you imagine playing woodwind instruments at 8,400 feet? It takes me about a month to acclimate! I relish my time in South America because it challenges me.
Why were you motivated to put aside your alto saxophone for the time being and concentrate on soprano sax and clarinet?
I was Classically trained on clarinet and never really got into improvising on it. Like Frank Wess used to say, "the clarinet was invented by three guys who didn't know each other." This is true! Today's clarinet was originally three different instruments. There is no octave key; it overblows as a twelfth, so all the notes have different fingerings in each octave, and there are three and a half octaves. It ain't a saxophone.
Most of the clarinet greats focused solely on clarinet, if not right away, then eventually. I had to give up both alto saxophone and C flute in order to focus on clarinet. But I still play soprano saxophone, because at least it's in the same key!
What role has your martial arts training played in your musical life?
Playing music, especially soloing, is all about relaxing. If you're not relaxed, you're blocking creative ideas from coming through. In the old days, musicians turned to booze and heroin to help them relax. These substances take a toll on the body, however, so the trend has moved more toward mind/body disciplines like meditation, yoga, and tai chi.
Tai chi chuan (also called "taiji quan") is my discipline; it helps me with playing the horn and performing. Because of my martial arts training, I can stay relaxed during musical performances, and correct errors in body posture that cause pain. I can also focus more. Many people practice tai chi (a style of kung fu) for health reasons, but its martial arts application is formidable. I compete in tournaments and practice sparring regularly. You must be relaxed in order for your tai chi to be effective against an opponent. When you spar with a training partner or in a tournament, it's a reality check to see if your skills are as effective as you thought—just like playing with a band as opposed to practicing by yourself.
The Chinese sage Lao Tzu says, "the tao of the sage is 'work without effort'. This means that you're so into the work that it doesn't seem hard. The path toward this goal is all about relaxation and solid work principles. This is the foundation of both jazz and taiji.
LINK to The Source, a 9-minute documentary short: