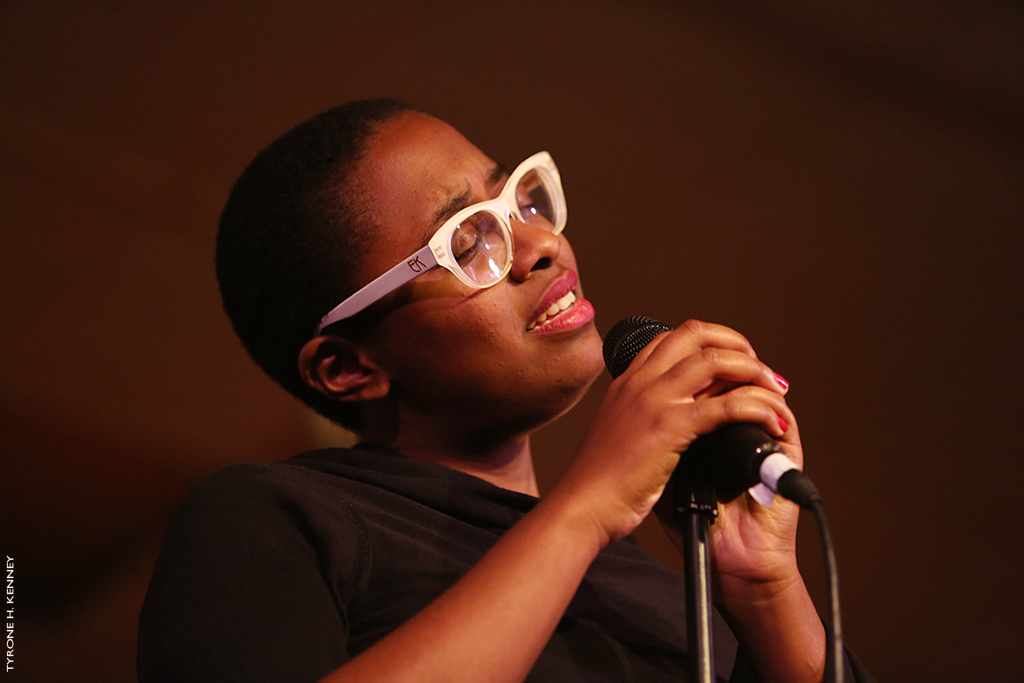 Songbird Cecile McLorin Salvant keeps racking up the fans wherever she goes – shown here at one of her two MJF '14 performances (photo: Tyrone Kenney/NeoBop Project)
Last weekend's Monterey Jazz Festival was yet another reason the event remains one of the art form's true standard bearers. Across the six stages on the Monterey Fairgrounds one could experience past, present and future over the course of three days, including several hybridized shades, and the sense of interconnectedness was quite palpable. Let's start with Friday evening on the Jimmy Lyons Stage in the Arena (the big stage) with Cecile McLorin Salvant, who at the tender age of 24 continues to distinguish with her big, expansive voice that ranges from coquettish to astounding high & low register displays and her yen for older songs. Her essential piano accompanist, Aaron Diehl, distinguished himself with two separate performances of his MJQ revisited with the estimable vibist Warren Wolf in the Bags seat. Cecile was followed on the Lyons Stage by the Robert Glasper Experiment, whose set was hampered by some keyboard tech peccadilloes. But Glasper showed up quite auspiciously on two succeeding occasions – first as a panelist on the very rewarding talk session (or "spoken word" session as friend & colleague moderator Ashley Kahn characterized it) celebrating Blue Note Records 75th anniversary, with fellow panelists NEA Jazz Master Bobby Hutcherson and label prexy Don Was. Later that afternoon Glasper was pianist in the One Point of View Blue Note futures band, with trumpeter Ambrose Akinmusire, guitarist Lionel Loueke, tenor man Marcus Strickland, bassist Derek Hodge (also in Glasper's Experiment), and the resourceful drummer Kendrick Scott. Loueke also hit with Herbie Hancock who closed Friday's auspicious Lyons Stage lineup. And Akinmusire played his own quintet set Sunday evening at the Nightclub.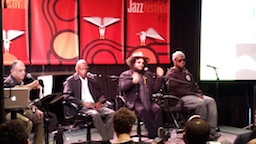 The Blue Note @ 75 panel: L to R moderator Ashley Kahn, Bobby Hutcherson, Don Was, Robert Glasper
That sense of interconnected artists was a hallmark of this year's event and a testament to MJF artistic director Tim Jackson's sterling programming acumen. Many of these artists reside in the NYC area so just flying them all to Cali is such a potential budget buster that engaging the more multi-faceted among them for more than one gig just makes sense. Jason Moran was another example; playing his Fats Waller Dance Party on the Garden Stage, trumpeter Leron Thomas delivering a pithy take on Waller's "Two Sleepy People", to open Saturday's evening session in celebration of the release last week of that project's Blue Note document All Rise. Then Sunday evening he hit with the Charles Lloyd Quartet (more on him later) in the Arena. The ever-burning, undersung piano great Harold Mabern played three sets at the Coffee House on Friday evening then hung out the rest of the weekend. The festival's HQ hotel is the Hyatt and the late night jam sessions there are always a good hang to connect with friends and colleagues. Such was the case when some friends summoned Suz and I to the Hyatt lounge on Saturday evening. The usual band of students and occasional pros were cooking while we were busy yukking and catching up with friends in one corner. When the band struck "My Favorite Things" there was a perceptible deepening of the piano groove & acumen that caused heads to turn. Sure enough Mabern had eased into the keys and it was on!
Drummer Eric Harland, this year's artist in residence, guested with the MJF Next Generation high school all-stars to open the Sunday matinee on the Lyons Stage, played two gigs with his Voyager band, and burned brightly with the Charles Lloyd Quartet on Sunday night. Christian McBride swung with virtuosity at the helm of his trio (Ulysses Owens on drums and Christian Sands on piano) on the Nightclub stage Friday evening, and grooved with equal depth as part of the Philadelphia Experiment, with drummer Ahmir "Questlove" Thompson (who later that evening led The Roots on the Lyons Stage) and keyboardist Uri Caine. They were joined for some closing selections (including an obligatory "Green Onions") by B-3 funkmeister Booker T. Jones, who'd played the Saturday matinee on the Lyons Stage with his own band.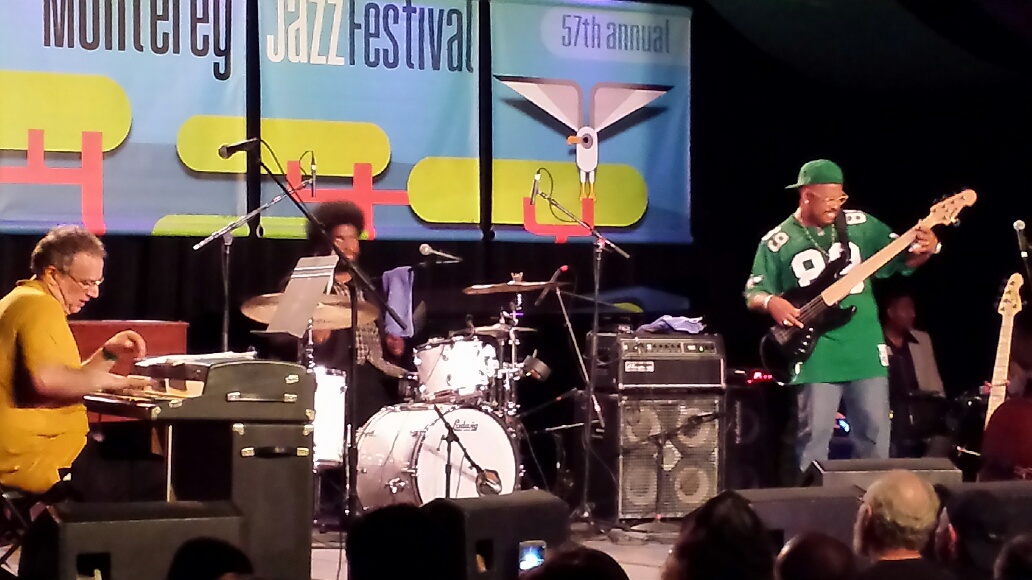 The Philadelphia Experiment: L to R Uri Caine, Questlove, Christian McBride
Freshly minted NEA Jazz Master Charles Lloyd (just signed to Blue Note per Was on the aforementioned panel session) was a featured MJF eminence, playing in different contexts each of the three nights. On Friday evening he played a beautiful, meditatively spiritual set with Sangam, his trio with master Indian percussionist Zakir Hussain and Harland (mama, there goes that drummer again!). Saturday evening brought arguably the highlight of Lloyd's three performances – an incandescent duo hit with pianist Gerald Clayton at Dizzy's Den, one of the festival's real beauty spots. Sunday evening Lloyd brilliantly celebrated the spirit of his 1966 Monterey breakthrough by including an obligatory "Forest Flower" on the Lyons Stage with his Quartet (Moran, Harland and bassist Ruben Rogers). The festival also screened Charles' rewarding new ECM film "Arrows Into Infinity" in the Theater. There were additional interconnections, those are just the ones this writer was able to experience!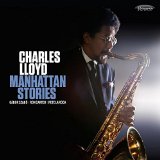 Lloyd's latest release is a live document that journeys back in time to his 60s days leading a piano-less quartet
Additional Highlights



Melissa Aldana was a tenor revelation for many
Tenorist Melissa Aldana and her rich, burgundy tone certainly garnered some new fans with her fine introductory set before a modest but deeply appreciative audience on the Garden Stage. Even at this early stage of her evolution one can envision potential greatness from this assured-though-humble young Chilean saxophonist. Aldana is indeed a lovely young woman, but clearly not one prone to succumb to the gratuitous sexuality of a Candy Dulfer, or heaven-forbid the self-declared "Saxtress" Pamela Williams; Ms. Aldana thankfully is all about the music. Jazz festivals should also be about some fun, right? Well the Brooklyn-based Red Baraat and its oft-humorous mix of improvisatory bangra certainly delivered in that department, as attested to by all ages beckoned to their dancing feet by the groove. The aptly-named Our Point of View clearly demonstrated the Blue Note label's keen eye on jazz future, opening with a reimagined "Speak No Evil", playing the label classic through their 21st century lens. Apropos they followed that up with Marcus Strickland's ferocious original "Tick Tock." On "Bayyinah", a Lionel Loueke original from his latest release Heritage, the guitarist played an opening cadenza that uncannily invoked talking drum patterns on his instrument!
There was a lovely kind of wistful optimism in the Brian Blade Fellowship's expressions of originality, coupled with the controlled flames of Melvin Butler's tenor and Myron Walden's alto saxophones. After having lent an exquisitely burnished trumpet cadenza to one of his originals on the Our Point of View set, the next day MJF Next Gen alum Ambrose Akinmusire evidenced exponential growth in both his sound and his quintet band concept on the Night Club stage Sunday evening opener. Drummer Justin Brown provided ample explosion for the quintet and tenor saxophonist Walter Smith (who'll almost certainly be an MJF bandleader on his own very soon) proved an apt alternate solo voice in the ensemble. Vocalist Becca Stevens, whose own set we missed, brought a very attractive quiver to her guest turn with Ambrose. Akinmusire has even at this early stage in his evolution acquired a keen sense of editing both himself and his band, never overplaying. And that's just a summation of what we caught at MJF; reportedly some of what we missed would be enough to populate a successful jazz festival! But you can't make 'em all; in more youthful times I might have tried, but there was never a set where this writer found himself yearning to be elsewhere, despite the fact that "elsewhere" was a ton of reportedly essential music. Yes folks, that is indeed the beauty of a great event like the Monterey Jazz Festival!
Cuisine Tip
Besides the obvious charms of the festival, the Monterey Peninsula is a recommended destination in and of itself, and after all these years there remain many undiscovered culinary gems. Good friends turned us on to an essential new stop to get the feed going. Phil's Fish Market, on Moss Landing just north of Monterey was the cuisine discovery of this trip. One of those "rustic", no reservations dockside joints where you order at the cash register then find your spot either inside or out on the beach at picnic tables, the house specialty is their cioppino, a luscious, tomato-based traditional Italian shellfish stew served in different permutations, in either prodigious individual bowls or family-style. And the breaded & grilled sanddabs are worth the trip alone, as is the calamari and the several varieties of artichoke preparation.