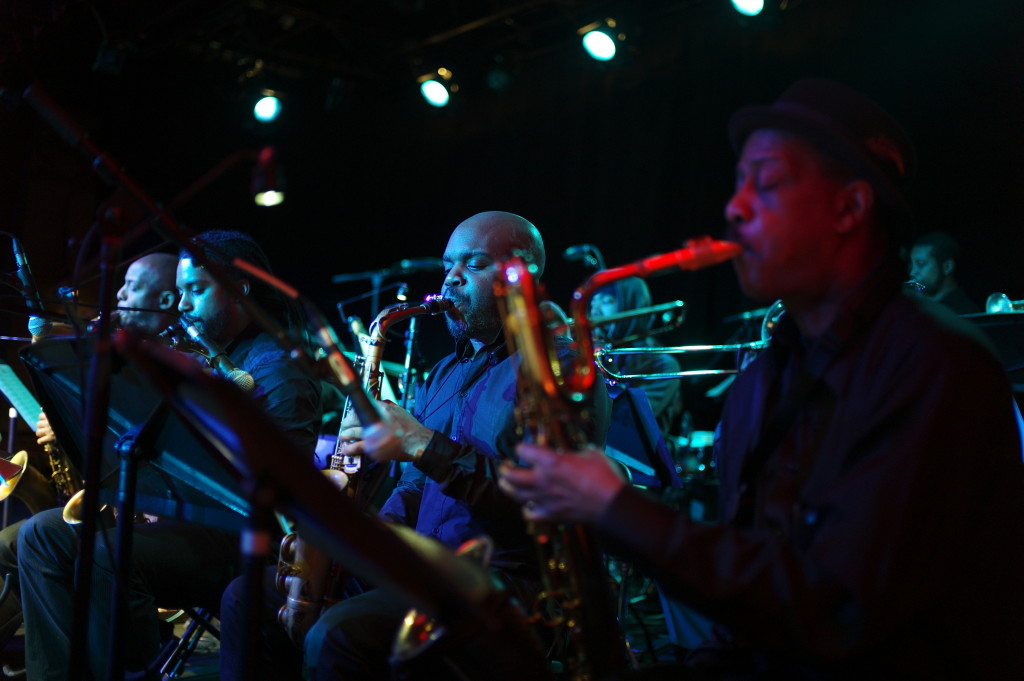 REVIVE BIG BAND
Last Saturday (April 5) at the Kennedy Center Jazz Club the Revive Big Band made its DC debut. The gig essentially represented the KC Jazz Club component of the KC's expansive series One Mic: Hip Hop Culture Worldwide (March 25-April 14). Hip Hop at the Kennedy Center you ask?, eyebrows appropriately arched. Isn't that akin to ordering hot wings at the Inn at Little Washington? Fact is this One Mic series has been impressive in scope, ranging from hip hop-themed visual arts events, panel discussions, and free early evening hits on the Millennium Stage, to huge concert hall blow-outs starting with Nas' 2-night 20th anniversary "Illmatic" presentation with the National Symphony, to such top level representatives of the form as Lauryn Hill, Talib Kweli and pioneer Grandmaster Flash with Jahsonic.
So what's this gotta do with the KC Jazz Club presentation of the Revive Big Band? First I'll maintain that the logic of one of America's classic (and classical) performing arts centers presenting a hip hop series of this scope stems squarely from the pioneering work Dr. Billy Taylor did in opening up those hallowed halls to jazz, forever broadening the scope of the prodigious complex. Second, the Revive Big Band proved beyond a shadow of a doubt to be one of the most impressive synthesis of jazz and hip hop this observer has yet experienced. The band is led by trumpeter Igmar Thomas, who clearly took his jazz training at Berklee seriously, all the while deeply immersed in the hip hop aesthetic of his generation. Listening to Thomas' energized, informative tour guiding interactions with the audience that evening invoked the ghost of Billy Taylor and how he similarly served as tour guide for Jazz at the Kennedy Center patrons, truly making jazz friendly for legions of audiences. Thomas similarly detailed the interlocking jazz-meets-hip-hop nature of Revive's music, including their expression of sampled jazz material colonized by hip hop artists, and the logic of hip hop beats applied to jazz changes and themes. He made their arrangements of A Tribe Called Quest as "friendly" to the KC Jazz Club audience – including more than a few gray heads of this writer's generation – as was their beats-laden arrangement of "On Green Dolphin Street."
Besides a full compliment of exceptional soloists, including such vets as trombonist Frank Lacy, bari saxman Patience Higgins, trumpeter Alex Norris, and guitarist Mark Whitfield – and dig that, Thomas and Revive founder Meghan Stabile had the knowingness to engage one thoroughly-immersed vet per section of the band – the RBB includes some of the brightest young players, including saxophonists Tivon Pennicott, Sharel Cassity, and Lakeisha Benjamin, bassist Ben Williams, and trumpeters Donald Milloy and Nabate Isles.
The soul of the RBB's hip hop perspective is rapper-turntablist Raydar Ellis, who is completely immersed in the form, has the in-the-poket cadence and couplets down, has the requisite moves & stage presence, but sans the hard guy/male diva/I'm-a-gazillionaire-and-you're-not posturing persona of so many rappers. He was completely relaxed and appeared like the studious young guy next door you wouldn't mind mentoring your son, yet deeply immersed in the culture; at one point rapping that it was A Tribe Called Quest who actually introduced him to jazz!


Revive leader trumpeter IGMAR THOMAS
From completely updated Art Blakey and Woody Shaw charts, to reimagining A Tribe Called Quest and a fairly complex pop song written for next gen R&B vocalist Bilal, the Revive Big Band is a complete breath of fresh air. The economics of touring a big band like this are daunting – and club dates don't pay the bills for these dedicated musicians – but I'm sure the prescient Meghan Stabile will make that happen because this band oughta show up across the jazz festival circuit 'FO 'SHO.