The signature electric jazz band Weather Report certainly experienced more than a fair degree of flux in its drum chair, from the brief tenure of their first drummer the kinetic Alphonse Mouzon and for a short spell including the pioneer Tony Williams. Peter Erskine settled the seat down for more than a minute and history will suggest him as the band's signature drummer. When a young Omar Hakim succeeded Erskine, joining the band in 1981 through its farewell in '85, he breathed a breath of fresh air into the tubs. But it seems even Weather Report's broad range wasn't quite expansive enough for the ever-curious, bright-smiling drummer from NYC.
Omar Hakim's history reflects the kind of eclectic pallet embodied by more than a few of the 21st century's most notable drummers, including Chaka Khan, Carly Simon, Dire Straits, David Bowie, Miles Davis, Bryan Ferry, Bobby McFerrin, and Daft Punk among a whole raft of affiliations. And now along comes his latest date as a leader under the Omar Hakim Experience rubric, We Are One on his OZmosis imprint. This highly charged tableau begged a few questions of the energetic traps man.
It has been a minute since we've heard from you as a leader. What have you been up to recently?
It's totally true it has been a minute… But I've been quite busy with many recording sessions and projects over the last few years. Particularly recording and touring with my band "The Trio of OZ" featuring Rachel Z on piano and Solomon Dorsey on bass. We did a lot of touring in Europe and Asia between 2010 and 2013. Also I was invited to participate on the recording sessions for the Grammy award-winning album by Daft Punk called "Random Access Memories". I played on half of the album and the hit single "Get Lucky" featuring Nile Rodgers and Pharrell Williams. We performed on the 2014 Grammy awards; and the band swept the Grammys winning five awards for the album. It was a very exciting night! I also did a very interesting tour in 2012 for a project called "Miles Smiles". It was a Miles Davis tribute band made up of musicians who either worked with and/or recorded with Miles at some point in their career. The band featured Wallace Rooney on trumpet, Darryl Jones on bass, Robben Ford or Larry Coryell on guitar, Joey DiFrancesco on Organ, and Bill Evans or Rick Margitza on saxophones.
It feels good to get back to doing my own music for a change! I put the finishing touches on the "We Are One" album in January of this year and it was released on March 3rd.
What's your overall theme & intent with "We Are One"?
This project is a musical celebration of the intrinsic spiritual nature and oneness of mankind. The idea being… to reflect about the spiritual oneness of all people and to remember to connect with GOD, The Creator (or whatever name we give to the Higher Power of our understanding) the true source of music, life and positive energy through sound.
Do you envision Omar Hakim Experience as a touring unit?
Absolutely YES! I'm really looking forward to going out and performing with this band live! We did two CD release celebration concerts in New York City and Washington DC on March 10th and 12th that went really well! The band features most of the musicians that played on the record. Everyone in the band is looking forward to taking the project on the road and bringing the music to the people!
Recently Joe Zawinul's son has been pumping up the volume for a documentary on his dad, which of course brings the enormous legacy of Weather Report to mind. What lessons did you take from that experience in terms of your own work and future direction
It was an amazing time in my life! To have the opportunity to observe Joe Zawinul and Wayne Shorter work, compose music and perform alongside them was truly an amazing experience for me as a young drummer and composer. I was a fan of the band before I was asked to join.
One lesson that stands out in particular is the idea of experimenting with different versions of harmonic structure under a melody that you come up with. Joe and Wayne are considered by many to be masters in the creative use of harmony and texture. To witness that process up close proved to be invaluable to me as a composer.
What's next on your creative agenda?
"The Trio of OZ" will begin recording our second album this spring. Although we won't release the album until 2015 we plan to drop a few singles out there this year to give our fans a taste of the new direction for the Trio. And of course the Omar Hakim Experience will be on the road a lot in 2014 and 2015!
I've spent so much time touring in Europe and Asia over the last few years I'm really looking forward to playing for our friends and fans in America for a change!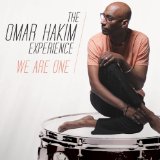 www.omarhakim.com