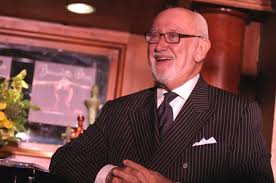 If you Google the words 'consummate jazz record man', a picture and bio of Bruce Lundvall should leap off your screen – at least for the period represented by the latter third of the 20th century and well into the 21st. Lundvall's first prominent post was at Columbia Records where he was the steward of an unprecedented jazz epoch for that label, masterminding such tenures there as Dexter Gordon – whose much-acclaimed 1980s return to the U.S. was one of Lundvall's high points – Woody Shaw, Stan Getz, Arthur Blythe, Bobby Hutcherson, Herbie Hancock, Irakere, Paquito D'Rivera (the latter two following Bruce's triumphant Havana Jam jazz diplomacy project), and a raft of others. After a stint at Elektra Records, where Bruce oversaw the development of the Elektra Musician jazz-oriented imprint, Lundvall moved over to Blue Note Records where he shepherded the resurrection of that historic jazz label, including signing Dianne Reeves, Joe Lovano, Chucho Valdes, Wynton Marsalis, Cassandra Wilson, Norah Jones, Jason Moran, Robert Glasper, and Ambrose Akinmusire. I could go on, but we'll leave the good stuff for the eagerly anticipated new Bruce Lundvall biography, Playing By Ear, authored by Dan Ouellette.
This Lundvall treatment, which arrives as an ArtistShare, fan-funded project (and is available at Amazon.com and other retailers), is Dan Ouellette's second biography, following on the heels of his Ron Carter bio Finding the Right Note, also an ArtistShare book. Dan Ouellette is a veteran jazz writer who has been a regular contributor to DownBeat, as well as a jazz columnist for Stereophile and Billboard magazines and assorted other periodicals. You may also know Dan as the frequent host of live DownBeat Blindfold Tests at various festivals, notably the Monterey and Northsea jazz festivals. Standing in line with Dan on a blustery January evening at a Times Square Starbucks around the corner from Town Hall awaiting a fine evening of music celebrating Blue Note Records 75th anniversary (which we subsequently reported on in the Independent Ear in January), we talked about the imminent release of Playing By Ear. And a few days ago I ran into Dan again, sharing a table with Bruce Lundvall and ace producer Michael Cuscuna at a superb evening of Dexter Gordon's music at Dizzy's Club; clearly it was time to share some of Dan's insights on his Bruce Lundvall project with IE readers.
Independent Ear Interview:
Dan Ouellette on BRUCE LUNDVALL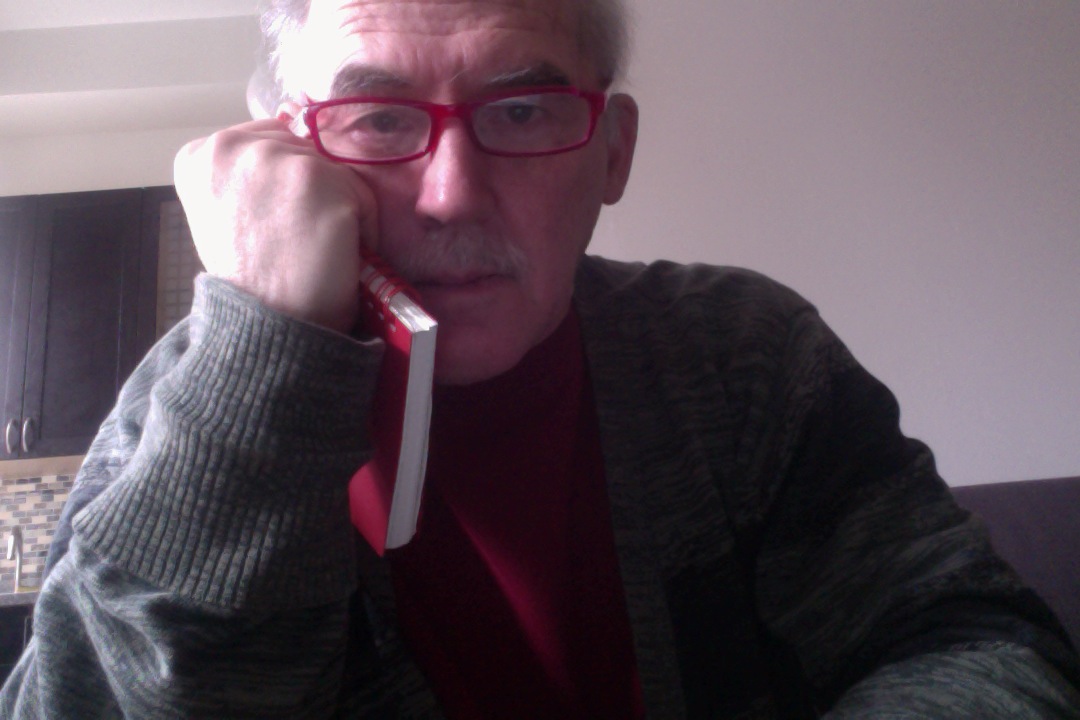 Author Dan Ouellette
What is it about Bruce Lundvall and his career that initially attracted you to write his book?
I've always been impressed by what Bruce was doing at Blue Note—signing new, refreshing talent as well as reissuing incredible music that I had never heard from the archives—and I interviewed him for features when I was the jazz writer at Billboard. Back in those days when I was reporting on the jazz scene, I spent a lot of time at Blue Note, during which times I would always say hello to Bruce. A key signing of course was Norah Jones, which revitalized the label and gave the opportunity for several jazz artists to be signed. I reported that entire stretch. With the success of Norah, Bruce was magic in managing the label so as to bring in new jazz talent.
How did you and Bruce Lundvall come together to work on this book?
Bruce and I both attended the Barcelona Jazz Festival in 2010, and both being early risers, we spent quite a few mornings talking at the breakfast table. That led to more conversations when we returned to New York. A few years earlier, another writer had started to work on writing Bruce's biography, but early in the going had to bow out. So Bruce and I sat down for dinner and he asked me if I was interested in telling his story. Soon I realized how broad and all-encompassing his career in the music business was. It was a little daunting to me, but I set a course to find his story in the midst of all the inner workings of the business.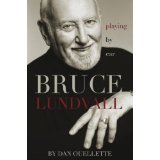 What was your process for working together on the book?
We talked. I interviewed him at his desk in his Blue Note office, beginning with his early life and continuing chronologically. Bruce is a great storyteller and he has his favorites, which he often told me twice. Still, I had to figure out the architecture of the book, based on his stories and then interspersed with chapters on some of his most significant relationships with artists. Working with my publisher ArtistShare, I had some 15 artists videotaped where they shared their stories of Bruce and what he meant to their careers. Then I stitched the whole package together. I'd write chapters, send them to Bruce and he would sign off on them—correcting me (Dexter Gordon was in prison in Chino, California, not Chico, for example) and sometimes asking me to lighten up some of his more vehement criticisms of people in the industry he had worked with. We pretty much compromised on that. I also had to do a lot of research to dig deep into a topic or artist when Bruce couldn't remember all the facts from some 40 to 50 years ago…or in some cases, correcting his recollections. So I worked as a historian as well as biographer.
Give us an example of one of the more compelling "stories" Bruce conveyed to you for this book.
There were several stories that were compelling, including how he resurrected Willie Nelson's career by releasing Red Headed Stranger on Columbia in 1975 (with an interview with Willie in his tour bus corroborating); of course his Norah Jones story; how Bruce ignited Rubén Blades' career by agreeing to release his groundbreaking Buscando America; and then how he actually discovered Whitney Houston, but because of politics at Elektra Records when he was ready to offer her a deal became Clive Davis's star (in an interview with Clive in his Sony office, he did admit to me that, yes, Bruce did see her first, but because he signed her he rightfully gets the credit for discovering her). But I keep coming back to THE most compelling story: Bruce dreaming up Havana Jam in 1979 when he gathered Columbia pop and jazz artists of the day to perform in Havana on a two-day bill also featuring Cuba's great musicians. His importance to Cuban musicians getting the opportunity to perform internationally and record for Columbia and later Blue Note is fascinating. I spent three chapters of the book digging into the background and outgrowth of Havana Jam—which happened 35 years ago.
In your interviews with Bruce, which of the many artists he has worked with over the years stood out as being particularly special to him?
Certainly Norah is a good friend to this day. Jazzwise, Dexter Gordon was one of his best friends. When Dexter died, Bruce was heartbroken, but then Joe Lovano stepped in as a godsend. I think all the musicians—Bobby McFerrin, Jason Moran, Greg Osby, Cassandra Wilson, Terence Blanchard, etc.—are special in different ways to Bruce. His philosophy in signing is to find an original. All his most important signings are truly originals who he nurtured as artists who are growing and evolving. So, I think Bruce would be hard-pressed to single out only one artist—I found from him that all of them are special.
Ultimately when you consider the arc of the record business in this country and particularly the executives who have specialized in jazz among their pursuits, where do you see Bruce Lundvall in the record industry pantheon?
Certainly among the top executives, if not the top. He signs his biography with this quote: "Life is short, art is long and jazz is forever." Jazz is what possessed Bruce from his earliest days—listening from his New Jersey home to New York radio broadcasts and stealing away from home as a teen to take a bus to the city to see his heroes. Even though he has become well-known for signing nonjazz artists (Willie, Norah, Amos Lee, Richard Marx), he's always been the most passionate about jazz and has the "best ears in town," as Norah says, to recognize true jazz talent. The originals, not the derivatives. As has been testified among all the people I interviewed, Bruce is all about the art form and thus the artists. To Bruce, jazz is the highest form of musical art. All of his decisions throughout his career have had that as the foundation. Other executives may have that same sensibility, but the degree of power that Bruce enjoyed at Columbia, Elektra and Blue Note makes it that throughout his career he has been able to move mountains to get jazz into the world. He has been heroic in that sense—all without the self-aggrandizement of execs who place themselves on an equal plane with the artists. That's largely why Bruce is not well-known outside the jazz circles (and even within), but deserves to be seen as a jazz hero.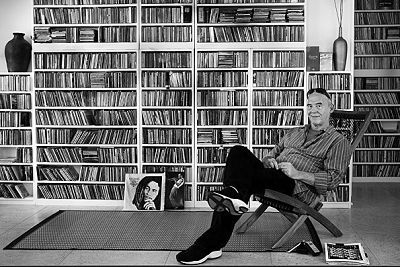 The author amongst his treasures…
Ordering links for Playing By Ear, the biography of Bruce Lundvall:
artistshare.com/playingbyear
facebook.com/playingbyear
amazon.com