Pianist Helen Sung, besides her growing prodigious piano abilities, is one of the truly bright people in this music. Blessed with a fine wit and a palpable joy of playing, when you see Helen perform you cannot help coming away refreshed by the total package of her skills. The first time I saw Helen Sung was as a finalist for the Thelonious Monk Competition, and I quickly marked her down as someone to watch. Several years later we had her onstage at East Cleveland Public Library's performing arts center as part of our Tri-C JazzFest young artist Debut Series. That typically adoring audience certainly came away impressed and sold on Helen Sung, from her obvious playing skills to her ability to truly communicate and connect with an audience.
Anthem for a New Day, which sounds like something of a career declaration, is her first prominent label recording. Anthem for a New Day also sounds like the declaration of a new level of composition and playing – which it decidedly is. Time to pose some questions to the Houston-born pianist.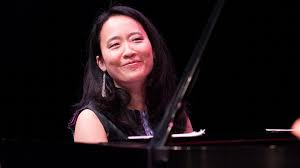 This is your Concord Records debut. What's your sense of this being your first prominent label release?
Well it's certainly an honor and a great opportunity to release a recording on a prominent label like Concord Records, which has a strong platform in place to help promote and support the album and music. Everybody I've met at the label is amazing: excellent at what they do and a pleasure to work with. So it's been a terrific experience – I've learned a lot, and I'm excited to share my music with a wider audience. That the recording happened to be Anthem For A New Day is great timing also, as I feel this album more completely represents who I am, what I've been working on/living with, and where I'm headed, as an artist.
Talk about your background and what brought you to this point.
I was born & raised in Houston, TX, and started classical piano & violin at age 5, more to give me something to do vs. my parents having any grand hopes for me to be a star musician. In fact, they were not happy when I announced I wanted to study classical music for a career. For most of my formative teenage years I studied with a teacher of the Russian school who had strong views about what was "real" music – I remember her saying classical music was the only music worth listening to. Like a dutiful first-generation child (oldest of 4) of Chinese immigrants, I revered this teacher and pretty much followed her ways & ideas lock-step. Looking back, I wonder why I didn't rebel just a little…well, I did sneak off with friends to listen to Michael Jackson, Madonna, etc. so I guess that was a bit of dissent. It wasn't until I was almost finished with my undergraduate studies in classical piano at the University of Texas at Austin when I was finally exposed to jazz music – at a Harry Connick Jr. concert. My friend lured me there with promises that I'd love "this cute singer" but in the middle of the concert with his big band, he sat down and played some solo piano. I remember being thunderstruck – here was someone playing the piano in a way I had been taught never to do – banging, attacking it in a way that made me want to jump out of my skin.
The music I was hearing was so alive, the rhythms irresistible…I just had to find out more. I felt like a whole new world had opened up before me. Soon after, I enrolled in a beginning jazz piano class, went to the music library to listen to & read whatever I could get my hands on, begged the UT Jazz Piano Professor for lessons, started playing in combos, etc. When I was accepted into the inaugural class of the Thelonious Monk Institute of Jazz Performance at the New England Conservatory – that sealed the deal for me. I missed the chance to get into jazz while in high school at HSPVA (High School for the Performing & Visual Arts in Houston), where I spent 4 years right across the hall from the Jazz Department and never had one musical interaction…unbelievable. I'm very glad I didn't miss this second chance!
How is it that there seems to be such a strong core of significant musicians among your peers from Houston?
I credit the director (now retired) of the jazz department at HSPVA – Dr. Robert Morgan. Talking with those musicians now (folks like Robert Glasper, Jason Moran, Eric Harland, etc.), "Doc" (as they called him) basically gave them an undergraduate level experience in high school. They were gigging, playing in combos & big bands at school – by the time they came to NYC they were ready to make their mark, and boy have they done that! It's also exciting to see the current director, Warren Sneed continuing this amazing tradition and graduating amazing young jazz musicians year after year.
Anthem For a New Day sounds like your most fully realized record release. Would you agree and how did you go about planning the date?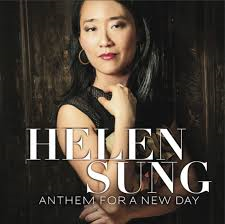 I don't know if it's my most fully realized release – perhaps it has come at a time when I am more comfortable with and confident about who I am (and where I'm headed) as an artist. Not that the searching, experimenting, and growing ever end, but to date, the music on this album does capture ideas and concepts I've been living with for the past few years. I see it as both a culmination of sorts and a look ahead into the future. I had been work-shopping this music for the past year or so with most of the musicians on the recording; that they were all available for the date, including the special guests, is a huge blessing I couldn't have planned. Timing, both planned and unplanned, was crucial to this project, and I'm happy it worked out as well as it did.
Talk about the musicians who helped you make this record.
They are all artists I've had the chance to work with or share the stage with, and I love not only how they play in general, but also how they play my music – they bring the project to life! The rhythm section with Reuben Rogers (bass) and Obed Calvaire (drums) – such a swingin', soulful unit, versatile and flexible, open to experimenting with different grooves and various concepts I have that are more classically based (involving elements like timbre, texture, instrumentation, etc.) – it's absolutely fantastic and crucial to have this foundation. Then with the added percussion of Samuel Torres – this is my 3rd record that he's played on and he's fabulous: knowing exactly what a piece needs and not playing too much or too little: that is masterful musicianship. It was also fun featuring him more front-and-center on the arrangement of "Armando's Rhumba," which is basically just him, Paquito D'Rivera (on clarinet), and myself, and some overdubbed hand/foot percussion. And then front line of saxophonist Seamus Blake & Ingrid Jensen – I like calling them my "Canadian Contingent" – what more can I say, I'm sure one can hear how wonderful they are! Finally to have Paquito and violinist Regina Carter guest on the recording – what a privilege and extra-special treat.
I see that your CD release tour is being sponsored by North Coast Brewing Company. Tell us about that support relationship and what it has meant for this release.
North Coast Brewing Company is run by folks I truly admire and respect: if all companies were run with such integrity and compassion our world (and economies) would be in a much better place. Part of their overall mission is to bring commerce and the arts together to build up the local community and from there the world. When their brew-master Mark Ruedrich decided to craft a Belgian Ale, the project was dubbed "Monk" since Trappist monks have traditionally made this type of ale. When it came time for them to name the ale itself, one of their employees said while in Catholic school she called the teachers "Brother John" or "Brother Peter" etc., so "Brother Thelonious" was born. The NCBC folks are also big jazz fans, and VP of Sales & Distribution Doug Moody (in fact, he also had a career as a jazz radio DJ) reached out to the Monk Institute, letting them know they wanted to donate a portion of "Brother Thelonious" sales to them each year to support jazz education programs, and what a success that has been: by April/May of this year, their total contribution will exceed $1 million!
In 2006 I first met Doug Moody (& his wife Deborah) when I played with T.S.Monk's Sextet for the official launch of "Brother Thelonious" on the East Coast. After that, I would run into the Moodys at various Monk Institute events, and one night at Jazz at Lincoln Center, Doug asked me to write the theme song for "Brother Thelonious" for a recording he would produce. That was a great experience, and when I was recording Anthem I decided to do an updated version which ended up being the lead-off track. NCBC has supported several musical/performing initiatives and I'm thrilled they were interested in partnering for the CD Release Tour for Anthem For A New Day. A cool side-note is most of the venues we will play serve Brother Thelonious – it's great to see folks becoming new fans of the ale! I'm not a big drinker but I have tried the ale and can make it to 6-7 healthy-sized sips, which is amazing for me (haha!). Having NCBC support this release has significantly reduced the stress associated with the business side of things, making it possible me to hire the musicians I would like for the shows and allowing me to focus on the music. I am so grateful and always ready to tell anyone who's interested what a great company North Coast Brewing Company is!