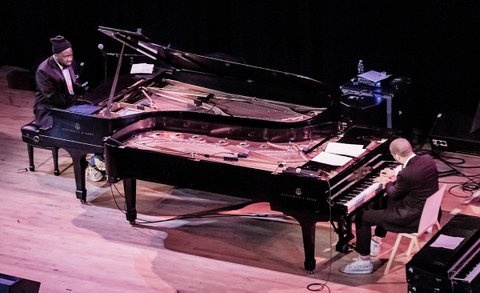 Robert Glasper (left) and Jason Moran opened with some classic Blue Note reminiscences.
Blue Note Records, perhaps the most honored and trusted record label in recorded jazz history, launched a promised series of concerts and performances marking its 75th anniversary on Wednesday, January 8 at Town Hall, the venerable old concert house located just east of Times Square. As day 2 of this year's Winter Jazz Festival this Blue Note celebration also tapped into the younger audience constituency represented by WJF's growing presence as a January essential on the NYC cultural calendar. Of course having Jason Moran and Robert Glasper as that evening's lead concert artists certainly assisted in drawing that much more of that audience sector to the old haunt on 43rd Street, scene to more than a few memorable jazz concert moments down through its rich history.
WBGO's Josh Jackson, himself representative of that growing 20/30-something jazz audience, served as affable MC in bringing Glasper and Moran to the two embraced grand pianos that had rested majestically onstage as two ebony titans, silently awaiting some learned touch as the audience earlier filed in. Arriving in tuxedos, each playfully sporting a pair of Blue Note imprint Adidas sneakers (Moran kidding Glasper on the freshness of his kicks versus his own well-worn pair), as Jackson detailed their duo piano exploits set in honor of the original Blue Note Records encounter that launched the label, the pairing of boogie woogie masters Albert Ammons and Meade Lux Lewis. What followed was a program – led by Moran and Glasper – that successfully achieved the neat balancing act of being loose and relaxed, with plenty of witty verbal and musical banter between the two, and tightly programmed at the same time, which is no small feat.
Facing each other seated at conjoined concert grand pianos, they were flanked by a Fender-Rhodes, a baby brother in the keyboard family that suggested at least some elements of their respective contemporary exploits for their eager audience. Which brings me to an intriguing sidebar. Surveying the audience it was clear that many in attendance may have been there with certain expectations of some measure of a Robert Glasper Experiment and Jason Moran & the Bandwagon experience. They did get a few morsels of that throughout the evening, in the form of a tune or a familiar line or two injected into the largely classic proceedings; occasional reference kernels in their solo and duo opening set that sparked audience recognition without veering too far afield of the concert's overall theme of celebrating the Blue Note label. The camaraderie between the two pianists was evident throughout the evening, starting with their both emanating from the same Houston, TX arts high school.
The pianists played cat & mouse on the keyboards, eliciting classic boogie piano figures from the Ammons/Lewis ouevre as their point of departure. Gradually Glasper began roping the muse forward into the Blue Note Records post-bop sweet spot. During the second half of their opening duo set they traded off Blue Note classics, punctuated by a piano refrain that served as their inside signal to each other and the audience that one or another Blue Note classic piece was afoot – some Herbie Hancock "Cantaloupe Island" here, Moran conjuring up Lee Morgan's familiar "Sidewinder," some Horace Silver here, a Joe Henderson classic there… Then a bit of lovely quietude in homage to their mothers, Moran starting on Rhodes. Another highlight was Moran's "Retrograde," his de-construction of Andrew Hill's "Smokestack."
For the second set the pianists were joined by two more Houston homies – the explosive and endlessly inventive drummer Eric Harland and bassist Alan Hampton – plus Ravi Coltrane on tenor and soprano saxophones. Never afraid of challenges they opened with Ornette Coleman's "Toy Dance", an undersung gem from the master's overlooked Blue Note record "New York is Now." Throughout the evening the sound of surprise was in the air with their tune selections.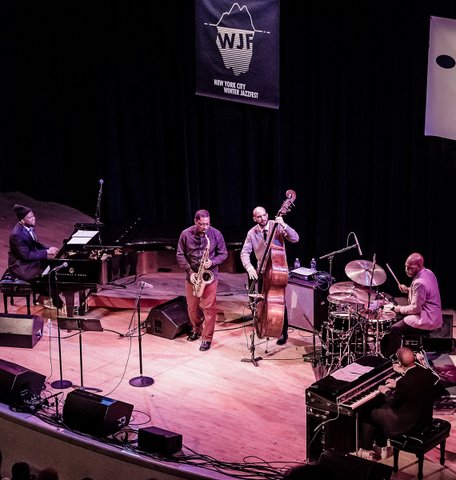 The vocalist and frequent Glasper collaborator Bilal unassumingly eased onstage for an essay on the pianist's "What is Love," giving the audience a welcomed Experiment moment judging by the buzz of recognition when they got into the tune. Moran joined Bilal for his distinctive arrangement of "Body & Soul," which he explained was a product of his connections with the singer during experimental days at Brooklyn's former, lamented Up Over Jazz Cafe.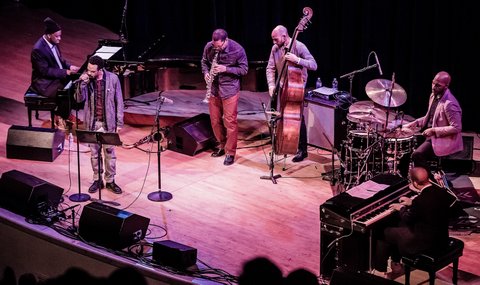 Monk runs deep in the influence bag for these players' and they did a neat turn on Thelonious' "Criss Cross," with Bilal's improvised lyrics to the master's typically knotty line. By closing with one of Glasper's early originals they sent a happy audience on its way with just a bit of the sound of recognition. Jason Moran is getting a first class education in concert programming through his stint as artistic advisor at the Kennedy Center, and Glasper certainly proved a fit concert programmer as well. The pacing, repertoire selection, humorous asides, and monologues with the audience all lent themselves to a marvelous kickoff to a planned series of concerts in celebration of Blue Note Records at 75.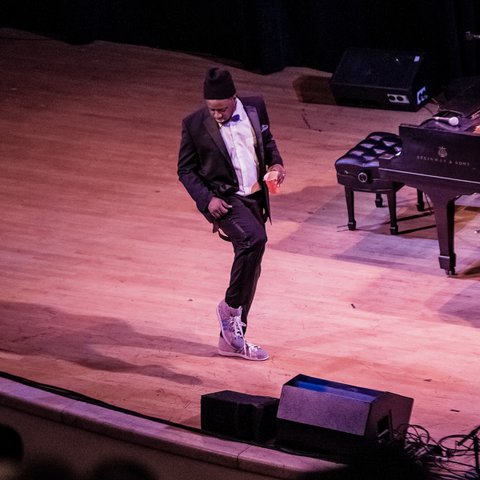 Robert Glasper modeling his Blue Note special edition Adidas kicks
Photos by: BART BABINSKI