The Breath Courses Through Us is a provocative new jazz film that will have its premiere on Friday, January 31. For this year's edition of his annual Library of Congress Jazz Film Fridays series, produced by Larry Appelbaum. The Breath Courses Through it will be part of a double feature of Alan Roth films, and admission is free (call 202/707-5502 to reserve yours). As always Appelbaum's always-intriguing film series will play in the LOC's cozy Mary Pickford Theatre in the James Madison Building, 101 Independence Avenue S.E. in one of the more classy examples of your tax dollars at work.
Both The Breath Courses Through Us and the double-feature Inside Out in the Open focus on the left side of the jazz spectrum; the former focusing on The New York Art Quartet (John Tchicai, Roswell Rudd, Milford Graves, and Reggie Workman. While Inside Out in the Open features such fearless explorers as Marion Brown, Baikida Carroll, Burton Greene, Joseph Jarman, Rudd, Alan Silva, Tchicai, Daniel Carter, William Parker, Susie Ibarra and Matthew Shipp. A major bonus of The Breath Courses Through Us will be an appearance by the great poet-author Amiri Baraka, who ascended to ancestry earlier this month. The films will be introduced by bassist and WPFW programmer Luke Stewart.
In an email exchange with filmmaker Alan Roth I was delighted to learn that we are fellow Clevelanders. Clearly some questions were in order, particularly regarding the premiere of The Breath Courses Through Us, his 2013 feature.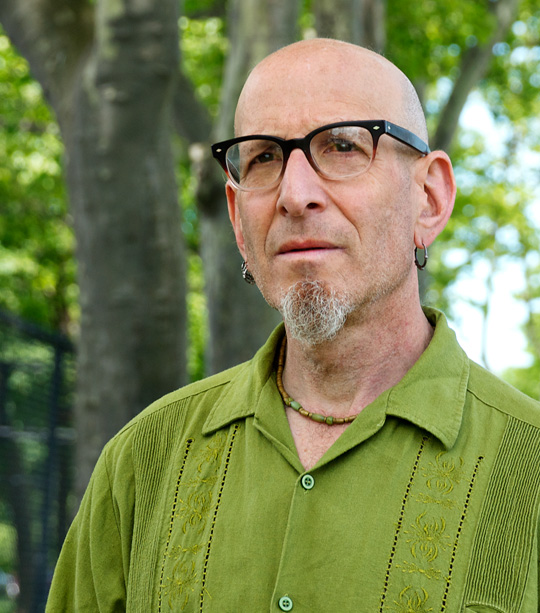 Film maker ALAN ROTH
What has been your experience as a filmmaker?
My filmmaking actually began when I was in high school, when I made my first super-8 film, a study of hands. I made other work, much of it very political, over the next couple of years, then, I lost my camera! My political, social and labor activism took precedence for many years to come.
After an almost 19-year career in the U.S. Postal Service in my hometown of Cleveland, Ohio, I came back to the moving image with video, and fell in love with filmmaking again. In the early 90s, I made a major decision to leave my guaranteed life-time job to be a filmmaker. In 2001, I released my first documentary film Inside Out In The Open, which was my first examination of the music known as free jazz.
Besides my longer work, I was documenting events in New York City during the time of 9/11, some of which became part of the collective film Seven Days in September, shown in theatres and on A&E. I also co-directed a short film used in the campaign for marriage equality in New Jersey.
A major work I am very proud of was my participation in a project Womens Power Against HIV/AIDS. This was an innovative approach, begun in 2006, to use soap opera stories delivered on cellphones as a means to change the sexual/social behavior of African-American women, who made up a significant percentage of new HIV cases. It was a very sensitive approach based on the real stories of women. This study was funded by the National Institutes of Health.
I am now beginning a new work in Mexico City about two indigenous folkloric dancers, their struggle to raise a family (they are a married couple), their daily work and culture, and the relevance of traditional dance in contemporary Mexican society. I hope to finish that film in early 2015.
What was the genesis of this film The Breath Courses Through Us?
My first film, Inside Out In The Open, included among the interviews both John Tchicai and Roswell Rudd, and their formation of the New York Art Quartet. During my editing of the 'rough cut' of the film, which became my master's thesis at the New School for Social Research, I was informed by Tchicai about the reunion. I thought "what a perfect follow-up" and gained permission from the rest of the musicians to document the reunion. I was privileged to work with cinematographer Ronald Gray, who at the time was teaching cinematography at the New York University film school graduate program. This footage is the core of The Breath Courses Through Us.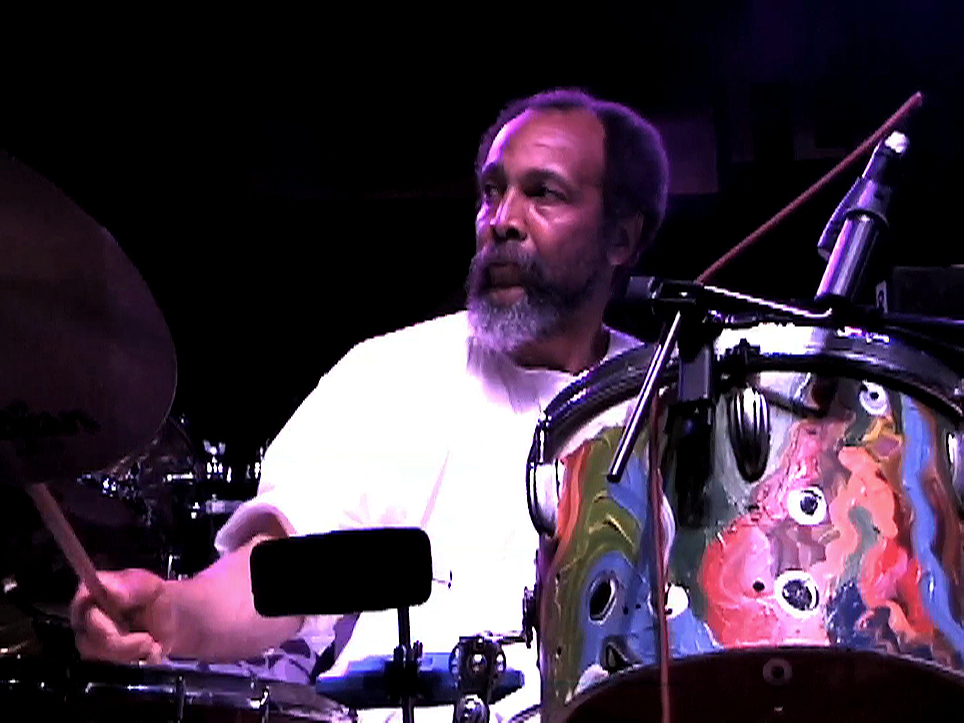 Stalwart drummer MILFORD GRAVES from the New York Art Quartet reunion
I still had my first film to complete and I focused on that, adding segments that were needed in light of the negativity about these musicians and other historical omisions in the last section of Ken Burn's Jazz. Little by little, I kept working on the new film, but again, with my full-time attention on the Women's Project work, it took many extra years to complete the new film. It was totally coincidental that my film and the Triplepoint Records 5 vinyl boxset of the lost recordings of the New York Art Quartet were released within one month of each other, and now, being premiered during the 50th anniversary of the founding of the group.
The title of this film is rather provocative; how did you pair this title with the subject matter?
During the soundcheck for the 1999 reunion concert, the musicians were improvising, merely to allow the tech people to set levels. Baraka read some poetry from memory, including the beginning of his poem "X." There is a line in the poem "the blood courses through us," and mistakenly or not, he said "the breath courses through us." I chose to use that version as my title as a metaphor for the continuity of the living breath of African-American musical tradition and the creative life among these artists. In an early scene in the film, Baraka, at that soundcheck, says "everything you don't understand is explained in art," the opening lines of that poem. The film is as much about the present tense in the lives of these artists, along with their individual personalities, with the formation of the group, their own entries into the musical life, and the lifeline of creative music.
What did you find most compelling about the music and the musicians you feature in this film?
Both my parents loved jazz. They told me about going to see Art Tatum play in Cleveland, and as I grew up, I listened to a wide variety of music, including music from other countries in the world and more experimental electronic music and John Cage. I learned to play classical piano as a child, but in my teen years, when my parents decided to hire a jazz pianist to teach me, I had much trouble handling the new language. It was easier to learn to read charts and improv with pop music.
My listening, though, generally leaned towards the more progressive side of music, which included more chance and improvisation. This was the reason I decided many years later to do my first film on this music, not as a dry historical film, but rather one that lets the musicians tell their story, and emphasize those personalities as integral to the creative process. They think it is important to emotionally connected to one's creative work and perhaps do the same for one's audiences.
Like many other lovers of this music, I find the music inspirational and transportive, but also challenging. To quote the late Marion Brown from my first film, "ya got to make them think!" Films should engage the audience, involve them actively, challenge them, and hopefully give them reason to walk out of the theater with questions and the urge to learn more. For that reason, my films are not a clear ABC of explanation, but rather a quilt of information that I try to sew together lyrically with its own thrust forward in time.
I sincerely hope that these two films will become part of the repertory of films that give props to the musicians and new African-American musical traditions that emerged from this period in New York City in 1964, which also sprung up in Chicago, St. Louis and so many other places. I think they had more of an impact on music that they have ever been given credit for.
Beyond this Library of Congress premier when and where will this film be available for viewing?
The Breath Courses Through Us is just beginning to be seen around the world. It will continue to be seen in film festivals, and more alternative spaces. I hope it could be included in jazz and music festivals as well. Eventually, it will be available for the public as a DVD or download.
The New York City premiere is scheduled for April, and that should be an important event with the musicians present. The loss of John Tchicai 15 months ago, and now Amiri Baraka were very difficult to take. I am happy to say that Tchicai saw a rough cut of the film, and Baraka had seen the final version. We are losing many in that generation, but I felt good that this film can allow them to continue to speak and perform for the world.