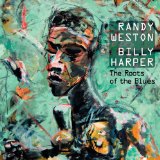 Randy Weston and Billy Harper's long partnership has culminated in their first duo recording, The Roots of the Blues, recorded by French producer Jean-Phillippe Allard for Universal and recently released stateside by the Sunnyside label. Ace producer Allard has been at the console for such Weston record dates as Spirit! The Power of Music Verve/Gitanes 1999), Earth Birth (Verve/Gitanes 1995), Khepera (Verve/Gitanes 1998), Saga (Verve/Gitanes 1995), Volcano Blues (Verve/Gitanes 1993), Marrakech in the Cool of the Evening (Verve/Gitanes 1992), The Splendid Master Gnawa Musicians (Verve 1992), and the classic The Spirits of Our Ancestors (Verve 1991). The latter featured three distinctive, spiritually adept tenor men – Pharoah Sanders, Dewey Redman (the tenor exchange between those two on an extended version of "African Cookbook" is worth the price of the CD alone), and Harper. But the Weston/Harper hook-up goes back further than that auspicious record date.
In 1971, as part of his overall plan to develop an African cultural beachhead in Tangier, Morocco that would serve as a hub for African and African Diaspora culture, while continuing to operate his African Rhythms Club in the northernmost African city, Weston began planning a grand festival – which would eventually become the first primarily jazz festival in Africa. As part of his planning he recruited his boyhood friend Max Roach and arts activist Mary Jo Johnson as his US-based liaisons to secure and arrange travel for the US artists Randy planned to bring to the festival. The idea was to produce a festival that would find US and African artists collaborating creatively. The US artists who committed to playing the festival, which commenced September 1-3, 1972, included Mandrill, Pucho & the Latin Soul Brothers, Odetta, Hubert Laws, Ahmed Abdul-Malik, and Max Roach's Quartet, with Cecil Bridgewater on trumpet, Juney Booth on bass, and Billy Harper. However for some then-unexplained reason Max was not on the flight! Additionally, Dexter Gordon and trumpeter Richard "Notes" Williams joined the lineup from Europe.
Randy puzzled over Max's absence for years, not learning until after Roach's passing that the reason he didn't make the flight was to maintain marital bliss, Max's wife being very much pregnant at the time. Come festival time – at a grand outdoor venue that was actually a converted bull ring stadium, a setting Weston described as fraught with the usual logistical nightmares of a short-funded start-up (the Moroccan government fell short of its promised financial support), Max's band soldiered on without him, Harper even taking to the traps for part of the performance, which he also did handily for Hubert Laws set. Though clearly an artistic success, the festival dug such a deep hole for Weston that he was forced to padlock his African Rhythms Club and return home to Brooklyn to recoup. Obviously Billy Harper left a major impression on Weston, such that in recent years whenever a performance calls for or affords him the option of having a tenor player in his band, Weston calls on Harper.
In preparing the liner notes for The Roots of The Blues, I interviewed both Weston and Harper on the project, starting with Weston, with whom I had the advantage of a 10-year head start from writing his autobiography African Rhythms.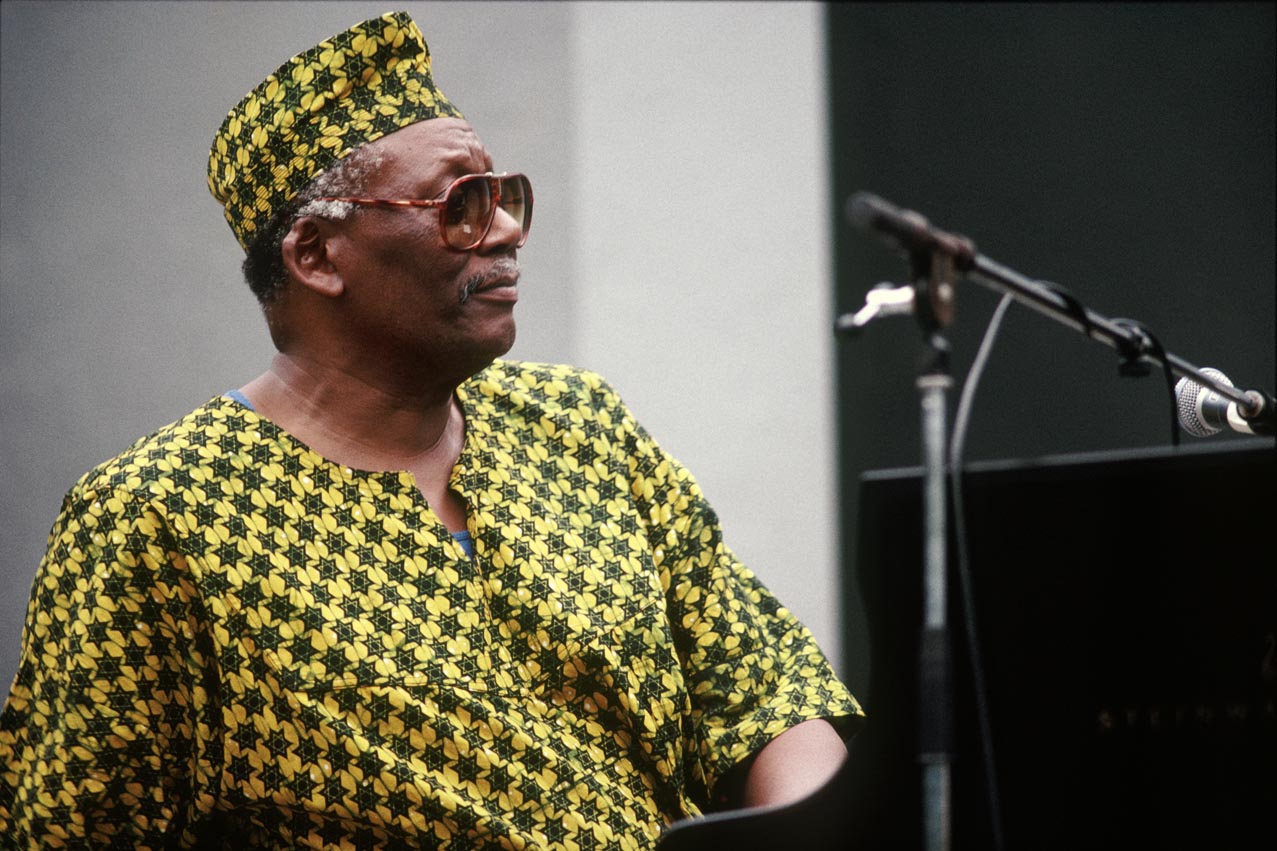 Photo by Alan Nahigian
From my recollection of your discography, The Roots of The Blues must be your first duo record?
Randy Weston: Yes, I always love the sound and imagination of Billy Harper. For a long time I wanted to record in duo with Billy. I first played with Billy in Tangier, Morocco when he came over for my festival with Max Roach's group. I heard the sound I like, that Texas sound, and [Harper] being from Texas he's a great blues player. When Billy plays the tenor its like an orchestra – the call & response is always there; I always hear the black church in his playing; he's always singing through his horn. As far as why we work well together, it's the magic, that big, black sound he gets. Billy's sound (he has Somali roots) comes straight out of Africa, but it's a universal sound – that cry, it reaches your soul. He plays that modern saxophone but it's very poetic. You listen to his solos and it's a full composition, you hear the whole history of the tenor.
Talk about some of the compositions on this recording.
RW: "The Healers" is one for our ancient ancestors that came out of the Nile Valley civilization; they are the foundation of what we do today. We have to remember those ancient people that created the music we play today.
I definitely hear some of your low end theory, that depth that is characteristic of your lower register playing on "Blues to Africa".
RW: [Laughs] Only on the Bosendorfer! The lower register represents the earth, the elephant and the way the elephant strides inspires that lower register on "Blues to Africa." The way [elephants] walk [laughs], maybe it's because I'm big too! I love the sound of that lower piano register – and you get that only on the Bosendorfer!
"Take the A Train" is symbolic because coming up in Brooklyn the A train gave us the opportunity to get to Manhattan more directly, and [A Train] was written by one of my idols, Billy Strayhorn. [Editor's note: Weston played piano at Strayhorn's funeral.] Like the old blues players Billy tried to capture the sound of the train with that piece. It's a great composition and the A train gave us in Brooklyn an opportunity to get up to Harlem much quicker.
"How High the Moon": Musicians started playing that a lot in the 40s and 50s; it was the first piece I heard Lucky Thompson play and I loved it. I played with Lucky once in Brooklyn; what an honor!
"Body & Soul": Coleman Hawkins, obviously. [Editor's note: In African Rhythms Weston tells the story of how as a 12-year old in 1938 when Hawkins recorded his monumental version of "Body & Soul," he ran out and copped three copies of the single with an allowance advance, playing two copies endlessly at home, with his record player on blast, tilted out his bedroom window to entertain the neighborhood, wrapping up the third copy for safe keeping.] What I do is in the beginning I play a melody based on the bridge of the piece before Billy comes in, which I call "Soul and Body."
"Congolese Children": Some of my early listening to African music came up in the Berkshires. I heard some music from the region around Lake Kivu [one of the African great lakes, which borders the Congo and Rwanda] in the Congo. That's when I began to incorporate rhythms and harmonies of Africa in my music.
"Blues to Senegal": The first time I took my band to Africa was in 1967, and our first concert was in Dakar. I heard Dou Dou N'Diaye Rose, the great master drummer who inspired me. My son Azzedine created a rhythm based on a Senegalese drum pattern that fit with this melody.
"Carnival": Inspired by Bobby Benson [musician and owner of the Lagos nightclub Caban Bamboo], just being in his club in Lagos, it was like a carnival. The first time I recorded this was in Montreux; Billy [Harper] was there with Gil Evans, and Don Moye was there with the Art Ensemble of Chicago; they're both on the record.
"Timbuktu" was inspired by several things: my father talked about Timbuktu as one of the great ancient civilizations and I always wanted to visit there. This piece is a combination of a prayer and the greatness of Timbuktu in the ancient times. The piece deals with sadness, love, history and dreams.
"Roots of the Nile" depicts the beginning of the Nile Valley civilization; it's a tribute to the ancient people of the Nile Valley civilization.
"Cleanhead Blues": I played two weeks with Eddie "Cleanhead" Vinson up in Albany and it was quite an honor. Not only was he a great blues singer, he was a great saxophonist as well.
Billy Harper on The Roots of the Blues: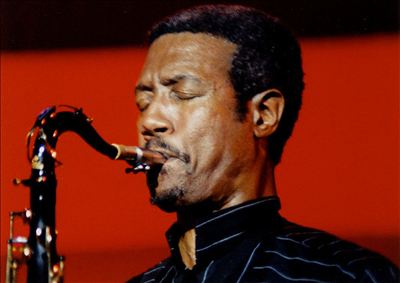 Billy Harper by Greg Turner
How did you meet Randy and what's been your overall experience knowing and playing with him down through the years?
Billy Harper: I met Randy Weston during a European tour that I was doing with Gil Evans; this was in the 70s. We immediately joined our musical forces together and recorded an album called Carnival, a live performance at one of the main festivals in Switzerland. But the first genuine meeting was in Africa. I was invited as part of the Max Roach Quartet to perform at Randy's festival in Tangier, Morocco. Although I did perform on saxophone – Max had sent the band ahead of time, but when the event started there was still no Max – so I played drums a bit; one such occasion was behind Dexter Gordon, and also Hubert Laws.
There are so many stories to be told in relating to the saga that involves the overall experience of knowing and performing with "Chief" Randy Weston, that probably the most significant one highlights the direction and values that are emphasized in the truth of understanding the history and origins of so much of Western culture, via the true birthplace of us all – Africa. As this awareness was passed down from Randy's father, through the understanding of Randy, it has also been passed down to us – meaning all of the musicians, or for that matter all persons who have come in contact with Randy Weston – the supreme speaker and teacher of the "flame of truth" – whether the focus of the moment is the music that we play as "jazz musicians", or the history that we live as "human beings" in this world. Our humanity is connected to music, and vice-versa.
What made you decide to play your piece "IF One Could Only See" as your solo saxophone contribution to The Roots of the Blues?
BH: It was at the request of Randy Weston himself that I decided to contribute my composition. This is a song that I played as a solo when Randy and I performed in duet recently in Japan at a spiritual shrine. This song was given to me, in a dream. In this dream, I was walking down Seventh Avenue in Manhattan and I was carrying an empty tape recorder. As I strolled along not really paying attention to anything, this humongous hand reached down from the heavens and there was a cassette tape in it! So I accepted the tape, placed it in the empty cassette player… and one of the most beautiful melodies was played. I woke up immediately and played what I had heard. I named it "If One Could Only See." The philosophical meaning of the title is so vast that it explores the possibilities of the goal of perceiving truth (real truth) in all that we see, whether it relates to truth in life, love, history, events that are denied or distorted, events that have occurred and were thwarted, all those things that mankind has a tendency to hide. The truth can be seen through our hearts… if we can learn to use our hearts… if one could only really see.