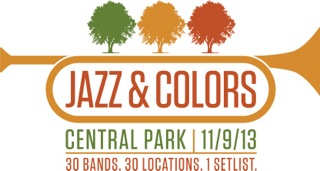 Last year when the Jazz & Colors day was launched in New York's Central Park, as I read over the mission of this thoroughly unique undertaking immediately I was taken by the fact that clearly here was a stellar example of jazz music performed in a unique way in a fairly non-traditional setting. Certainly the idea of jazz-in-the-park is almost as old as the music itself… but in Central Park on a crisp November day, definitely late fall!? And then there was the overall design of the event, where audiences could literally stroll the park and be lifted along by a kind of soundtrack effect (no surprise, Peter Shapiro whose Brooklyn Bowl organization founded and produces this event, is also a film entrepreneur). And then there's the matter of the commonality of the music performed by the featured bands – though performed in their own spirit – eliciting the kind of subtle sonic differences akin to fall foliage color variations, where one slight modification in hue can lend a dramatic visual effect to Mother Nature's overall Autumnal pallet.
This year's Jazz and Colors day will be Saturday, November 9. Just to give you a sense of this idea, here's the basic premise from the Brooklyn Bowl team, as ace publicist Kim Smith relayed it:
30 ENSEMBLES RETURN TO CENTRAL PARK TO PERFORM
FOR SECOND ANNUAL JAZZ & COLORS EVENT, NOVEMBER 9, 2013
Each ensemble will simultaneously perform the same set list of jazz standards, allowing people to explore Central Park, from midtown to Harlem, with their own personalized musical soundtrack. The second set highlights songs about specific cities, either in title or theme – paying homage to Brooklyn, Las Vegas and London – each of which will, by the Spring of 2014, host its own Brooklyn Bowl venue, the sponsor for Jazz & Colors.
The first set, beginning at noon, will include: "Caravan" – the classic first performed by Duke Ellington in 1936; "Bemsha Swing" by Thelonious Monk, appearing on his acclaimed 1957 LP Brilliant Corners; "Cherokee" – written in 1938 by Ray Noble and recorded by numerous jazz musicians over the decades; "A Night in Tunisia" — one of the signature pieces of Dizzy Gillespie's big band; "So What" — the opening track on Miles Davis' 1959 album Kind of Blue; "Footprints" by legendary saxophonist Wayne Shorter; "Maiden Voyage" — one of Herbie Hancock's best-known compositions; the unmistakable "Take 5" by Paul Desmond, first performed by The Dave Brubeck Quartet on their 1959 album Time Out; and "Tenor Madness" by the Saxophone Colossus Sonny Rollins, originally a twelve-minute piece recorded in 1956 with John Coltrane.
The second set (following an intermission) will include: Billy Strayhorn's "Take The A Train", written by in 1939 for the Duke Ellington Orchestra; the frequently recorded "Harlem Nocturne" (1939) by Earle Hagen; "Stompin' at the Savoy", composed by Chick Webb in 1934 and named after the Savoy Ballroom that once existed in Harlem; "Grand Central" by John Coltrane, recorded in 1959 on Cannonball & Coltrane; "Central Park North" by Thad Jones, the title track from the Thad Jones / Mel Lewis Jazz Orchestra's album from 1969; "New York City" by Gil Scott Heron, arranged by Brian Jackson, from their joint 1976 recording It's Your World; "A Foggy Day in London Town" by George Gershwin, which appeared in the 1937 Fred Astaire film A Damsel in Distress; "Las Vegas Tango" from The Individualism of Gil Evans (1964); and the jazz-funk-soul classic "We Live in Brooklyn Baby" by pianist Harry Whitaker, appearing on Roy Ayers' 1971 recording He's Coming.
"This year's Jazz & Colors playlist features some of the most popular jazz standards in the first set giving a nod to many jazz legends that resided in New York City. The second set pays homage to songs that were specifically written about our beloved city, plus bonus songs about London, Las Vegas, and Brooklyn." says Brice Rosenbloom. "Our program offers audiences the opportunity to experience these classic tunes in a new way, as thirty groups offer different interpretations."
Clearly we had to ask Jazz & Colors programmer Brice Rosenbloom some questions.
What was the original mission or intent of Jazz & Colors, what's behind the name, and where in Central Park do these performances take place?
Jazz & Colors was born out of the desire to create a free and large scale public music event that would attract visitors to experience Central Park in a unique way. As America's classical music Jazz is the perfect choice of genres to provide an accessible soundscape that is appropriately rooted in our city's past. The name is relevant to the Fall season and the changing colors of the leaves, therefore Jazz & Colors. The beautiful thing about the concept is that 30 groups are located all over the park, dispersed among the natural beauty, beside landmarks, on hillsides, in valleys, beside water, and filling every corner of the park with beautiful music.


Tenor man JD Allen's Quartet, with Duane Eubanks on trumpet, Jazz & Colors 2012
How do you coordinate 30 bands – the majority of which are used to almost exclusively playing their own original music – to "simultaneously perform the same set list of jazz standards"?
The wonderful thing about living in New York city is that we have the pleasure of living among the best and most creative musicians in the world. The reason the concept for Jazz & Colors works with groups performing a predetermined set list is that these talented musicians are up to the challenge. Most of the tunes are recognizable standards, but instead of playing them straight we encourage every group to put their own voice, their own interpretation, into the song so that we will truly have 30 different versions of the same standard being played at the same time. Most of the musicians love knowing they're a part of this truly unique day of music.
Besides the obvious – achieving a substantial audience following – how do you foresee this unique endeavor becoming a New York tradition?
From our experience launching Jazz & Colors last year it immediately became a favorite of regular park-goers, and clearly attracted new visitors to the park. From tourists to native New Yorkers park goers were encouraged to experience the park in an interesting way. Not since Christo and Jeanne-Claude's The Gates has there been a large scale Park-wide public arts project like Jazz & Colors. As long as there are continued resources to make the event possible I foresee it becoming a longstanding NYC tradition.
Is this something that you see as a uniquely New York CIty phenomenon, or might this idea be exportable to other major cities?
Jazz & Colors works very well in New York City because of our intimate relationship to Jazz and the clear role New York played as the staging ground for so much of the development of the music and the musicians it fostered. However I'm certain the concept could work very well in other cities who want to activate a large public space to pedestrian traffic using music in a unique way.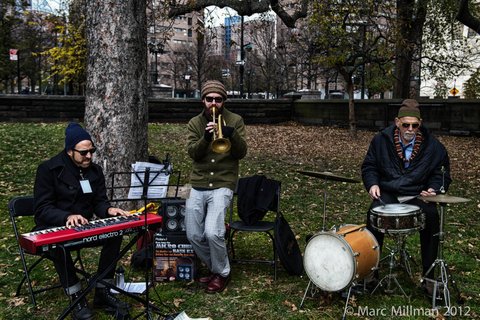 The Knuffke-Stacken Duo with drummer Bill Goodwin all bundled up & blowin' at Jazz & Colors 2012
How would you like to see this expand?
To other cities… Or multiple days… perhaps to the Five boroughs…
Here's the list of bands who will play this year's Jazz & Colors event:
* 2 Sisters, Inc Band
* Andrew Lamb Trio
* Arturo O'Farrill & The Afro-Latin Jazz Orchestra
* Brian Charette
* Daseul Kim Quartet
* Doug Wamble Quartet
* Duane Eubanks
* ELEW
* Frank London's Klezmer Brass All Stars
* Gregg August Quartet
* Hot Future Five
* Jason Kao Hwang
* Jason Marshall Quintet
* Jazz at Lincoln Center All-Stars featuring the Russell Hall Quartet
* Joe Alterman Trio
* Joel Harrison Quintet
* John Raymond Quartet
* Kahlil Kwame Bell
* Kimberly Thompson Quartet
* Lakecia Benjamin & Soul Squad
* Marika Hughes & Bottom Heavy
* Mike Mohamed Quartet
* Mitch Froman's Latin Jazz Quartet
* Outer Bridge Ensemble
* Roy Campbell Jr.
* Vince Ector Quartet
* Walking Distance
* Wayne Escoffery Quartet featuring Carolyn Leonhart
* Yard Byard
* Yosvanny Terry Quartet
Photos by MARK MILLMAN
Further information: WWW.JAZZANDCOLORS.COM