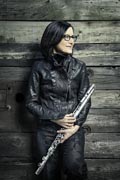 Flutist Jamie Baum has always struck me as a very thoughtful artist with a lot on her musical mind. We met several years ago at a conference and she's been pleasantly persistent in updating her career developments ever since. A Connecticut native who is a New England Conservatory jazz composition grad, Jamie has worked with and been influenced by an impressive range of artists; in the jazz spectrum that has ranged from Randy Brecker and Kenny Barron to George Russell and Wadada Leo Smith. Deeply invested in a philosophy of achieving a better integration of the flute in the jazz ensemble, the last time we reported on Jamie's work it was as part of the ensemble Yard Byard, dedicated to the music of the neglected genius pianist-composer Jaki Byard; a passion for upholding Byard's legacy she shares with another of his successful students, pianist Jason Moran.
Several months ago, uplifted by her latest project and eager to share it, Jamie sent me an advance disc of her recently released project, In This Life (Sunnyside), performed by her septet+. The depth and breadth of particularly her composition and arrangement work on this new disc was immediately apparent, as was her continued growth on her instrument and as a selfless bandleader. Clearly some questions were in order…
Judging from your growing discography and culminating with your latest release In This Life, its clear that you are a musician who places paramount value on the overall sound and blend of an ensemble. I base that impression in part on the fact that you've recorded largely in sextet and now septet+ configurations. Is that an accurate sense of where you're coming from?
I have a few answers to that question. The first, is that I have always been involved in different projects/bands at the same time where one may be a quartet working with standards, another a duo working with free structures and another, for example, with the music of Jaki Byard…and so the Septet, which was formed in 1999, has always been about my compositions. It has been a great vehicle for me to explore new ideas. I started the septet when preparing for my master's degree recital at Manhattan School of Music in jazz composition, and since then the band has recorded 3 CDs, the third of which is In This Life, my second for Sunnyside Records. For this recording the group was expanded to an Octet and I also added special guests Dan Weiss on tabla and Samuel Torres on congas. Having this band has given me the chance to workshop a lot of concepts relating to form, orchestration, meters, structures for improvisation, etc., as well as the opportunity to see how I can take influences from other genres of music to expand jazz formats for composition and improvisation.
As is with most jazz improvisers, I enjoy playing standards and blowing several choruses over the form however, I have felt that this isn't always as interesting to the listener as it is to the player. Sometimes I will go hear bands play several choruses over a 12, 16 or 32 bar tune, one soloist after the next, and find that the thread of the composition is lost. That has inspired me to find ways of integrating the soloing and composition through extracting and developing parts of the melodic and rhythmic motifs into a variety of relevant sections for improvisation. I also try to keep each piece and the overall CD interesting by considering all of the possible pairings and color options available from the different instruments as they relate to the vibe or expressive quality I'm going for. So as they say, "the devil is in the details", and that attention to those details can really help create a mood and perhaps inspire the soloist to improvise in a way that is more relevant to the composition. I also think it is important to not only give attention to the shape of each piece but to the overall set, whether for a performance or recording.
When you plan a recording date, how do you go about matching as closely as possible the intentions of your compositions with the players you select to play those compositions?
Well, first and most importantly, I have been very lucky to have great players work with me who understand what I am going for and who really bring their own unique interpretation to the music. I have had many of the same musicians play in the band for several years at a time, including great players like Ralph Alessi, George Colligan, Doug Yates, Jeff Hirshfield… and knowing who you are writing for is a gift. I have to say that the music wouldn't be what it is without them and so it is important to choose the right musicians….players who don't need to be told too much. There is a fine balance you have to find as a leader, knowing how much and what to say in order to be able to get what you want but to not inhibit all of the wonderful ideas, spontaneity and expressiveness that the band brings to "the table". I do, however, think carefully about who I choose to solo on which compositions and in which sections in the composition. I also consider who I give the melody to at any given time in order to achieve the color, energy or intensity I feel the piece needs. I have to say though, those things are usually figured out well before going into the studio to record since we generally perform the music quite a bit before then. By the time we record, I will have a good sense of what I want to happen in that way. With that said, I try to be as flexible and "in the moment" as possible in the studio. If one of the band members or producers has an idea they want to try, I'm all for it because you never know what kind of magic you will end up with… which is what we all are hoping for anyway.
>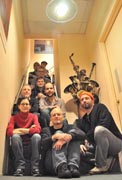 Jamie & her In This Life crew
The flute is not a standard member of most big band woodwind sections; usually it is included as a saxophonist doubling to provide the ensemble with a different color based on the composition. It strikes me that somewhere down the road you'll be compelled to place your compositions before a large ensemble or big band. What precedents can you think of from your observations of a flutist writing for and leading a large ensemble?
Good question. I'm not sure I know of any flutist who has actually composed compositions for big band as well as played on them… doesn't mean that there aren't any, it's just that none are coming to mind at this moment. I'm sure there are saxophone doublers who have and who have had an affinity and understanding of how to use flute and its doubles effectively. There were several recordings that did use a lot of flute in ensembles that inspired me early on, including Herbie's Speak Like a Child, Hubert Laws' The Rite of Spring and In The Beginning, Gil Evans' recordings, and ensembles that used interesting instrumentation and formats like Kenny Wheeler and George Russell's early works. I have been asked several times to write for big band and/or orchestrate my music for big band… its not that I'm not interested in doing it, it is a matter of finding the time and making it a priority….
You also appear on your fellow flutist Ali Ryerson's big band recording with a full ensemble of flutes (Game Changer, Capri Records). What was that like and did you carry anything away from that experience that you might think about for your future endeavors?
When Ali first formed the band 10 years ago, she asked me to play in it. I think most jazz flute players at one point or another have "big band envy". I think that at some point we all would have liked the opportunity to be involved in a big band; the chance to be a part of an ensemble where you can learn so much about blending, articulation, intonation, jazz phrasing, playing in different styles, be pushed to do your best due to its competitive nature, camaraderie, learning from being around your peers, play so much of that great repertoire, etc.…. I've often thought that not having those opportunities can put the aspiring jazz flutist at a disadvantage. Playing in Ali's big band has been a fun experience for some of the reasons I mentioned, particularly since all of the players are on a high level and the arrangements are tastefully and thoughtfully done. Being in the middle of the sound and colors of all of those flutes is certainly a unique experience. I'm not sure though how that might affect my future endeavors, but then you don't necessarily know how experiences are going to present themselves in your music further down the road.
What's next on your horizon?
I'm looking forward to the many upcoming CD release gigs in November, including the Firehouse 12 in New Haven on 11/15 and the Jazz Standard in NYC on 11/19 [see Jamie's current full schedule of CD release gigs below] and I'll be doing a 10-day tour in Canada with Jane Bunnett at the end of November. More CD release performances in the coming months with the Septet+, including one at Blues Alley in DC in February, a new CD coming out by Yard Byard: The Jaki Byard Project, some duo gigs with pianist Richie Beirach in February, some writing projects, etc. Lots to look forward to!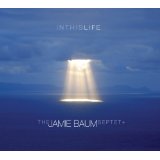 Jamie Baum's In This Life CD Release Tour Dates
Nov 14 – Springfield, MA
Pioneer Valley Jazz
Nov 15 – New Haven, CT Firehouse 12
Nov 16 – Old Lyme, CT The Side Door
Nov 19 – New York, NY Jazz Standard
Nov 23 – Waterloo, ON TheJazzRoom
Nov 27 – Toronto, ON Hugh's Room
Nov 28/ 29- Quebec Bar Sainte Angele
Nov 30 – Ottawa, ON The GigSpace
Dec 1 – Kingston, ON Kingston Jazz Society
*Nov 23 through Dec 1 dates will feature special guest Jane Bunnett