What a whirlwind month of January! It started literally right after 2013 dawned, with a January 2 crack-of-dawn flight to Atlanta for the Jazz Education Network Conference (full disclosure: I serve on the JEN board). Among that conference's highlights was the great bassist and conference honoree (along with NEA Jazz Master Dave Liebman) Rufus Reid conducting an Atlanta big band through their successful channeling of Reid's "Quiet Pride," a commissioned work in homage to the late visionary artist-activist Elizabeth Catlett (whose son, drummer Francisco Mora Catlett's "Afro Horn MX" release coincidentally made our list of top 2012 releases – scroll down). As successful conferences will, this one produced more than its share of rewarding panel discussions, masterclasses, clinics and research presentations – including daily sessions on different vibrant topics produced by the Jazz Audience Initiative. Among the sessions I enjoyed were Chicago saxman Geoff Bradfield's revealing discussion of the overlooked legacy of NEA Jazz Master Melba Liston; an aforementioned session (scroll down) with Matt Wilson, and John Clayton-Bob Mintzer-Don Braden-Javon Jackson (again, scroll down) as the Four Wise Tenors on subjects related to career development; and a simple listening session with saxophonist Jeff Coffin that had a full house vibing anew and group-analyzing such saxophone classics as Coleman Hawkins' peerless rendition of "Body & Soul" and by contrast Lester Young in the evergreen tenor department. Onstage at JEN, catching up with the kinetic violinist Christian Howes in performance and conversation; Howes, no longer the excitable boy, now a very mature artist, was a treat; as was the Berklee Global Jazz Institute, and Larry Rosen's Jazz Roots keynote address. Just generally the positive buzz throughout the JEN Conference was palpable; clearly the jazz community had missed these annual networking gatherings since the demise of IAJE. Like its predecessor organization once did successfully, for the time being the JEN Conference will rotate annual host sites around the country; the succeeding four January conferences will be in Dallas, San Diego, Louisville, and New Orleans.
Got back from Atlanta on a Monday night, leaving a one day turnaround before taking Amtrak up to NYC for a day at the nascent – and seemingly on a nice success track towards annual presentation – the industry-based Jazz Connect Conference (this year with over 1K registrants) at the Hilton. Presented in conjunction with the major annual Association for Performing Arts Presenters (APAP) conference at the same hotel, on the first of the two Jazz Connect days I had the great pleasure of moderating a lively panel discussion on the need for jazz artist mentoring efforts. The panel was coincidentally a drum-heavy assemblage of clear-eyed thinkers and musicians, including trapsmen Carl Allen, Matt Wilson, and wiseman Michael Carvin, plus saxman Greg Osby and New School jazz program director Martin Mueller. Carvin dropped plenty of mother-wit science and all agreed that the generations of musicians now arriving from the academy – as opposed to the "streets" – could use some measure of mentoring from experienced musicians to skillfully navigate the speed bumps of a successful jazz career; speed bumps that no amount of mastering pedagogy can surmount.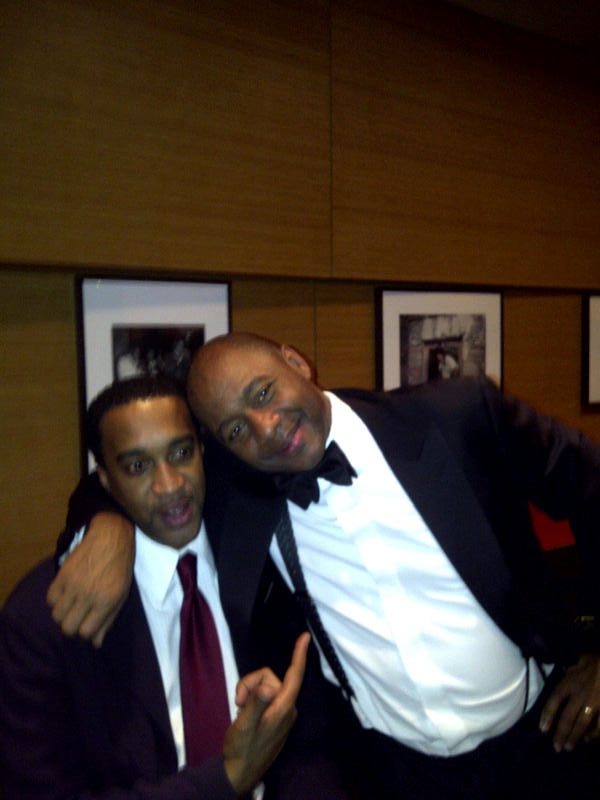 Tenor men Javon Jackson (left) and Branford Marsalis hamming it up at the NEA Jazz Masters 2013 event
Amtrak back up to NYC on Sunday, the following Monday evening was high times at the NEA Jazz Masters awards event at Jazz at Lincoln Center. Presented the last few years in grand style at JALC's classy Rose Hall (more on that venue later), budget constraints and more modest programming shifted the NEAJM event down the hallway to JALC's club space Dizzy's. From the moment of the 5:30pm annual group photo shoot of the assembled Masters in an adjacent room, this NEAJM event felt more intimate; an impression which was confirmed by more than one Master post-event. Randy Weston declared himself particularly pleased by the closeness and camaraderie the Masters enjoyed in the smaller confines of Dizzy's. Consequently the mood was more about fun than honorific reverence, and this time the music was provided entirely by the Masters themselves; with a house rhythm section of NEAJMs Kenny Barron, Ron Carter and Jimmy Cobb.
The humorous highlight of the program was Lou Donaldson's acceptance speech, prefaced with an (as Jon Hendricks once remarked) "I'm only serious…" kidding aside of "What took you so long" for him to gain entry into jazz's highest honor. Donaldson proceeded to break up the house with tales of his potent senior cocktails of Viagra, Levitra and assorted other supposedly life-renewing drugs. Musical highlights included Jimmy Heath's lovely turn on "Sweet Lorraine," ironically part of the tribute to the frequently salty proprietress of the Village Vanguard, Lorraine Gordon, the 2013 NEAJM Advocate recipient who was unable to join the proceedings; the stellar trio of Randy Weston, Ron Carter, and Jimmy Cobb breathed great life into three or four shades of Weston's classic "Hi Fly," played in homage to those NEAJMs who inevitably left the planet in 2012, and Paquito D'Rivera teamed up with Dave Liebman for a burning benediction.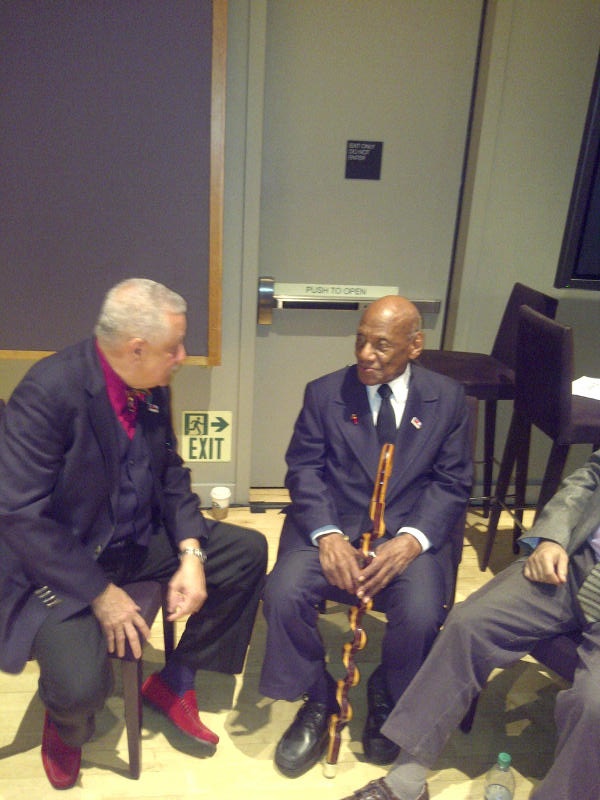 NEA Jazz Masters Paquito D'Rivera and Candido enjoyed the hang
Later that week, on Friday it was Amtrak back up to NYC to moderate a Saturday morning panel discussion at the request of the great bassist-educator Reggie Workman. Friday night afforded another A-train trip to the 59th Street station and Jazz at Lincoln Center. Fact is, at least until we get a look at what Randall Kline has cooked up with the new multi-million dollar SF Jazz home base in San Francisco (which just launched this week), JALC's facility is top of the food chain where jazz-dedicated performance facilities are concerned. JALC's venues prove once and for all that jazz music is as adaptable to its environment as any music on the planet.
The lamp was lit at JALC that Friday evening as all three venues – Rose Hall, the Allen Room (with its dramatic stage backdrop bay window view of Central Park), and Dizzy's – were in high activity mode, each with some measure of the cool 50s advancement on the bop aesthetic. Rose hall featured the Music of Gerry Mulligan and John Lewis. The Lewis portion of the program began promisingly when the young & restless, old soul New Orleans pianist Jonathan Batiste strolled out in a slim suit and high top sneakers as the evening's featured pianist. This proved to be a prescient artistic choice to navigate Lewis' music from the piano seat, though on the surface one might not associate such an excitable cat as Batiste with the uber-dignified countenance that was John Lewis and his classic-leaning essays of the blues. But from the moment Batiste laid into Lewis' standard "Django," the wisdom of seating him at the piano for this program was evident. And what a marvelous acoustic environment Rose Hall is for jazz! Once Batiste concluded his opener, out strolled an estimable small ensemble consisting of Wynton Marsalis, trombonist Chris Crenshaw, alto saxophonist Ted Nash, drummer Ali Jackson, and bassist Carlos Henriquez to play Lewis' "Delaunay's Dilemma" with gusto. Zeroing in on Henriquez' robust bass tones the mind drifted to what must have been one of the acoustic engineering team's focus in the design of this hall – proper reproduction of the ever-tricky acoustic bass.
Next on the program was a Victor Goines-featured rendition of Lewis' memorable line "Two Degrees East, Three Degrees West"; this one proved once and for all that the clarinet is Victor's most distinctive horn; he consistently brings a full measure of his New Orleans tradition to that often tricky straight horn. The remainder of the Lewis portion of the program was delivered in high style by the venue's signature ensemble, the Jazz at Lincoln Center Orchestra. Throughout the program Marsalis played truly remarkable trumpet. Its been a minute since I've heard Wynton sounding as engaged by his horn as he was that night; juggling so many hats and responsibilities with JALC's operation, the Artistic Director just sounded more dedicated to great trumpet, and the good house was duly rewarded. The second half of the program was the music of Gerry Mulligan, but a quick decision was made during intermission to head over to Dizzy's because by that time the last (9:30) set was about to begin.
It was a John Lewis kind of night as Dizzy's featured an elegant ensemble fully up to the task of small group interpretations of the John Lewis legacy. Led by the high class young pianist from Columbus, OH, Aaron Diehl, the quartet was rounded out by drummer Rodney Green, bassist David Wong, and the prodigiously talented Baltimore vibraphonist Warren Wolf, who is also quite the facile multi-instrumentalist. Shades of MJQ you say? For certain that was the prevailing mood, but these young musicians breathed their own contemporary life into that rich legacy and John Lewis' most potent exponent. And what a fine contrast Diehl's approach proved to be following his contemporary Jonathan Batiste's successful efforts at Rose Hall. Diehl, who also proved to be an informative host, introduced a string quartet which provided further elegance to the closing two pieces of their set. Great Monday/Friday bookends that week at JALC!
Reggie Workman invited me to moderate a panel on the subject of "Improvised Music: The Business and Art" that next Saturday morning as part of the Chamber Music America Conference. I'd be remiss if I didn't also mention that my CMA conference experience actually began with a (pre-JALC trip) cocktail hour showcase performance that Friday at 5:30 with a performance by one of the CMA jazz composition grant-funded artists, saxophonist Patrick Cornelius, whose supple alto was joined by bassist Peter Slavov, pianist Taylor Eigsti, and the potent, resourceful drummer Kendrick Scott. Our panelists that next Saturday morning included Workman, pianist Marilyn Crispell, tabla master Tapan Modak, and poet-dancer-choreographer-arts presenter Patricia Nicholson Parker (read more about her efforts right after this piece). In addition to some lively conversation on developing business paradigms for various streams of creative music (in this case streams of the jazz-related aesthetic), a recording of Workman's piece "Cerebral Caverns" welcomed panel attendees into our discussion and Modak brought peace and purpose with a warm invocation on tabla. Following our discussion, Reggie Workman and Marilyn Crispell improvised a lovely bass-piano duet that brought heaps of additional meaning to our subject matter.
What a great couple of weeks of arts conferences, jazz and arts community camaraderie, good conversation, serious networking, and wonderful music this proved to be to kick off the New Year! Hopefully we're off to a good start in 2013.


Marilyn Crispell & Reggie Workman weaving magic at the Chamber Music America conference