Several years ago we engaged the amazing veteran multi-instrumentalist Howard Johnson (tuba-flugelhorn-bari sax-pennywhistle, etc.) as one of our Tri-C JazzFest artists-in-residence. A major component of Howard's residency was his participation in our concert "Slight Return". This was our recreation of the Gil Evans charts for the music of Jimi Hendrix. One of Cleveland's stalwart musician-educators, saxophonist Howie Smith, had approached me with the idea and I became immediately excited, being a devotee of both Gil and Jimi's music and a fanatic about the RCA recording Gil made of his arrangements of Hendrix' songs.
Howard Johnson had worked with Gil for many years, including the Hendrix recording, and had in fact taken to singing the vocal part to "Voodoo Chile" in Gil's subsequent performances, some of which I'd been enthralled by during Gil's week of midnight performances at the 1988 Umbria Jazz Festival. So Howie put together an ensemble to interpret Gil's Hendrix charts, we brought Howard in to teach and play that gig, and imported Vernon Reid as guest guitarist. The result was a major blast, one of the highlights of 17 years curating Tri-C JazzFest. I've subsequently played pieces from that performance on my WPFW radio show, most recently during our July 4th daylong "Jazz Festival of the Air" broadcast.
That evening at TCJF Howard also served as MC, providing the audience with background on both his work with Gil and his love of Hendrix. He told a great story about living in the East Village in the neighborhood of the legendary Fillmore East when that joint was pumping. One New Year's Eve, from a vantage point in the street nearby the Fillmore, Howard was amazed to hear Jimi, Billy Cox and Buddy Miles rehearsing and sound checking for what turned out to be the historic "Band of the Gypsys" live concert session. His description of the wall of sound that trio created was quite visceral and our audience ate it up. Anyway… Howard Johnson is a native Ohioan, having grown up in Massillon and played in Massillon High's marching band at that noted high school football factory. Coincidentally Howard also had family in East Cleveland, OH. One day during Howard's residency while driving him to visit his family we were idly listening to the car sound system when up popped some soprano saxophone playing. I could see that Howard was becoming visibly annoyed by the persistent, snake-charmer level soprano playing roiling out of the speakers; if there'd been pillows handy doubtless he would have covered his ears to escape the sonic ramblings of this particular perpetrator of tuneless sound. At a certain point Howard launched into what appeared to be a familiar diatribe against what he saw as the legion of chronically out-of-tune soprano players, the "weasel horn" as he dubbed it. Ever since I've been sensitive to out-of-tune soprano saxophone playing and I have to agree with Howard's assessment: more often than not the great majority of musicians who generally double on soprano – being primarily either tenor or alto sax players – do indeed play that instrument off-key, captives of the weasel horn. Seems the soprano is an especially difficult horn to tame.
In the recent DownBeat magazine issue that highlighted its 2012 annual Critic's Poll results (full disclosure: I'm a voting participant in that Critic's Poll), there appeared an informative piece on this year's Rising Star award recipient on the soprano saxophone, Marcus Strickland. It seems that his soprano saxophone has grown in prominence among his 3-sax arsenal and Marcus had some very intelligent things to say about his approach to the instrument. Following up on that DB piece I posed a question to Marcus about the difficulties of taming the soprano sax, using Howard Johnson's "weasel horn" assessment as a touchstone. Here's what Marcus Strickland has to say about wrestling the wild soprano.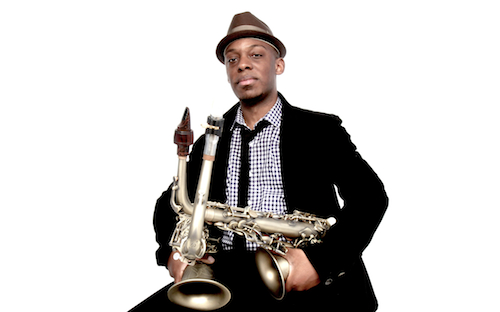 That's the main problem with the soprano saxophone, I concur with Howard. The reason that I and several other players such as Wayne Shorter, Branford Marsalis, Sam Newsome, Tim Ries, Kenny Garrett, Steve Wilson, Lucky Thompson, etc… play the instrument rather in tune and do not sound like a weasel is because we play the instrument just as often or even more than the rest of the saxophones. Through my studies I have found that the main reason most soprano saxophonists play out of tune is because of posture and lack of practice.
Many just use their soprano on occasional gigs, and therefore do not play it as often as alto, tenor or baritone. I have a genuine love for the soprano, so I write for and record with it as much as possible. As a result, many hire me to play both tenor and soprano.
On the technical side, many saxophonists tend to squeeze as they get in the higher range of the instrument. This action yields exaggerated results especially on the soprano. The trick is to realize that the execution of the high notes is manipulated by the airstream, not the emboucher. As the emboucher relaxes the reed vibrates more freely, and simultaneously the heightened arch of the tongue causes the airstream to accelerate – hence facilitating those extremely demanding high notes. That's why Wayne has a warm (as opposed to shrill) cry in the high register of his soprano. Air, which is what my mentors have taught me about time and time again.
In short, I'm extremely mindful of intonation on all horns and constantly work at it.