For Part 5 in our series of dialogues with women jazz writers we turn to the Twin Cities of Minneapolis-St. Paul. I first met Pamela Espeland in the late 1980s while living in Minneapolis and working at Arts Midwest. At the time Pamela's young son was a classmate of our daughter and we began conversing on our mutual passion for the music, though at the time she was an enthusiast who hadn't yet begun writing on the subject. It was sometime after we relocated to DC in '89 that Pamela, who was already a writer by training, added jazz reportage to her arsenal. Since then she's been a feverish contributor on jazz in the Twin Cities community and beyond. This is her second Independent Ear contribution.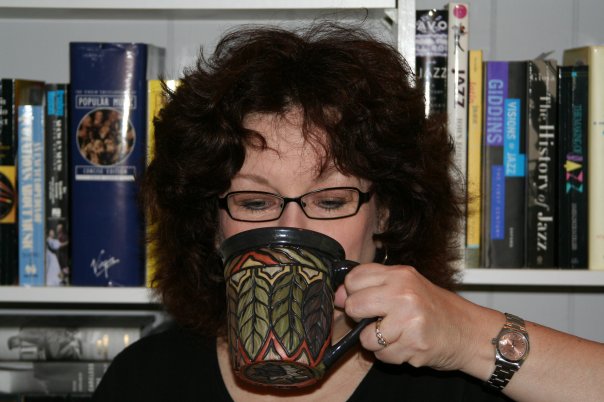 I write about jazz for my blog, bebopified.com; cover the arts (including jazz) for the Minnesota news and information website MinnPost.com; and write about jazz on occasion for the Minneapolis Star Tribune, NPR, and the Jazz Police website (jazzpolice.com). I've done some writing for Independent Ear. I wrote for Ted Gioa's jazz.com when it was around. A lot of writers miss that website. I've done some jazz radio work with KBEM and KFAI in Minneapolis and have moderated a few pre-performance discussions with jazz musicians.
What has been your experience writing about music in general, jazz in particular and how did you get started down this road?
I'm a professional writer, and I write long hours for a living. So the very last thing I wanted to do was write about jazz. I just wanted to hear it and be around it. Jazz was my vacation from writing, my reward for getting my real work done. But then two things happened.
First, I went to a concert that moved me so profoundly I knew I'd want to revisit it, and I didn't trust my memory. So I wrote about it. Then I asked a friend who runs a jazz website if he would publish my piece and he did. When that happened, my writing was out there, and that became the carrot that pulls the donkey along.
Second, I went to the Monterey Jazz Festival with a girlfriend and left my husband at home, which made me feel kind of guilty. I had such a great time at the festival that I wanted him to share the experience. So I wrote about it, for him. He still reads everything I write, and everything I write is, in part, a love letter to him. That may sound corny but it's true.
Music has always been part of my life. I sang and played instruments as a child and through my teens. In my twenties, I took piano lessons, and returned to them again last year, mainly to learn the music theory I had avoided. In my freelance writing career, there was a time when I wrote a lot of music catalogs, so I picked up some terminology and also learned how to research and find answers to my questions. I built a library of books about music, heavy on jazz.
I wish I had started listening to jazz years earlier, but I didn't. I was beginning to get really interested in jazz when a chance meeting led me to people who know a lot about jazz and were happy to share with a neophyte. Willard, I don't have to tell you who those people were. I will always be grateful.
What was it about writing about jazz that attracted you to this pursuit initially?
Its absolute impossibility. This is the hardest writing I've ever attempted. Especially writing about live performance. How do you describe in words something so complex, intricate, passionate, and ephemeral? Jumping into the deep end, I started writing (or trying) about so-called free jazz early on. I love a steep learning curve. I never pretend to know something I don't actually know, which leads to many opportunities to ask questions and engage in conversation with knowledgeable people.
Once I realized how much work this writing really is, I briefly thought about hanging it up, but the fact that so few women write about jazz (something I didn't realize at first) kept me going. I don't get to write as often as I would like, due to the demands of my freelance writing business and the need to earn a living. But I plan to keep writing as often and as long as I can. Jazz is my passion, and writing about it is a way to hear more of it, learn more about it, and (one hopes) generate more interest in this amazing music.
Would you describe your experiences writing about music as overall positive, and if so why or why not?
Overall positive, because I write what I want, when I want. That's the reality of much writing today – no editors. I have often sought advice from those who know more about jazz than I do.
What's frustrating is when I spend a long time on a CD review or an interview and it goes virtually unnoticed because I'm not writing for a jazz news site or print magazine. I wrote one of the earliest reviews of e.s.t.'s posthumous "301" http://www.bebopified.com/2012/05/last-words-of-est-301-cd-review.html – a thorough, knowledgeable review; I've been following this trio for years – and hardly anyone saw it. Ditto for my frank and lengthy interview with Kurt Elling earlier this year. http://www.bebopified.com/2012/02/kurt-elling-on-grammys-confidence-jazz.html
We write because we love the music, because we like to write, because we get to sit down and talk with jazz musicians – but also because we want to be read. So writing these days also involves a lot of self-promotion, which is not something I'm comfortable with.
Also frustrating is working so hard for little or no money, but everyone is talking about that and I have nothing new to add.
My most negative experiences to date have been with artists who disagree with something I've written. In general, I don't write negative reviews, because I don't have enough time to write all the good things I want to say about this music and its makers. And I'm not interested in the snotty, snarky writing that seems to attract a lot of readers. But once in a rare while, there's something I really dislike for whatever reason. For example, a new CD by an artist whose music I usually enjoy, or a performance that goes south. In response, artists I once respected have turned into jerks, whining babies, name-calling bullies, and attack dogs. I moderate the comments on my blog, so most of the negative stuff never goes live. I don't keep that kind of house.
I've been thinking a lot lately about a post Lyn Horton wrote for her blog, The Paradigm for Beauty. In it, she explains why she will no longer write for other jazz publications, only for her blog. http://lynhorton.blogspot.com/2012/05/renewal-starting-again-new-perspective.html
Women occupy an interesting place in the jazz pantheon; on the one hand women instrumentalists are in the distinct minority, at least as far as prominence, and on the other hand women absolutely dominate the ranks of jazz singers. What's your sense of that imbalance?
Everyone should watch Judy Chaikin's excellent documentary film "The Girls in the Band." There's a clip of Marian McPartland being interviewed by a TV host. He asks her if being a woman jazz pianist is a handicap, then says, "Now that I consider it myself, I think it's a great advantage since you're so decorative." Women who play instruments aren't especially decorative. They sweat, they assume unladylike positions, they blow out their cheeks. What we need are more men who are willing to play with women, and more women starting bands.
Would you describe yourself as a music critic or a music journalist and why?
Certainly not as a music critic. Maybe as a music journalist; I'm more comfortable with being called a journalist now that I've had several years of experience working for a news organization. But the term I'm most comfortable wearing is music writer. Or jazz writer. Sweet and simple.
It's been suggested that one of the real keys to solving the critical jazz audience development issue is that those who present the music must find more creative ways to attract more women to their audiences; some wisdom suggesting that where more women go, men will surely follow. Is this an apt characterization of the jazz audience conundrum, and if so are there elements you might suggest to those who present jazz as to better attracting women audience members?
Many of the men I see at jazz shows have left their wives at home. There are some I ran into for years and got to know fairly well without ever realizing they were married. I'm not sure how to answer this question, though I will say that it's a lot more pleasant to watch a band of well-dressed musicians than to see someone whose name I won't mention in a dirty T-shirt, banging on the piano.
Clearly writing about music, and particularly writing about jazz, could well be characterized as "a man's world." Do you feel like that's due more to the nature of the music or to some form(s) of overt exclusion from the "boy's club"?
I don't think this has anything to do with the nature of the music. I think it has more to do with stereotypes and discrimination, power and tradition. Most jazz musicians were and are men. There was a time when jazz was played in places respectable women couldn't go. You can argue that journalism and publishing have been and still are men's worlds/boys' clubs. And what about jazz radio?
I've never thought of jazz in terms of men's music/women's music – though maybe I should, and see where that leads. Because jazz is so expressive, so full of emotion, are women better equipped to write about it than men?
How do your women friends and colleagues view you as a jazz writer?
Those inside the jazz world – as performers and audience members – think it's great. Those outside the jazz world think I'm crazy for going out so often and staying up so late and hanging out with such scruffy characters.
Have you ever found it more difficult to pursue writing about music due to gender issues? If so please detail some of your writing challenges that may have been fairly or unfairly colored by gender.
I have not had personal experience of this – at least, not that I've been aware of. I don't look for gender discrimination, and I'm not overly sensitive to it, so there are probably times when I don't see it even when it's there. I have written for at least one publication that has not, to my knowledge, published music writing by a woman until I came along. I knew that when I pitched them, but I didn't make it a reason for hiring me or even mention it. I just brought them a good idea.
Any woman writer should read this article by Jillian Keenan, "How to pitch (stories) like a girl." http://www.poynter.org/how-tos/newsgathering-storytelling/175528/how-to-pitch-stories-like-a-girl/
What can be done to encourage more women to write about music in particular, jazz in general?
Be a friend, be a mentor, invite them to jazz shows, introduce them to jazz musicians, talk with them about music and jazz, listen to what they have to say, point them toward good writing by women writers. Be confident and positive. Treat them seriously.
What have been some of the most personally satisfying music performances you've either written about or simply experienced over the last year?
Vijay Iyer at the Walker Art Center in Minneapolis. Two nights, six sets, including one with Wadada Leo Smith. The Three Cohens at the Village Vanguard. The Brian Blade Fellowship Band at Kuumbwa in Santa Cruz. Chick Corea and Bobby McFerrin at the Blue Note. The Bad Plus doing their annual Christmas show at the Dakota in Minneapolis. Kurt Elling at Orchestra Hall in Minneapolis. Theo Bleckmann at Macalester College in St. Paul. Bill Carrothers at the Monterey Jazz Festival. Helen Sung at Monterey. The singer Nancy Harms performing with pianist Jeremy Siskind and saxophonist Lucas Pino at Jazz Central in Minneapolis. The chamber group Accordo at Christ Church Lutheran in Minneapolis. I could go on.