One of the more impressive young musicians to arrive in DC in recent years is trombonist Reginald Cyntje. A native of the Virgin Islands, Cyntje is blessed with impressive facility and an immediacy of sound that, coupled with evident section blending proclivities, stands out in a crowd – a feat he has achieved admirably in several area big band stints (including the launch performance of the Mid-Atlantic Jazz Festival Orchestra last February). He is also blessed with the adroit flexibility necessary for a small ensemble team player, equipped with the skills to stand in bold relief when its his turn at bat. His current recording is "Freedom's Children," a DIY effort that among others boasts the quicksilver vocal skills of Christie Dashiell from that pride of Howard University, the vocal ensemble Afro Blue, and the prodigiously talented multi-instrumentalist Warren Wolf on vibes. Some questions for Reginald Cyntje (pron. Sin-chee) are in order.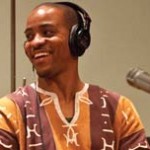 What was your overall intent with "Freedom's Children" (and talk about the subtitle "A Celebration")?
The intent of the album was to heal and inspire using music. Each song contains a double meaning; one for community and the other for the individual. I feel we are all Freedom's Children. Our ancestors have paid a great price for us to be here today. The subtitle "The Celebration" stands for where we can be if we achieve the goal of equality. As a community we have come a long way, but we still have not arrived at a place where social justice is the norm.
What part of the Virgin Islands are you from and how did you determine to play this creative music?
I was born on the island of Dominica and raised in the US Virgin Islands (USVI). I was introduced to jazz by drummer Amin Gumbs. We grew up together. We are the same age and we were born on the same day. While I was playing European classical music, he was exploring the music we call jazz with his cousin [bassist] Reuben Rogers. One day, he handed me a Miles Davis recording and I fell in love with the vibe of this creative music.
What role does your background play in how you express this music, and how do you filter your upbringing through this music?
The traditional music of the Virgin Islands contains an element of spontaneous composition. I remember hearing the music everywhere as a child. As I became comfortable with playing the trombone, I would imitate the way my mentors played festive USVI songs. When I began learning jazz standards, I would listen to elders play them with a Caribbean groove. It felt natural to express my musical voice illuminating the beauty of my USVI home. Depending on the setting, the Caribbean vibe can be subtle or obvious. I just do my best to be sincere.
Considering your contemporaries, musicians like Reuben Rogers, Ron Blake, Dion Parson (all from V.I.), Trinidad & Tobago's Etienne Charles, Jonathan Schwartz-Bart (Guadeloupe) and yourelf, would you say there's a new pipeline of Caribbean-born musicians of jazz orientation from islands other than Cuba and Puerto Rico?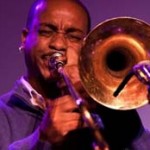 Yes. I believe the jazz musicians coming out of the Caribbean today are celebrating their unique cultural heritage. Musicians like Ron Blake can clearly articulate the jazz lineage on his instrument but you can also hear that he is from the "islands." In the early stages of jazz, many Caribbean musicians performed and inspired other musicians at Congo Square. Later on, Caribbean musicians, like Lord Kitchener, were influenced by great jazz musicians. Today's Caribbean jazz-oriented musicians are the perfect marriage of the two worlds.
Who have you discovered for inspiration on your instrument, and what have these inspirations contributed to your own expression?
As a child, I was inspired by Christian Lindberg and J.J. Johnson. Christian Lindberg showed me that anything is possible on the trombone. When I first heard J.J. Johnson, I loved the clarity and tastefulness that came from his playing. I loved the way J.J. would edit lines and make clear statements. Later on I was inspired by Curtis Fuller, Slide Hampton, Steve Turre and Robin Eubanks. With Curtis Fuller, I loved his soulfulness. His playing on John Coltrane's "Blue Train" made me an instant fan. Slide Hampton's extended lines made me smile and gave me a lot of work in the shed. Steve Turre and Robin Eubanks opened the door for modern trombone playing. Steve's harmonic sense opened my ears to fourths and fifths. I was fortunate to study with Steve Turre and gain a greater understanding of the trombone. Each of these great players expressed their unique personality in their music. To build on their legacy, I do my best to be tasteful, clear, expressive, knowledgeable and inspirational.
What have you got planned for your next release?
For the next album, I want to record songs that inspire the listener to be their best self. Focusing on self awareness and self respect, I want the title of the album to be "Love" and have each song elaborate on the principles of love. I feel that it is the responsibility of the artist to inspire the listener. I want to save lives with music.