A couple of years back, in celebration of the 75th anniversary of the legendary Apollo Theater, I had the great pleasure of contributing two chapters to the lovely commemorative book Ain't Nothing Like The Real Thing ("How the Apollo Theater shaped American Entertainment"). Researching for this piece meant spending many hours at the Smithsonian Archives Center digging through the collection of the somewhat prickly owner of the Apollo, Frank Schiffman. One of Schiffman's more useful practices was typing out 5 X 7 index cards for every Apollo performer, with meticulous notes on such elements as how much they earned for the theater, the audience response to their performance, and his often pointed review of their performances. Modern jazz did indeed thrive during the golden era of the Apollo Theater. Read on…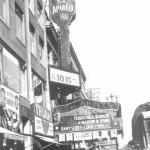 Modern Jazz at the Apollo: 1950s-1960s
By Willard Jenkins
When the Apollo Theatre opened the doors for its inaugural show on Friday, January 26, 1934, the trendsetting variety bill included the great jazzman Benny Carter and his orchestra. The big band, or so-called Swing Era was in full flower and these swinging 17-piece behemoths, sparkplugs of the happy feet crowd at historic Harlem haunts like the Savoy Ballroom, soon found a welcoming home at the Apollo. Such great big bands as those of Duke Ellington, Chick Webb, Fletcher Henderson, Coleman Hawkins, Cab Calloway, Earl Hines, Benny Goodman, Lionel Hampton and others were a core element of the Apollo's salad days in the 30s and 40s. They paved the way towards the Apollo accommodating the modern jazz combos of succeeding years. It was in those wonderful big bands that ignited the 125th street entertainment palace that so many of the original vanguard of the modern jazz movement prepped.
The early 40s proto-bebop Earl Hines Orchestra was a classic example. That band was a veritable prep school for modernists, including two of the pacesetters of the small group jazz also known as bebop, trumpeter Dizzy Gillespie and alto saxophonist Charlie "Yardbird" Parker. As writer Ted Fox recounts in his valuable book Showtime at the Apollo, "The Apollo led the way to exposing bebop to a larger audience. It was Frank Schiffman who first booked the experimental bop band of Earl Hines early in 1943 – with Dizzy Gillespie, Charlie Parker, and [trumpeter] Little Benny Harris." Significantly that Hines band featured the voices of Billy Eckstine and Sarah Vaughan, who also doubled as the band's second pianist.
In '44 when Eckstine formed his own band, one that took further steps into the modern era, he not only took Vaughan (who at 18 won the Apollo's famed Amateur Night) with him, but Mr. B also opened up his trumpet section to Gillespie, Fats Navarro, and younger firebreathers like Kenny Dorham and Miles Davis. The saxophone section was equally prodigious, including Bird, Leo Parker, Gene Ammons, Dexter Gordon, and Lucky Thompson. The rhythm section included bassist Tommy Potter, drummer Art Blakey, and pianist John Malachi.
Apollo Theatre impresario and major domo Frank Schiffman was no moldy fig, he was said to be quite supportive of the new, modern jazz sound. This new sound developed almost out of rebellion against the strictures of big band playing in favor of a sound that afforded freer flights of improvisation, plus more intricate rhythms and a broader harmonic universe. Although bebop grew out of the jazz atmosphere that encouraged social dancing, its various advancements limited dancing to this new music to only the most skilled terpsichorean hipsters. Ironically it was only natural that this music which seemingly required more of a listening commitment on the part of its audience, would find a place on the Apollo stage shows. It's safe to say that some of the first modern jazz theatre performances took place on 125th Street.
The two Harlem haunts which served as the most famous modern jazz laboratories were Minton's Playhouse at 210 W. 118th St., and Monroe's Uptown House at 198 W. 134th St., with the Apollo roughly equidistant between them. At Minton's the man later dubbed the High Priest of Bebop, pianist Thelonious Monk, held court at the nightly jam sessions with drummer Kenny "Klook" Clarke, trumpeter Joe Guy, and bassist Nick Fenton. Those sessions, conducted on the downlow beyond the prying eyes of musicians' union officials who had banned jam sessions (though Minton's had a leg up in part because its owner was an ex-union official), were particularly combustible on Monday nights. Bandleader Teddy Hill, the manager of Minton's who controlled the music policy, hosted Monday night buffet dinners for Apollo performers on their night off. This savvy move ensured that the cream of the crop would show up on Mondays to jam, some of the club's greatest sessions evolved from those buffets.
As Dizzy Gillespie remarked in his memoirs, To Be or Not to Bop, "On Monday nights we used to have a ball. Everybody from the Apollo on Monday nights was a guest at Minton's, the whole band. We had a big jam session. There was always some food there for you. I was with the [big] bands at the time, and I would come in and out of town. When I was in the city, we were appearing at the Apollo… After the last show we'd go to Minton's and sit and listen to some of the guys play." Gillespie met his wife Lorraine at the Apollo, where she was a dancer in the chorus line.
Dizzy Gillespie, who unlike so many of his bop cohorts still had a lingering taste for the big band format, brought his pioneering bebop orchestra into the Apollo on several occasions, most notably in January, 1947 and for two stints in 1949. Performances from these gigs were captured for the film "Jivin' in Bebop." Charlie Parker's dream was his series of Bird with Strings sessions, which for him were efforts at engaging the classical atmosphere he relished. The week of August 17, 1950 Parker's peerless alto sax bathed in strings onstage at the Apollo, which was also a live radio broadcast. The record shows however that these Parker efforts on the "legit" side came up short of the ever-demanding Apollo audience expectations and were met with a lukewarm response.
Ever the iconoclast, apparently Thelonious Monk brought a different vision to 125th Street. According to Fox in Showtime at the Apollo, "…when the continually inventive pianist and one of the jazz world's great eccentrics played the Apollo in the late fifties he wore a pink sequined necktie – his one concession to the demands of show business." Experiencing Monk onstage at the Apollo amidst comics and dancers must've been quite the vision. Accessing Frank Schiffman's meticulous 5 X 8 typed artist ratings index cards in the Smithsonian collection reveals the following Monk notation: "3/13/59 Very exciting jazz group." Later that year… "6/5/59 Not nearly as good as first time. No box office." The following year Thelonious' new band apparently righted the ship… "7/22/60 With quintet… very well received."
As the forties evolved into the fifties and sixties jazz made further stylistic advancements; those developments were more frequently featured on the stage of the Apollo than bebop, particularly in the early '60s. By this time bebop had evolved into post- or hard bop, a sound characterized by more extended lines imbued with bluesy qualities that were labeled as funky or soul jazz as the next generation of jazz musicians expanded on the examples of Monk, Gillespie, Parker and their cohorts.
Concurrently, particularly in the late 1950s and early 1960s rhythm & blues, an Apollo staple, began giving way to its natural progression, what came to be labeled "soul music." As a result the Schiffmans opened up their shows to more jazz attractions. The more song oriented, and the bluesiest of the hard boppers who had that sanctified sound were the most frequent modern jazzers then booked into the Apollo: Horace Silver, Art Blakey's Jazz Messengers, Cannonball Adderley, Jimmy Smith and the like. Popular white jazz artists of the day also found a welcome Apollo stage, including Dave Brubeck, Stan Getz, Buddy Rich, and Maynard Ferguson. The singers were an essential element of these shows, particularly to balance out the more innovative types, like Miles Davis, Monk, and John Coltrane. According to Lionel Hampton: "I saw Coltrane play the Apollo one time. The place was packed when he went in there. When he left, there wasn't but a handful of people in there. He was playing his piece "My Favorite Things" [his 1960 hit recording] and he played that piece for about half an hour."
Reflecting the fact that this was a period when the Apollo opened up to various radio deejay-produced extravaganzas, on the jazz side such radio show hosts as Symphony Sid ("the all night, all frantic one") and Mort Fega brought shows to the Harlem stage. On March 30, 1962 Symphony Sid hosted a power-packed lineup featuring John Coltrane, Herbie Mann, Betty Carter, Jimmy Smith, Barry Harris, and Oscar Brown Jr. And it was the Apollo stage that engaged Sid's growing taste in Latin sounds as well; witness his June 22, 1962 show featuring Tito Puente, Thelonious Monk, Mongo Santamaria, Arthur Prysock, the Tommy Ray Steel Band, and dancers. Such a show was clearly in keeping with the Apollo policy of mixing genres, as with another 1962 show mixing Horace Silver, Aretha Franklin, sonero Tito Rodriguez, (comic) Timmie Rogers, Nigerian drummer Olatunji, and Herbie Mann – with this Schiffman notation: "…may keep [this show] 10 days…" The week of September 6, 1963 Mort Fega hosted Art Blakey's Jazz Messengers ("Cooperative and probably the finest jazz group in the country," according to Frank Schiffman's rating card, "individually & collectively – but worn a bit thin in this house [attraction-wise]"), singer Teri Thornton, organist Jimmy McGriff, Flip Wilson, and Oscar Peterson.
"Symphony Sid's Afro Jazz" brought Art Blakey (with guest Montego Joe), 3 dancers, Arthur Prysock, Mongo Santamaria, Eddie Palmieri, and Flip Wilson to the theatre. One notes a common thread through all of these jazz-laden shows – the presence of at least one singer and usually a comedian as well. Singers in particular were included because Schiffman, despite his support of and appreciation of modern jazz, always felt that his shows needed at least one singer to ensure box office success. One of the great singers who came to prominence in the 1960s was Nancy Wilson. Her longtime manager John Levy, former bassist and pioneering African American artist personal manager, produced several shows at the Apollo with the Schiffmans' blessings. "I had a great working relationship with the Schiffmans, both Bobby and the old man [Frank]," Levy, 97 years young and sharp as a tack at publication time, exclaimed during a recent conversation.
The week of March 6, 1964 the Apollo hosted "John Levy presents Free Sounds of '64", featuring Nancy Wilson, Cannonball Adderley, Ramsey Lewis, and comic Slappy White. A high point of the show came when Nancy sang her big hit of the day, "Guess Who I Saw Today," and as she sang the big finish – "…I saw YOU…" she gestured stage left and the spotlight shone on a big white chair with Oscar Brown Jr. sitting with his back to the audience, whereupon Brown rose from his chair to the audience's delight, intoning the signature line from one of his hits "…But I was cool!" Unlike jazz festival shows of today, these shows were not a matter of one full set following another. According to John Levy the entire cast would come on together to open the show, the duration of which was typically 90 minutes; "…one act introduced the other act," says Levy. Then in typical Apollo tradition… 30 minute break… do it all over again. Showtime at the Apollo – on a jazz tip. "We got a great response, we sold the houses out… and I made money," Levy concluded.