New Year, New Voices in Jazz: Monk in Motion's Top Finalists Perform in NYC this Winter
The BMCC Tribeca Performing Arts Center is proud to present the talented winners of this year's Thelonious Monk International Jazz Competition in piano. We are especially proud to partner with Thelonious Monk Jazz Institute once again as they celebrate their 25th year of this remarkable competition! Announced in early September, this year's three finalists – Kristopher Bowers in First Place, Joshua White in Second Place and Emmet Cohen in Third Place – will perform three solo concerts on January 28, February 11, and February 18 respectively. Each performance is a Saturday at 7pm and single tickets are $25 (students/seniors $15) or $20 for TribecaPAC Mainstange Members. All performances will be held at BMCC Tribeca Performing Arts Center, 199 Chambers Street (Between Greenwich and West St.) in Theatre 2.
Monk in Motion: The Next Face of Jazz is a partnership between BMCC Tribeca Performing Arts Center and the Thelonious Monk Institute that presents the top three winners from the renowned Annual Thelonious Monk International Jazz Competition. Each concert features one winner and their combo from various parts of the world, demonstrating the versatility and variety of different jazz styles. We are thrilled to host the finalists' first show in New York City since the competition!
ARTIST BIOS
Kris Bowers – January 28 7pm


Kris Bowers, a native of Los Angeles, began studying piano privately at the age of nine. Beginning his formal lessons in classical music, Kris found it hard to concentrate on just one genre as he was surrounded by the sounds of old school R&B and Funk at home, and the Hip-Hop and Pop of his generation. Immersed in this musically diverse world, Kris soon found himself attracted to the rhythmic and soulful feeling of Jazz. He then enrolled in both classical and jazz classes at the Colburn School for Performing Arts, where he remained until the end of high school. While at the Los Angeles County High School for the Arts (LACHSA), Kris received numerous awards, accreditations and scholarships, and in 2006, he graduated from LACHSA and moved to New York to continue his studies at the Juilliard School.
Since his arrival in New York, Kris has shared the stage and/or recorded with jazz artists such as: Terell Stafford, Vincent Herring, Louis Hayes, Casey Benjamin, and Kenneth Whalum III. In addition, he has continued working in a number of other genres, performing and/or recording with: Murs, Q-Tip, Josè James, Jay-Z and Kanye West. Kris can be heard on Kanye West and Jay-Z's latest album, Watch the Throne. He has also had the good fortune to perform for notable individuals like Clint Eastwood, Morgan Freeman, Ayaan Hirsi Ali, and President Barack Obama.
Joshua White – February 11 7pm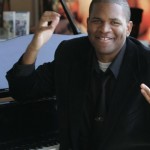 Pianist Joshua White is a remarkably gifted young jazz performer, classical pianist, and composer. He began formal piano training at the age of seven and became the organist and pianist for the Encanto Southern Baptist Church by age 10. Recently, Joshua won second place honors at the 2011 Thelonious Monk International Jazz Piano Competition in Washington D.C.
Emmet Cohen – February 18 7pm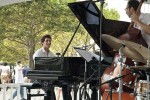 At 21, jazz pianist Emmet Cohen plays with the maturity and confidence of a seasoned veteran. With astonishing technique and an innovative harmonic palate, Emmet engenders a deep musical bond with his audience. Cohen has shared the bandstand with a plethora of musical luminaries, including Christian McBride, Benny Golson, Joshua Redman, Dave Holland, Patti Austin, Maceo Parker, Carmen Bradford, Billy Hart, and many others. He is completing a music degree at the University of Miami where he studies with Brian Lynch, Terence Blanchard, Shelly Berg, and Martin Bejerano. Emmet regularly appears as a sideman and leader on both piano and Hammond B3 Organ in New York and Miami.
BMCC Tribeca PAC is Downtown Manhattan's premier presenter of the arts, reaching audiences from the college community, downtown residential and business communities, local schools, families, and audiences of all ages. BMCC Tribeca PAC strives to present a broad global perspective through the presentation of high-quality artistic work in music, theatre, dance, film and visual arts. BMCC Tribeca PAC is located on the Borough of Manhattan Community College campus, 199 Chambers Street (between Greenwich Avenue & West Street) and is convenient to the 2/3, A/C/E and R/W subway lines and the New Jersey Path Train. For more information please visit our website, www.tribecapac.org.