Striving to live up to its boast as "Africa's grandest gathering" the 2011 edition of the Cape Town International Jazz Festival presented a rich cornucopia of sounds – including jazz, jazz extensions and jazz-influenced in a colorful melange. Being an inveterate crowd watcher comes with the territory for those who present jazz, and particularly jazz festivals, including your corespondent. Strolling the halls and adjacent outdoor byways of the spiffy Cape Town International Convention Centre (largest of its kind on the Continent of Africa) one cannot help but be impressed with the SRO throng's electric air of anticipation and simple joy of being there. CTIJF audiences represent one of the most diversely gorgeous mosaics enjoyed by any jazz festival on the planet.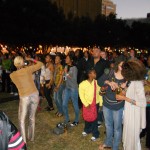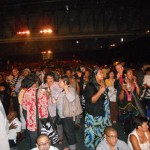 SCENES FROM A FESTIVAL: CTIJF '11
Designed in the manner of its fabled father, the Northsea Jazz Festival, CTIJF is produced by espAfrika, under the direction of the wiry, wily Rashid Lombard. A photojournalist, Lombard's experience includes many years of official work for the apartheid era pariah African National Congress (ANC) of Nelson Mandela and his cohorts, now the post-apartheid majority party of South Africa. CTIJF takes place over a week of assorted street-stage performances, educational outreach activities, youth oriented events, and an arts journalism intensive run by Gwen Ansell, author of the essential book Soweto Blues. The activities culminate in a kinetic weekend at the Convention Centre (March 25 & 26, 2011) where the festival takes over five huge spaces, including two outdoor plaza stages and a theatre. Each venue honors either a South African jazz ancestor (tenorman Basil "Mannenberg" Coetzee, keyboardist Moses Molelekwa) or a historic venue (Rosies, Kippie's, and Bassline). Fittingly the more jazz-centric acts – particularly U.S. imports like Wayne Shorter or Esperanza Spalding – play the comfortable Rosies theatre, while the mass audience faves, like the eagerly anticipated Earth, Wind & Fire, or smoothie Dave Koz, play the huge Kippies. The latter is a room that could comfortably accommodate a sporting event, which under different circumstances might be a multi-purpose convention exhibit hall; such a room is certainly not built for either comfort or the accommodation of pleasant acoustics. If you fancy the camaraderie of stand-up gigs belly-to-back and shoulder-to-shoulder with your neighbor, then this is your place – but decidedly not mine. Meanwhile Rosie's and Molelekwa are built for comfort, with chairs in the latter, theater seating and superior acoustics in the former. The other two venues are SRO, though not as jammed-tight as Kippie's.
Since this was your corespondent's 3rd time around for CTIJF, the drill was a bit simpler. A festival of this nature begs both patience and a savvy sense of scheduling – as in 'let's see, should we catch the first 20 minutes of show X then head over for the more eagerly anticipated show Y, with an eye towards comfortably navigating the hallways towards the big finish of show Z?' Yes, its that kind of party, and one blessed with more than its share of charms – including ample crafts and CD merchants, local & generic cuisine – once the navigational pathways have been properly charted via fold-out schedule or program book.
Given the constant crowd arrival, (doors opening around 6:00, first sets at 7:00) which peaks at about 10 and goes to 1:00am or so, figuring Kippie's to be a bit light on the jam-pack for the opening set, the Cape Town Tribute Band was in order opening night. Over the past three years or so SA has experienced more than its share of significant jazz deaths, including the very recent passing of the brilliant and exploratory saxophonist Zim Ngqawana who passed on to ancestry mere weeks after the festival. The Cape Town Tribute Band is an all-star assemblage of some of SA's finest, who paid homage to fallen warriors saxophonist Winston "Mankunku" Ngozi, pianist Tony Schilder, vocalist Donald Tshomela, saxophonist Ezra Nguckana, saxophonist Robbie Jansen, and my friend and colleague pianist Hotep Idris Galeta. The latter spent more than a little time stateside, working with Jackie McLean and Bobby Hutcherson among others. The tribute band, under the direction of guitarist Alvin Dyers gave a warm account of compositions written by or affiliated with the fallen heroes, including Hotep's infectious "Harold's Bossa."
Next it was upstairs to Rosie's for the fluent trumpet artistry of Feya Feku, whose set proved a study in subtlety, maintaining a kind of cerebral low gravy/high simmer, full of original compositions. The fire came with the final two pieces, when Feku also paid homage to the fallen with his own "Missing Heroes." Guitarafrika brought three distinct string traditions to the Molelekwa stage, including the colorfully swathed Eric Triton from Mauritius, SA's Steve Newman, and Alhousseini Mohamed Anivolta from Niger. Their mantra modes reminded of Morocco's grand Gnaoua Festival.



FEYA FAKU
The Wayne Shorter Quartet's abstract truths were the most eagerly anticipated stand of the weekend for the Rosie's stage, which was packed for both Friday and Saturday night sets. Shorter did not disappoint, opening on Friday with a meditation on his Bitches Brew contribution "Sanctuary" and including a tricksters rendition of "Speak No Evil" which was adroitly addressed by the master and his challenging, longtime cohorts Danilo Perez, Brian Blade and John Patitucci. Throughout Shorter, who can seem a bit aloof, appeared genuinely inspired, leaving one to wonder if the afterglow from his days on in-country wildlife safari prior to the festival had the desired effect. Wayne seems to increasingly look to Patitucci as the band's fulcrum, around which the entire quartet seems to revolve. His sets on successive evenings brought to mind that early Weather Report credo of "we always solo, we never solo." Strolling the byways to catch bits & pieces of various sets – with particular interest always in the South African artists, the daunting throng jammed into Kippies for EWF sent me back to Rosie's for the ever-cerebral and ironic Patricia Barber. She opened with Jobin's "Triste" and kept up a running, somewhat distracting banter with the crew for sound adjustments ("why's it so loud?").
Saturday evening the festival stumbled into a pothole as tech matters significantly delayed the eagerly-awaited performance of one of SA's jewels, vocalist Simphiwe Dana. Once the striking Ms. Dana stylishly floated onstage garbed in gauzy black & white she sang of global unification in duo with her guitarist on the deeply-affecting "Tribe", effectively cooling the upset crowd's ardor. Since seeing her at the '05 edition, when demand for her first scheduled performance caused espAfrika to quickly juggle the lineup and insert a second performance on a larger stage, Dana has crafted a magnetic stage presence to go along with her politically-charged contralto and tightly-delivered presentation.



THE EXQUISITE SIMPHIWE DANA
As the madding crowds began to pack Kippies in anticipation of EWF succeeding Simphiwe on its stage, some savvy maneuvering eased my way outdoors to the Bassline stage. The latter is the festival's showcase for younger talent and DJ culture. The second Bassline set for Saturday evening was someone who enticed more than a little curiosity, vocalist-poet-actress Naima McLean, daughter of saxophonist Rene McLean, granddaughter of NEA Jazz Master Jackie McLean and arts administrator Dollie McLean. Naima, a multi-talented young woman to be sure, is a bit green but quite promising as she develops her craft. She opened with a clever arrangement of her namesake, the John Coltrane's classic "Naima" that Rene later told me he'd arranged for her, and proceeded through a set that garnered a lotta love from an audience that was clearly in her corner. Naima McLean is one to watch.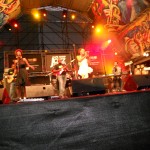 NAIMA McLEAN DELIGHTS THE BASSLINE AUDIENCE
South Africa boasts one of the strongest indigenous jazz cultures on the planet outside the U.S. CTIJF affords opportunities to sample some of SA's nascent jazz talent, and with that in mind I eased back inside to the Molelekwa stage for trumpeter Lwanda Gogwana. The native of East London, a contributor to Abdullah Ibrahim's Cape Town Jazz Orchestra book, operates in a contemporary vein with more than a little tribal inflection in his forms, including a resident shaman onstage. The band was also notable for including the impressive trombone woman Siya Charles, who along with saxophonist Shannon Mowday (currently studying in the Netherlands) are the first wave of a hopefully growing tradition of post-apartheid SA jazzwomen instrumentalists.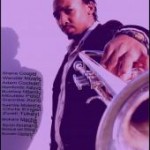 LWANDA GOGWANA
Based on his sublime duet with fellow master Kenny Barron at the NEA Jazz Masters concert in January, a fuller measure of Hubert Laws was in order. Curiously Laws is something of a rarity these days on jazz festival bills. His effortlessly facile essay through "Airegin" on piccolo demonstrated his peerless mastery on that diminutive member of the flute family; as did his sparkling way around "Lament" and an azure "My Ship" further suggested the truth – that as a flute specialist Hubert Laws is the greatest virtuoso this music has produced. Of note in the band was David Budway's piano, and the presence of Rob Mullins on synth enabled Laws to broaden his orchestration, lending his "Rite of Spring" particular depth.
Hugh Masakela set out on an overt mission to substantiate his jazz propers at Rosies, in his introductory remarks prominently mentioning critics who've dismissed his improviser's credentials in the past. What resulted was a rather low-watt program of standards delivered entirely on flugelhorn, the highlight of which was a warm "I Remember Clifford". Despite the relative mediocrity, one mustn't overlook the essential contributions of pianist Larry Willis, Masakela's buddy from back in the day whose work was consistently on-point. In marked contrast on the Richter scale was Cindy Blackman's furious set down the hall at Molelekwa. Ms. Blackman (Santana) was literally a drumming force of nature in her tribute to mentor Tony Williams, her band featuring guitarist David Gilmore and bass guitarist Felix Pastorius, Jaco's dark-haired progeny.
About Cape Town: Cape Town is one of the world's most beautiful cities, which despite its obvious vibrance is a relatively tranquil place. The combination of mountain, sea and hilly vistas frame the town in a manner remindful of San Francisco. Take the de riguer cable car trip to the top of Table Mountain for unparalleled city vistas and you'll be hooked on the sheer physical attributes of the city. Numerous other historic sites lend the city further charm, as does its inviting waterfront area. For the retail-minded the Waterfront Mall shopping area is a must – and we're not talking your typical faceless suburban mall. There's lots of local color in the mall area, including two large indigenous crafts sections and assorted vocal, dance and instrumental ensembles lending a township air to the vibrance. And make sure you stop at Presidential Shirts, so-named because they are shirtmakers for Madiba, spiritual father Nelson Mandela. Also don't forget the nearby wine country, particularly in the vicinity of the town of Stellenbosch; South Africa has more than its share of first class vintners. For the club scene try the bustling nightlife of CT's Long Street, and the city has more than its share of fine restaurants, but if you're in luck and know some locals, see if you can wangle your way into a braai for South Africa's noted barbecue culture – vegans beware!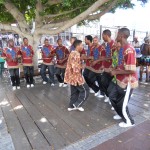 SKILLED BUSKERS DELIVERING SA's UNIQUE HARMONIC ESSENCE


THE VIEW FROM ATOP TABLE MOUNTAIN
Getting there: Getting to South Africa promises one of the longest flights you're likely to experience, but beyond worth it. The best routes are via South African Airways, a very accommodating carrier as airlines go. They fly via either JFK or Washington Dulles to Johannesburg (approx. 17 hours), then its another two to Cape Town. Thank goodness South African Airways is built for comfort, and particularly replete with amenities for the first class traveler.