Nina Simone was one of the more thoroughly unique and singular artists of the 20th century. Her legacy lives on in many corners; radio programmers such as WPFW's Miyuki Williams ("A Sunday Kind of Love") steadfastly and earnestly uphold and celebrate that legacy. The stories from those who knew her are legendary. There was no one who better fit the mantle of fiercely iconoclastic than Ms. Simone – freedom & human rights champion, absolute independent, driven woman are just a few of her platforms. They literally threw away the mold when Nina Simone ascended to ancestry.
So what do you suppose possesses a young vocalist to tackle Simone's singular song legacy? The young Ottawa, Ontario-based singer Kellylee Evans has chosen to do just that with her latest recording, simply titled Nina. The album subsequently captured a 2011 Juno Award, Canada's Grammy equivalent. Kellylee is someone whose arc I've been following since her impressive turn in the Monk Competition (the year Gretchen Parlato captured the prize). Like many a finalist she had more than a little earnest audience support that weekend as her clear, rich tones rang out across the Kennedy Center Concert Hall, buoyed by superb articulation, and a sense of phrasing mature beyond her years. Now comes Nina, on the Plus Loin label, begging an Independent Ear inquiry.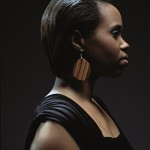 KELLYLEE EVANS BEARING WITNESS TO NINA SIMONE
What inspired you to pay such homage to Nina Simone?
My mother was a Nina Simone fan, and her music filled our home. My husband was also a fan, and during university, Sunday was Nina Simone day. I can't tell you how many times I woke up to the sound of her voice. When I first started learning jazz I focused on learning one singer a month. I would read everything I could find about them, learn their repertoire, their sound. I revisited the music of Nina Simone at that time. That was when I truly developed my own love for her. When Plus Loin Music asked me to record for them and told me I could do whatever I wanted, so long as it was standards, I instantly knew I wanted to pay tribute to the singers that had trained me on my monthly journeys. Nina was my first choice. The album was initially entitled 'Songs Nina Taught Me' but that felt long, so I shortened it to Nina.



KELLYLEE WITH HER 2011 JUNO AWARD FOR NINA
Since Nina Simone is such an icon and others have paid her tribute, how did you go about making yours a unique tribute album?
The couple times fear crept in, making me question whether I had anything new to say, I remembered the title of the project. This was always about the songs, never solely about Nina Simone. I wanted to introduce people to the music I learnt from Nina Simone. I remembered that they can always refer to their own Nina Simone albums to listen to her version. That freed me up to approach the music from my own perspective. Which would explain why there is no piano. For the most part, I play in a guitar-based trio. Those are the sounds I hear. I was so happy when the label encouraged me to keep the project true to that organic sound I love to produce.
Talk about your career development for those who may not know you.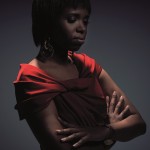 I was a stay-at-home mother studying for my masters in legal philosophy when I decided to step away and pursue my music. I started writing my own songs and self-produced an album in early 2004, with Lonnie Plaxico, Marvin Sewell, George Colligan, Kahlil Kwame Bell, and Steve Hass. I used the tracks from that project to enter the Thelonious Monk International Jazz Vocal Competition and ended up in 2nd place. I essentially went from singing in the shower to singing onstage at the Kennedy Center. The judges that year were Flora Purim, Dee Dee Bridgewater, Kurt Elling, Al Jarreau, Little Jimmy Scott, and Quincy Jones. It was surreal. I ended up releasing that CD, Fight or Flight?, in early 2006, and it was nominated for a 2007 Juno Award. I also received a Gemini Award nomination that year and won a Canadian Smooth Jazz Award. In February 2010, I ended up releasing another album (The Good Girl) of all original material that I wrote and produced from a more pop-soul perspective. Then Nina came out in August of 2010.
What's your sense of the jazz vocal pantheon?
I am definitely grateful to all the singers that have come before me. As I mentioned, I owe the development of my craft to so many. Being an academic at the time, my search for music and sound was extensive. I didn't seek to retain specifics, but more to appreciate the broad range and create my own sound. Ella Fitzgerald, Carmen McRae, Sarah Vaughan, Mel Torme, Dinah Washington, Abbey Lincoln, Cleo Laine, Rita Reys, Billie Holiday, Nancy King… I have loved so many. I don't listen to them much now, but I carry their lessons with me every time I open my mouth.
Since Nina was such a singular endeavor, what do you have in mind for your next project?
The next project is still in incubation. Perhaps another journey into the songs I learnt from one of these teachers. Perhaps another original effort. I would love to spend more time with Nina on the road. There is something so beautiful in continuing to explore these songs with my musicians. Each day brings something new. I am not really ready to leave her yet.
When and where can folks see you in the U.S. over the coming months?
I will be performing the music of Nina at only one date in the U.S. at this point, in Aspen for Jazz Aspen Snowmass on June 29. We will also be in Bath, MN on June 4 for a show featuring the music from The Good Girl. Most of my dates this coming year are in Europe and Canada. I would like to be in the U.S. more, definitely.