Bassist-composer Marcus Shelby is most definitely a man on a mission, and a man more intent on engaging serious subjects in his music than dazzling his audience with aimless instrumental technique. For his previous release his orchestra navigated his original score in tribute to the great emancipator Harriet Tubman.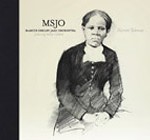 His latest effort is Soul of the Movement, subtitled Meditations on Dr. Martin Luther King, Jr. on the Porto Fino label. This time out the Bay Area-based Marcus Shelby Orchestra explores original themes based on "Emmett Till", the Montgomery bus boycott ("Trouble on the Bus"), "Birmingham", and "Memphis". He leavens those originals with his arrangements of such familiar, traditional themes as "There is A Balm in Gilead," "We Shall Overcome," "Go Tell it On The Mountain," and Thomas Dorsey's "Take My Hand Precious Lord." Shelby rounds out this exceptional program with Charles Mingus' Civil Rights era blast "Fables of Faubus," and Curtis Mayfield's uplift-the-race "You're a Winner."

Already quite curious on the heels of his Harriet Tubman essay, Soul of the Movement compelled us to seek out Marcus Shelby with some questions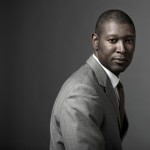 Talk about the genesis of the Marcus Shelby Orchestra.

The Marcus Shelby Orchestra began 11 years ago when I was commissioned to write the score for a film called "King of the Bingo Game", which was based on a short story written by Ralph Ellison. It was such a colorful and fascinating story that it inspired me to reach outside of my regular small group formats at the time (trio, quartet, quintet) and put together a larger ensemble to musically express the melodramatic elements of the film with some sort of justice. I called cats that I had played with in various situations to fill out the band. It was also about the time I met with an organization in San Francisco called the Intersection for the Arts and began presenting concerts there with my new orchestra. This was very inspiring because with the support of the Intersection I had a way of sharing ideas around music that involved history, education, theater, poetry, and other art forms. That was the early foundation of the band and in some way serves as the power behind our musical purpose, which is to use music as a form of communication to inspire, inform, and connect to as many people as possible.
Thus far you've explored some very fertile and vital themes, including Harriet Tubman, and the Civil Rights Movement. How did you develop those projects and what are your thoughts about your ensemble being project-oriented?

The themes around Harriet Tubman and Dr. Martin Luther King Jr. and the Civil Rights Movement, including my first historical project — "Port Chicago", were created out of my interest in learning more about how music was used in these movements to inspire the pursuit of justice. In Harriet Tubman's case, she used spirituals, blues cries, field hollers, work songs, and other forms of music to manage her communications during and leading up to her escapes. Although she was not the only one to use these techniques, she was definitely one of the most prolific and is a model of the individual power of the blues. Dr. Martin Luther King Jr., and the many protesters of the Civil Rights Movement, also used music in similar ways that slaves did. Dr. King himself said:
[Music is] "An important part of the movement. They are more than just mere incantations of clever phrases designed to invigorate a campaign; they are as old as the history of the Negro in America. They are adaptations of songs the slaves sang – the sorrow songs; the shouts of joy, the battle hymns, and the anthems of our movement. I have heard people talk of their beat and rhythm, but we in the movement are as inspired by their words. "Woke Up This Morning with My Mind Stayed on Freedom" is a sentence that needs no music to make its point. We sing the freedom songs for the same reason the slaves sang them, because we too are in bondage and the songs add hope to our determination that "We shall overcome, Black and White together, we shall overcome someday." These songs bound us together, gave us courage together, and helped us march together. We could walk toward any Gestapo force. We had cosmic companionship, for we were singing, "Come By Me, Lord, Come By Me."

Obviously there were many factors that contributed to the abolishment of slavery and the ending of segregation. However, it's very hard to imagine any of this coming to pass without music. Exploring these themes through the jazz orchestra with composition allows me to research the elements necessary to create the music. Learning about the characters, the time period, the actions and the emotions that drive any story are rich and plenty in our history. I am passionate about the history of courage that came before me in both slavery and segregation. These stories not only inspire me, but they empower me to strive in my current times and looking to the future. I like to use this form of music to share with young people, including my own 2 daughters, as a way of understanding history in a creative way (through music). I believe new forms of storytelling can evolve through such processes depending on the creativity of the composer.
What inspires you to develop a piece of music based on a historic theme?
I am usually inspired about how music is part of a social movement, such as the freedom songs in the Civil Rights Movement. I also like stories in history where visionary characters such as Harriet Tubman, Sojourner Truth, Lucretia Mott, Rev. Fred Shuttlesworth, or Bayard Rustin — just to name a few who inspire me — have well documented lives that can be expressed musically using a large ensemble to bring to life its elements. Because one can easily pick and choose the spectacular stories of the past, I also like the challenge of experimenting with abstract ideas that are not so literal in its musical forms. Nevertheless, I am constantly moved by the fact that the blues as the fundamental source material can be an infinite and compelling form to express any thought or expanded idea — especially when illuminating history.
What are your plans for the Orchestra going forward?
My plans for my band are to continue to explore ways to illuminate history, social political movements, current stories of courage, and the possibilities of hope in the future using music as the form of communication and expression. Specifically, I am personally interested in how green economics and sustainability can be key to social justice and what role music can play in this discussion and movement. The tenets of sustainability, including transportation, recycling, land use, and others have musical relationships that can be expressed much like how music animated and illuminated the Civil Rights Movement. The urgency of protecting and sustaining our planets' resources has arrived and music must be a partner in ensuring our future in these efforts much like it did to save us from slavery and segregation. I hope to use my band and our music to be part of this movement.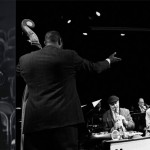 Info (including purchase of his recordings): www.MarcusShelby.com