When reading George Lewis' brilliant biography of the Association for the Advancement of Creative Musicians (AACM), A Power Stronger Than Itself, one of many AACM tenets that struck me was the fact that they stressed diversity in their members; diversity in the sense of having more than one band to work, depending upon the situation, and thus being versatile enough to meet multiple performing options and criteria. When I think about musicians today who truly know the score, who really practice that sense of diversity of ensembles, and who really know how to WORK IT… pianist-composer-bandleader and raconteur Orrin Evans comes to mind. Consider this lineup of performances he has lined up for his annual birthday celebration:
Orrin Evans Annual Birthday Performances
March 25th-30th
…you pick the spot and come to party!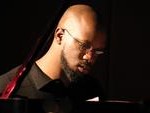 Live at SMOKE
MARCH 25th & 26th
Eddie Henderson trumpet
Joel Frahm sax
Ben Wolfe bass
Donald Edwardsdrums
Orrin Evans piano
WE GONNA BE SWINGING YALL!!!
THEN….
for more info
March 26th 3pm-7pm
SATURDAY AFTERNOON IN TRENTON!!! 3pm-7pm
FREE FOOD AND SWINGING MUSIC!
Matthew Parrish bass
Vince Ector drums
Ralph Bowen sax
Orrin Evans piano
for more info
MARCH 28th
Orrin and Stafford's Birthday
5pm-7pm (KIDS WELCOME)
Luques Curtis bass
Anwar Marshall drums
Stafford Hunter trombone
THEN FOLLOW US TO…….
CHRIS'S JAZZ CAFE
FOR
THE CAPTAIN BLACK BIG BAND
CD PARTY!!
8PM AND 10PM
Luques Curtis, Anwar Marshall, Ralph Bowen, Victor North, Tim Green, Todd Bashore, Greg Riley, Stafford Hunter, Ernest Stuart, Brent White, David Gibson, Tatum Greenblatt, Brian Kilpatrick, Leon Jordan Jr.,
THEN…..
MARCH 30TH
9pm-1am
ZINC BAR
THE ARIES COLLECTIVE….
TC III vocals
Brinae Ali tap
Tia Fuller sax
Gianluca Renzi bass
Kim Thompson drums
Orrin Evans News
THE ORRIN EVANS TRIO KICKS OFF THE ERTUGEN JAZZ SERIES (go to www.examiner.com)
Orrin Evans, pianist extraordinaire, seems to be everywhere lately. Whether it is leading his own group on recordings (Faith in Action) or backing other artists including Posi-Tone's own Ralph Bowen on Power Play, Evans has become a major player in contemporary jazz. Orrin's piano skills have been recognized and now it is time to catch him as a big band leader on Captain Black Big Band. Captain Black was the title of his 1998 Criss Cross label CD, which introduced the composition of the same name.
CLICK HERE FOR THE REST OF THE STORY
Tarbaby just completed a two day run in Spain with Oliver Lake and Ambrose Akinmusire!!!!
Click here for their latest review
JUMP PHILLY…..Pianist Orrin Evans could live just about anywhere.
Born in Trenton and raised in Mount Airy, Evans, 36, quickly went from playing small gigs in his hometown to performing on tour throughout Western Europe and the Middle East.
The Martin Luther King High School grad has recorded numerous albums and collaborated with musicians like Pharaoh Sanders, Branford Marsalis and Mos Def. click here for the rest of the story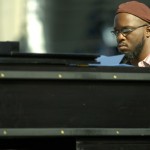 KEEP AN EYE OUT FOR SOME GREAT PERFORMANCES COMING UP…
CAPTAIN BLACK BIG BAND LIVE AT DIZZY'S CLUB COCA COLA IN JUNE!!!
Visit www.cdbaby.com or Itunes to purchase ALL RELEASES ON
Imani-Records!