Saxophonist-flutist-educator-bandleader T.K Blue, longtime music director for Randy Weston's African Rhythms ensembles, will soon release Latin Bird, his Latin treatments of the music of the immortal Charlie Parker. T.K. is of Caribbean descent and has extensive experience in island grooves, Latin music, and a thorough immersion in African rhythms — not only from his two decades plus traveling the byways with Randy, but also from spending several years in France, where he worked with many African artists and bands. We recently sought out the affable Mr. Blue for some words on his new release, his first for the Motema label.

Besides his well-noted experience and obvious expertise in playing with Latin rhythms himself, what is it about Charlie Parker's music that you felt would lend itself to such a "Latinization"?

Bird and Diz were at the forefront of the great amalgamation and marriage of jazz, more specifically Bebop, with Afro-Cuban music and their collaborations with Chico O'Farrill and Machito are well documented. Moreover, Bird recorded many songs whose origins point south of the boarder. His style of improvisation and penchant for melodic articulation blended quite well with the rhythms of Africa via Cuba. It's the spirit of Bird with the Afro-Cuban rhythms as a backdrop that has always attracted me…the way he phrases and weaves in and out of this rhythmic underpinning steeped in the "clave" vernacular. Therefore any further scrutiny in this direction seems quite logical to me.
How did you go about formulating the band context and personnel that would explore Bird in your Latin vein?

The first thing is always to hire musicians who are capable of helping you bring your ideas and concepts to fruition. In this case it requires folks who have an in-depth knowledge of the Afro-Cuban musical genre. All of the musicians on this date have great experience playing in this style: Willie Martinez, Roland Guerrero, Steve Turre, Lewis Nash, and Essiet Essiet.
Given your nearly 30-year immersion in Randy Weston's African textures as a member of his African Rhythms bands, how has that experience informed your work on this record date?

It's a beautiful thing to work with someone who is truly a master musician and elder. You learn so much through osmosis. Randy Weston as afforded me the opportunity to learn so much about the rich musical heritage of Africa as well as the connections between the continent of Africa and the varied musical genres one finds transplanted through out the planet. Mr. Weston is a true "Griot" and willingly disseminates his knowledge and wisdom to those eager to learn. His spirit has always helped me in many of my recording projects.
As an alto saxophonist how would you characterize Charlie Parker's influence on your development as a musician?

Bird is most certainly a strong influence on me. A day does not go by without me playing something from his vast reservoir of musical expressions. I must thank my teacher Jimmy Heath for "pulling my coat-tail" and encouraging me to know more about the innovations of Bird's creative musical out-pouring.
What's next for T.K. Blue?

Next up for T.K.Blue is the music for my next recording..I may revisit a ballad project abandoned a few years ago..or an entire flute project( I started on flute before saxophone)…or a project involving some incredible vocalists..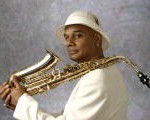 WWW.TKBLUE.COM