Bay Area based percussionist-bandleader-educator John Santos is one of the most authoritative musicians I know when it comes to multiple facets of the Afro-Cuban and Latino-Hispanic music continuum. Equally versed in the Latin-jazz vein, salsa and the historic implications of music from the Afro-Caribbean diaspora, Santos' latest recording is the exciting folkloric La Esperanza. We sought John out for some wisdom on this latest, thoroughly researched and beautifully executed chapter in the folklore side of his recorded pursuits.

As a percussionist-bandleader who is well-versed in what is referred to as "Latin-jazz" and myriad other forms of the Latin music language, this is either your 2nd or 3rd release in what might be characterized as a folkloric vein. Please detail the theme of this recording and how you see the compositions representing that theme.

This is the fourth full-length recording by my folklore project (the last two garnered Grammy nominations). The theme is Afro-Caribbean, mainly Afro-Cuban, and has always been intended to represent the study, documentation, and sharing of the musical/spiritual roots of the music we love and call Salsa and Latin Jazz. This folkloric music called me to the drum at a very young age and truly represents the identity and history of the Caribbean heart of the Americas. Jazz, of course, comes largely from this same Caribbean environment, which creates a huge overlap and relevance for much contemporary music that we and many others delve in. All the compositions strongly reflect and represent the theme, as they are either traditional, spiritual based chants and rhythms that honor and praise the ancestors, or they are original compositions with traditional musical accompaniment sometimes combined in experimental ways. The themes of the original compositions deal with life from a Caribbean perspective – homage to the departed, celebration of the drum, elaboration of African-based mythology, affirmation of cultural traditions, etc. And literally, the title of the CD, La Esperanza (Hope), refers to traditional, universal values around love, peace, family and human rights. For the vast majority of people of color, our music, dance, and other artistic expressions are intimately connected to and reflect our socio-political reality, so "art for art's sake" is not our central concept.
What is your process for developing thematic material for your recordings?

I try to remain open to seeing and hearing all that surrounds me. To me that means making a conscious effort to make focused observation and listening, second nature. In attempting to develop this, I find an endless source of thematic, spiritual, and practical inspiration. I also like to develop themes and concepts from different perspectives, such as actual and imagined stories, specific rhythms, melodies, lyrics, instrumentation, etc. Because of my theoretical deficiency, particularly in terms of harmony, I do a lot of singing into a portable recording device and then elaborating on the themes later. It's not so much an issue with this folkloric ensemble, because we mainly work within the voice and percussion parameters, but when I'm writing for my Sextet, I usually bring my lyrics, concepts, forms, instrumentation, rhythms, breaks, etc, to an arranger. I have been very fortunate to have wonderful arrangers in my groups over the years. Currently and for the past several years, I've been working closely in my group with Dr. John Calloway (flute, piano), Saul Sierra (bass), and Marco Diaz (piano, trumpet), all of whom are excellent arrangers.
I used that somewhat controversial term "Latin-jazz" as a descriptor in question #1; how do you feel about that term and do you think there are more apt descriptors for at least that part of your music?

I've come to terms with the term, so to speak. The essence of music is so much not about categories and names and all about breaking down barriers, borders and stereotypes. But in this society, the music has to be marketed, promoted, distributed and sold, and so descriptive titles are required. I think Latin Jazz is as good a general description as any. We just have to remember and remind folks that the music goes way beyond any such name or title. It's an intentionally vague term that can mean myriad things. In the case of my Sextet, we include jazz, funk, folklore and a wide variety of popular dance idioms under that heading of Latin Jazz.
What have been some of your more fruitful collaborations down through the years?

Firstly, my collaborations with John Calloway have been highly productive, as we began working together in 1976 and have never stopped. He's come up with some absolutely beautiful arrangements and ideas for many of my compositions over that stretch of time. Currently, in addition to John, Saul Sierra has also stepped up with several wonderful arrangements for me. On the playing side, My long association with the legendary Cuban percussionist, Orestes Vilató, was an intense learning experience every moment. Our collaboration began in 1981 and also continues. Our collaborations with some of our out-of-town colleagues in the studio and on stage have also been quite fruitful – some of those respected artists are Dizzy Gillespie, Max Roach, Joe Henderson, Omar Sosa, Steve Turre, Andy Gonzalez, Pedrito Martinez, Armando Peraza, Francisco Aguabella, Nelson Gonzalez, Jose Clausell, Little Johnny Rivero, Carlos Santana, Cachao, Tito Puente, Chocolate Armenteros, Giovanni Hidalgo, Anthony Carrillo, and many others. I feel that my current Sextet is in a special place musically due to a lot of work and getting to know each other so well over the years – we've been having a lot of fun lately breaking new ground in our live interaction and our current commissioned project, Filosofíia Caribeña, has been an exciting work-in-progress for a year and a half and will have its World Premiere on April 2nd, 2011 at the San Francisco Jazz Festival. We're also coming to the Smithsonian (April 15, and to Tanglewood (Sep 3), after a long absence from the East Coast.
You've engaged a large cast of musicians to fulfill your mission with "La Esperanza." What went into the selection process as far as the musicians you chose to make this music?

They are all exceptional colleagues and friends – extended family – who share my love and respect for the roots or our music and pour their love and considerable experience into such a project. Because of my limited financial resources, it generally takes several years to complete a project like this. So from time to time, I am able to take advantage of when some of them are passing through town while on the road. I'll bring them into the studio and our affinity with the language of the traditional forms gives us the common denominator necessary to produce some inspirational moments, many of which have been permanently captured in the recordings. As for my local colleagues, they are simply some of the best in the field and were chosen for their hearts, skill, and availability, in that order.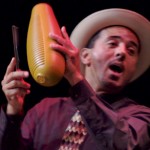 WWW.JOHNSANTOS.COM