Monterey 2010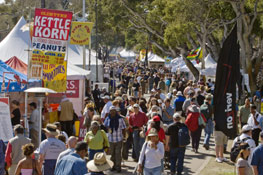 Strolling the Grounds at Monterey
The fruits of the Monterey Jazz Festival (and let's give Verizon kudos for its multi-year commitment to this great event) lie in its smorgasbord lineup, simpatico audience, and clockwork sense of organization.  Spread across the relaxed confines of the Monterey County Fairgrounds are the ticketed main venue the Jimmy Lyons Stage, catty-corner is the Coffee House Gallery, a short walk away is the Garden Stage, then stroll the food & crafts midway, and flanked at the back entrance you find the two large general admission venues, Dizzy's Den and the Nightclub/Bill Berry Stage.
MJF celebrated its 53rd edition in the broad-based eclectic style the festival has become accustomed to under the keen artistic eye of GM Tim Jackson.  There's much to be said for the warm, family reunion-style ambiance of the typical Monterey audience as well,  There's a cheerful general acceptance of sounds which may be new to many in a given audience as the festival stages run simultaneously, and if something doesn't meet their ears just right there's always something more agreeable, mesmerizing even, just down the walkway.  This buffet effect sends the great majority home satisfied, if not downright thrilled.
The savvy traveler enters the grounds armed with a print-out of the lineup, personal choices carefully hashed out, conflicts ironed out with plans to catch half of this, half of that, and perhaps a tasty morsel in between venues (both in terms of music and provisions).  Opening night found Roy Hargrove putting his bracing big band through its fiery paces, joined for an agreeable vocal interlude by the songstress Roberta Gambarini, whose skills grow exponentially.  Roy's set concluded in time to catch a few pieces by the overlooked J-master Marcus Roberts and his trio, with Jason Marsalis on drums, one of three piano-bass-drums trios that shared the Coffee House Gallery for multiple club sets through the weekend; including the Gerald Clayton Trio, and the Fred Hirsch Trio.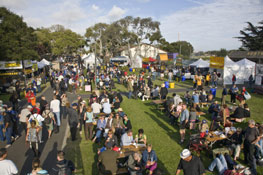 On the scene at Monterey
Back at the Arena the Cameroonian/French Fausert sister duo known as Les Nubians were moderately engaging, though not  really adding up to a big stage attraction;  later saxophonist Rudresh Mahantappa's bracing Indo-Pak Coalition trio, with guitarist Rez Abassi, and percussionist Dan Weiss proved a wise trip to the Nightclub.  Their spirited interaction wove a particularly tight and creative tapestry between the sax and guitar.  But alas, that meant missing Septeto Nacional de Cuba on the big stage.  Not to worry, they'd be opening Dizzy's Den Saturday evening!  One of MJF's benefits is that several artists make two appearances on separate venues. 
First stop at Saturday's matinee, awaiting some New Orleans soul in the Arena, was the Garden Stage where Bay Area bandleader-saxman John Firmin & the Nocturne Band played an absolutely killin' tribute to the legendary Ray Charles sax section Hank Crawford, David "Fathead" Newman, and Leroy "Hog" Cooper.  One of the festival's biggest favorites was the latest Crescent City flash, Trombone Shorty, who slid his bone mightily and sparred skillfully with his trumpet, bringing the streets of Treme to the Arena (and later in the afternoon to a packed Garden Stage area) in a display so joyous that dancing in the aisles was irrisistable.  Shorty, whose bag mixes all manner of textures in a savory, horn-stirred gumbo (imagine a band of 20-somethings with no keyboards!), ably represents the latest generation of Pops' children.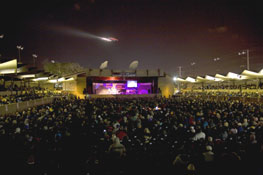 Evening at the Arena/Jimmy Lyons Stage
Back to that Septeto Nacional de Cuba connundrum from the preceding evening.  Sure, they were playing Dizzy's at 8:00, but that meant missing pianist-composer Billy Childs' commissioned work with jazz ensemble and the chamber strings of the Kronos Quartet, premiering "Music for Two Quartets" on the Arena stage.  Such commissions, well and creatively-intended as they may be, tend to sometimes be either ponderous or less than the sum of their parts in execution; happily reports on the Childs/Kronos coupling were to the contrary.  Nonetheless, Septeto Nacional beckoned at Dizzy's, and Childs' quartet — with the incendiary drummer Brian Blade, brilliant reedman Steve Wilson, and supple bassist Scott Colley closed Dizzy's that evening.  Septeto, whose appearance along with this season's U.S. re-appearance of the great Chucho Valdes is evidence that the tiresome blockade screws have finally been loosened and perhaps we're in for more delights from Cuba's cultural garden.  Septeto brought the same joyous, rootsy son we'd become accustomed to from the elders of Buena Vista Social club vintage.
Other positive soundings came from Benin vocal star Angelique Kidjo's abundant sass fronting a band of Christian McBride, Kendrick Scott, and her countryman Lionel Loueke on guitar, the highlight of the Sunday matinee.  Late in her animated set Kidjo brought out her friend, and this year's MJF artist-in-residence Dianne Reeves for some heated dialogue.  Ms. Reeves certainly proved an apt resident artist, in rich voice following the Childs' premier Saturday evening with her regular ensemble.  But the real Reeves' treat was yet to come: she opened Dizzy's Sunday evening "With Strings Attached" — but not the kind of orchestral strings one might imagine from such a title, but instead the beautifully spare trio setting that found her seated in between two worlds of guitar — the Brazilian shadings of Romero Lubambo and the ever-soulful Facebook jokester Russell Malone, and indeed this was a festival highlight.
But speaking of soul — Dr. Lonnie Smith's earthy trio with the crisp and inventive guitarist Jonathan Kreisgberg and the sizzling traps of  Jamire Williams, went straight for the gut at the Nightclub.  And as if that weren't enough soul for Smith he later joined saxophonist Javon Jackson's Swiss Movement Revisited with Les McCann.