Yes indeed, in addition to it's abundant charms, the capital of Catalonia, Barcelona, situated on the northeastern coast of Spain's Iberian Peninsula, also boasts an auspicious jazz festival. At a luncheon as part of last January's Association of Performing Arts Presenters' jazz component, I had the pleasure of meeting the director of the Barcelona Jazz Festival, Joan Cararach. My experience with European jazz festivals barely scratches the surface: several experiences at Umbria Jazz (Italy; summer and winter editions), two journeys to the Istanbul Jazz Festival, and several beautiful days at Barcelona Jazz Festival's younger cousin the San Sebastian Jazz Festival. Fascination with the inner workings of jazz festivals runs deep in this corner. Clearly some questions were in order for the affable Mr. Cararach. After unnecessarily apologizing for his command of the English language, Cararach obliged.
Scene from a Barcelona Jazz Festival venue
What is the history of the Barcelona Jazz Festival.
The Barcelona Jazz Festival was founded in 1966. It was the first professional jazz festival in Spain, with artists like Dave Brubeck (the first concert), Max Roach, Sonny Rollins, Stan Getz with Astrud Gilberto, the great and underrated Tete Montoliu, etc. It was born thanks to the private initiative, not sustained with public money, and it's still the same story. It's really a weird situation in Europe and especially in Spain, where all the jazz festivals are sustained by public money.
From my observations in print, along with endeavoring to present great music and artists, you are also concerned with presenting programs that feature scholars, journalists, and others talking about jazz history or issues related to jazz. Is that a major component of this festival, and how do you think such programs enhance the event?
Of course such programs enhance the festival. Scholars, journalists and others talking about jazz history or issues related to jazz are an essential part of our program. The people talking at our festival (critics) Bob Blumenthal, Nate Chinen, Stanley Crouch, Gary Giddins, Ashley Kahn, Bill Milkowski, Dan Ouellette, Ben Ratliff, (record men) Bruce Lundvall and Francois Zalacain, (musician-author) Ned Sublette, among many others) are like the people playing in our festival. Jazz is music, of course, but it is also people analyzing issues related to jazz. It's also a good counterweight to the lack of good cultural criticism and journalism in Spain. The famous story about Larry Ochs, for instance, is a great example of silly journalism converted into news. Incidentally the Ochs story was written by the same [Spanish] journalist/critic who only wrote this line about a Joe Lovano concert: "Musician without ideas and with all technique." A true musicologist, as you can see,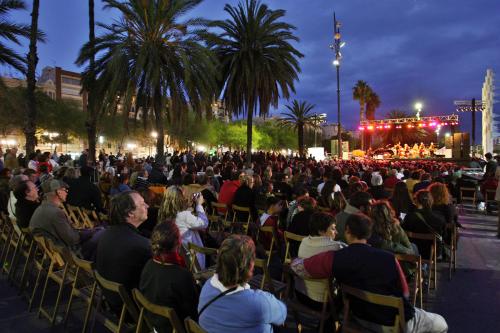 How is the Barcelona Jazz Festival supported financially?
We have a budget around 1.4 million euros (1.91 million USD today). The main sponsor is people paying for tickets (50%). We have also a beer, Voll-Damm, as our main sponsor and other sponsorships covering around 34% of the budget. And 16% of public money coming from the Barcelona City Council, the Generalitat (government in Catalonia) and the Spanish government.
What are your plans for the 2010 Barcelona Jazz Festival?
Survive. Sell tickets. Show people how different is jazz, how big is the music we can include under the label "jazz". Have great musical experiences with one of the best audiences in the world.
We'll start with Sonny Rollins on November 3rd, so this year we'll focus on a lot of sax players. Sonny will also be the third recipient of our Gold Medal Award, after Bebo Valdes (2008) and Wayne Shorter (2009). And planning a special project to celebrate Gil Evans/Miles Davis "Sketches of Spain" — [a] slightly different "Sketches of Spain". And we'll come back to the States, to NY, and I hope to other cities. Our transatlantic experience last year (with Chano Dominguez at Jazz Standard in NY) was more than great.
How do you envision the Barcelona Jazz Festival developing into the future?
Keeping the same path, along with our main sponsor, the public. A great lesson: jazz is not dead, and the public is not always idiot[ic].