Michael Cuscuna is one of the most prolific record producers in jazz. His career has taken him from jazz radio to the deepest regions of some of the most fertile catalogues in recorded jazz history. He has produced records for the Atlantic, Motown, ABC, Arista, Muse, Freedom, Elektra, Novus and perhaps most significantly Blue Note labels. Throughout all those affiliations he has been responsible for some of the most essential reissue packages since that process became such a significant priority for labels starting in the mid-late 1970s. His boutique label Mosaic continues to churn out mail order-only, limited edition box set and reissue gems; check them out at www.mosaicrecords.com.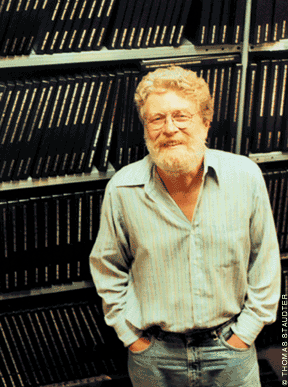 Reissue wizard Michael Cuscuna trolling the stacks at Mosaic
The recent annual jazz-focused issue of Wax Poetics magazine contains excellent interviews with two of the classic jazz record men, Creed Taylor and the ancestor Joel Dorn. In his interview Dorn talks about his journey from jazz radio deejay in Philadelphia to the corporate ladder at Atlantic Records — a corporate ladder whose strictures eventually drove away Dorn's decidedly uncorporate attitude and proclivities. Along the way Dorn befriended Michael Cuscuna. Our exchange begins at that point, in the mid-late 1960s.
While I was in college in Philadelphia (1966-70), I began doing radio and dabbled in producing. I became friends with Joel who was on WHAT-FM there and producing for Atlantic on the side. At the time I was immersed in the avant garde and underground rock. Joel's taste ran more to David Fathead Newman, the Jazz Crusaders, Bobby Timmons, etc. Hanging out with him brought me back to my roots. I still loved Archie Shepp and Jefferson Airplane, but got back into the essence of soul that had touched me in the first place.
All I ever wanted to do was make records but I kept getting offers to do free-form radio at very good salaries. Finally WPLJ in New York went to a formatted playlist and I split. Joel got wind of it and offered me a job as staff producer at Atlantic Records. It was one third of my radio salary but I jumped at it! I learned a lot from Joel and the whole Atlantic team about the importance of building a record up from a strong rhythm track. And Joel turned me on to all the great New York guys like Richard Tee, Ralph MacDonald, Cornell Dupree, Bernard Purdie, Chuck Rainey, and on and on.
What motivated you to become a record man?
From the minute I got into doo wop as a kid, I started buying records with every cent I could lay my hands on. Playing records was a glorious escape out of the real world into some magnificent place that only music could take me. I became enamored with labels and the information on them and was well on my way to being a collector. It was an easy transition into R&B and then jazz (and beyond).
Have you always been pretty much an independent producer?
I did a couple of Buddy Guy records and a singer-songwriter named Chris Smither when I was still in college, but really got going when I was on staff at Atlantic 1972-73. I left because I was frustrated with what Atlantic was becoming (big business, no roots) and basically freelanced ever since. (Joel [Dorn] left the next year.)
Talk about some of your more fruitful record affiliations.
You ask about most fruitful record affiliations and it's true that people like Joel, Steve Backer, and Bruce Lundvall became close, lifelong friends. But the fruitful affiliations have really been with artists who became friends to the degree that our personal and professional lives were entangled. Woody Shaw, Dexter Gordon, Lester Bowie, Anthony Braxton, Don Pullen, Lou Rawls, and Joe Lovano come immediately to mind as people whom I've learned from, had fun and productive times with, and whom I dearly love.
What are some of your fondest stories from your work as a producer?
No matter how well you plan, every project tends to throw at least one hand grenade in your path. In 1973 I booked a Chicago studio that Ben Sidran had suggested and flew in to make an album with the Art Ensemble of Chicago. When we pulled up to the studio with a school bus literally packed to the hilt with instruments, the studio manager informed us that the studio was a fourth-floor walk-up. After the shock wore off, I moved the session to the next day and hired furniture movers to bring all the instruments up to the studio (and of course back down again a few days later).
There was a moment for me in 1975 that was terrifying. I had to finish an album with Dave Brubeck for Atlantic and I wanted it to be different. Somehow I got it into my head to record Dave and his bassist Jack Six with Roy Haynes, Lee Konitz, and Anthony Braxton. Braxton was a big Brubeck fan and jumped at the chance. Dave, Lee and Roy were more cautious and quite skeptical that this would work, but I was persuasive and even picked Brubeck tunes that fit the personalities. Then the day came. As these guys were setting up in the studio, my blood ran cold. I was thinking, "My God, what if I am totally wrong and it's a train wreck. I'll make a total fool of myself in front of an artist I grew up idolizing." Fortunately it worked out. In fact about 15 years later I bumped into Dave and he told me he thought I was nuts when I proposed that project but that it was one of his favorite records to listen to.
I suppose the most gratifying records for me are the ones where you start with only a voice and song and with the artist you build a flavor, an instrumentation and an arrangement around those two key ingredients. Some of the records I did with Lou Rawls and Bonnie Raitt were the most satisfying in that regard.
You've had some extraordinary access to historic record vaults. What have been some of your most important "finds" while trolling the various record company vaults you've researched?
I've fished in the best vaults (Blue Note, Impulse!, Columbia and Atlantic) and found many amazing things. I think the unissued Blue Note material that I found on Herbie Nichols and Tina Brooks was most important for me. It tripled what was thought to be their recorded output and the resulting Mosaic sets brought them from obscurity to a place of reverence among musicians and fans. It's rare for vault material to rewrite history, but in those two cases it did. Also all the extra material from some transcendent live dates like Rollins (1957) and Coltrane (1961) at the Village Vanguard. And the wealth of first-rate unissued Grant Green, Lee Morgan, Hank Mobley, and Andrew Hill on Blue Note amazed me. Sometimes it's the little things that stick in my mind, like the alternate take of "Well, You Needn't" from Monk's 1947 Blue Note date. The way he plays the theme is dazzling and so different from what became the composition as known was revelatory to me.
What were the origins of Mosaic Records?
In 1982 Charlie Lourie and I drew up a 5-page proposal to relaunch Blue Note, which was completely dormant at the time. The powers that be at Capitol said they weren't ready to do anything with jazz for another two years. Even before they turned us down I was thinking about one little item I had put in the catalog exploitation section [of the proposal] about a line of deluxe, complete box sets in the style that Columbia did in the '60s. And I realized that if we did that as mail order only and in limited edition, that this in itself could be a viable business. No record stores, no distributors, no returns, no damaged goods, no unpaid invoices — just straight to the consumer. We named it after Cedar Walton's "Mosaic" because that was one of our mutual favorite Blue Note recordings and proceeded to work three years without a salary.
How do you determine what to release on Mosaic?
What we put out on Mosaic starts at the idea level — what's deserving and can we access the best source material for improved sound and for unissued gems? Then come the realities — can we get permission to license it and can we sell enough to meet the guarantee that the licensor demands in the deal. Recent sets by Lester Young, Benny Goodman, Anthony Braxton, and Louis Armstrong have been among the best selling sets in our company's history, but it is still becoming more and more of a struggle to keep things afloat. The attrition in the record business has had an impact on every level and genre of music. But we continue to do suicide missions when we can. You never know what's going to happen. I did the Gerald Wilson Mosaic and Randy Weston Mosaic Select because I love both of them as artists and as people and those masters were languishing in the vaults and would not have come out any other way. They both did MUCH beter than I expected. So there are nice surprises along the way.
What kinds of things are you working on for the ongoing Blue Note reissue series and are there still opportunities to find rare, valuable unreleased material or have those opportunites been exhausted?
The Blue Note Rudy Van Gelder series will continue to revisit more Blue Note classics. But the Blue Note vault is tapped out of releasable unissued material. That's why we started what we call internally the discovery series, looking to outside sources for new discoveries. And we hit with a megaton bang starting it off with the Thelonious Monk Quartet with John Coltrane at Carnegie Hall. Charles Mingus At Cornell, and Horace Silver at Newport 1958 followed. We have a killer Freddie Hubbard album Without a Song – Live in Europe coming in June. Freddie was thrilled with this music – he told me he thought it was some of his best playing ever captured on tape. He was going to do a lot of press for it but alas… We are working on material by Andrew Hill and Wes Montgomery next.
Given the 21st century universe of record making, what advice would you impart to young people who still have a desire to produce recordings?
I don't honestly know where any of this is going. I think the record business as we know it is nearing an end. More and more musicians are going to have to add producing and pressing their own records to sell on the bandstand and on their websites to their skill sets. Retail is shrinking by the hour and internet retailers like Amazon are doing enough business to stop the erosion. Live music is still doing great and new generations of musicians are feeding the creative gene pool all the time. So the future of jazz is secure, but the future of the physical album is not.