On April 23 one of the highlights of a wonderful NEA Jazz Masters evening at Tri-C JazzFest with Roy Haynes' Fountain of Youth Band and Randy Weston came during Randy's rare solo piano performance to open the program. As he often does he included the epic slice of musical hypnosis he wrote back around 1970 called "Blue Moses." The following anecdote is the genesis of that brilliant composition, taken from the forthcoming book African Rhythms, the as-told-to autobiography of Randy Weston written by Willard Jenkins, to be released in 2010 by Duke University Press.
The first tune I wrote in honor of the Gnawa was "Blue Moses," a translation of their reference to Sidi Musa that is based on one of their songs. But the chief Gnawa in Tangier forbad me from playing it initallly. He said "don't play that in public, that's sacred music." So for one year I wouldn't play that piece. Finally I went back to him to ask his permission. His name was Fatah, so I said "Fatah, I think the world needs to hear this music and I'm not going to commercialize it or disrespect it in any way. I'm going to put all the proper spiritual power behind this music because I respect you and I respect the Gnawa people. Finally Fatah relented and said "OK", that I could finally perform "Blue Moses." But you can bet if he didn't give me the OK, there was no way I was gonna play that piece because I've seen some strange things happen in Africa when there's even a hint of crossing the spirits. Ironically, though I've played "Blue Moses" countless times since then, the first time I recorded it was in 1972 on the Blue Moses album for CTI that was a real hit record for me.
Editor's note: …And what's even more ironic about that Blue Moses date for CTI is that Randy has always been an avowed disciple of the acoustic piano — electric pianos be damned. But when he arrived at Van Gelder studio to record that date, lo and behold a Fender Rhodes electric piano awaited his massive hands much to his chagrin. Take it or leave it was Creed Taylor's declaration, so in light of some lean times Randy reluctantly agreed to wrestle the Rhodes, in the auspicious company of Freddie Hubbard, Ron Carter, Billy Cobham, Hubert Laws, Grover Washington (who whenever Randy would see him in succeeding years would always ask when they were going to do it again, he had so enjoyed the experience), Airto, and Randy's son Azzedin on congas. Remember how CTI record dates were invariably awash in Don Sebesky-arranged additional horns and strings? For the complete story of how Blue Moses got the full Sebesky treatment… wait 'till the book!
— Willard Jenkins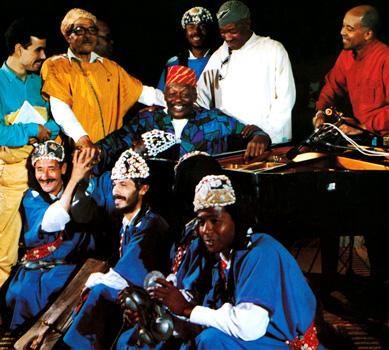 Randy (center) and African Rhythms Quintet trombonist Benny Powell (red shirt)
with the Gnawa in Paris… (photo: Jaap Haarlar)