On the Open Sky website as well as in the pages of DownBeat and JazzTimes magazines your correspondent has contributed dispatches from one of the more distinctive word music festivals, Festival Gnaoua, held each June in the beautiful seaside town of Essaouira, Morocco. At last year's festival as Suzan and I stood along the big Scene Moulay Hassan stage overlooking the fishing port we had an epiphany relating to one of the cultural revelations of our year in New Orleans. How cool would it be to have some Mardi Gras Indians performing on this festival?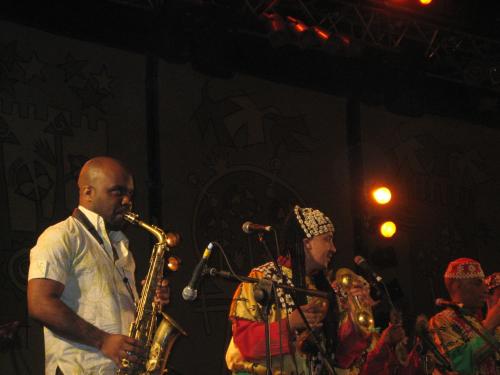 Jaleel Shaw with the Gnawa at Festival Gnaoua '08
At that moment the fine young alto saxophonist Jaleel Shaw, who currently holds down that chair in NEA Jazz Master Roy Haynes' Fountain of Youth band, was onstage joyously jamming with Gnawa (Gnaoua) Maalem (master) Mahmoud Guinea and Malian ngoni master Bassekou Kouyate. Since Festival Gnaoua has since its inception invited improvising soloists to interact with Gnawa musicians, the question of which Mardi Gras Indians might conceivably be most appropos for the festival was a no-brainer: Donald Harrison's Congo Nation. Why that's the case, the whys & wherefores of Festival Gnaoua, and how a case was built for a subsequent grant from USArtists International proved successful is the subject of this piece. Our journey to Essaouira will be June 25-29…
DONALD HARRISON, saxophonist-composer, is a New Orleans native, son of the late, great Big Chief Donald Harrison Sr. of the Guardians of the Flame and several other tribes, a keeper of the inimitable African American New Orleans-centered culture known as the Mardi Gras Indians. An accomplished saxophonist, Donald Harrison is unique among jazz musicians in general and New Orleans jazz musicians in particular in that he too is a keeper of the Mardi Gras Indian flame as Big Chief of his
Congo Square
tribe and leader of the Congo Nation performing ensemble. Donald, who is conservatory-trained and has traveled the world as a saxophonist and bandleader and made numerous recordings as both sideman and leader, is arguably the most accomplished trained musician of all the various Mardi Gras Indian tribes.
"I was a Mardi Gras Indian first and then I became a professional musician," he once told interviewer Ned Sublette. Donald Harrison has been "masking" as the Mardi Gras Indian costuming tradition is known in New Orleans, since he was two years old under the tutelage of his late father. He formed his Congo Nation performing ensemble in 1999. Donald has toured the globe extensively as both soloist and leader of several bands. Congo Nation has performed at the New Orleans Jazz & Heritage Festival, as well as festivals in locales ranging from the Belleayre Music Festival in New York State, to festivals in Bahia, Brazil and Ticino, Switzerland. As saxophonist, singer & dancer in that tradition Donald also meticulously sews his own Mardi Gras costumes, unique works of art in their striking beauty and fierce in their pride of culture.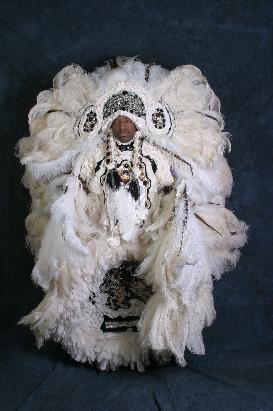 Big Chief Donald Harrison
The tradition known as the Mardi Gras Indians dates back to slavery in the U.S. when escaped slaves of African descent were often offered refuge on Native American reservations in Louisiana. The tradition of these "masking" Black Indians dates back to the 1700s. History reports that tribes such as the Choctaw, Seminoles, and Chickasaws of Louisiana freed some blacks from slavery. Native American and African respect for their ancestral spirits and use of ritual costuming are shared characteristics. For the Black Indians of New Orleans who "masked" in creative and intricate costuming that included decorative feathers and plumes and other accouterments, including elaborate beaded scenic depictions, parading, chanting and singing traditional songs in full regalia and challenging other "tribes" from different neighborhoods (particularly Uptown vs. Downtown Indians) became a Mardi Gras day custom and became the prime time to see them in public; thus they became known as the Mardi Gras Indians. Since this tradition arose there are now two other times when these "Indians" choose to "mask" or costume, typically on what is known as Super Sunday in late winter and at nightfall on St. Joseph's Day. Typically these tribes practice and assemble their costumes for these rare occasions year-round. At the core of these celebrations the Mardi Gras Indians are honoring the Native Americans that assisted their ancestors to freedom.
Donald Harrison learned these traditions from his late father and became Big Chief of his own
Congo Square
tribe, out of which his Congo Nation is the performing ensemble. Congo Nation brings a rich mélange of jazz, blues and traditional Mardi Gras Indian chants and songs into the modern era, all keyed by Donald's alto saxophone mastery. The call and response chants and voicings, and percussion-driven traditional songs of the Mardi Gras Indians lend themselves well to interpretations from jazz and blues perspectives. Donald Harrison has pledged to uphold these traditions which he grew up witnessing from his late father Donald Harrison Sr.'s leadership, while at the same time updating them and bringing his unique improviser's perspective to the music.
As Donald told interviewer Ned Sublette: "When I was a younger person I thought of playing jazz as one part of my life, and the music of the Mardi Gras Indians as another.
And I came home in my late 20s to participate with my father on Mardi Gras day as a Mardi Gras Indian. I was listening to the drums and all of a sudden I heard a merging of what I was doing in New York with the jazz music and the Mardi Gras Indian music. So that has led me to so many revelations in music, the fact that I was in two different things and I heard them mix together. That has helped me to be able to find new songs in a natural way."
Performing at Festival Gnaoua will be a further revelation for the saxophonist who chooses to honor the ancient New Orleans tradition of African expression in
Congo Square
through the name and music of Congo Nation.
Festival Gnaoua and World Music (Essaouira Gnawa and World Music Festival); scope & history of the event.
The Atlantic coastal Moroccan town of Essaouira is one of the most unique in the North African country and has long been a haven of fascination for visitors from the west, including such notables as Orson Welles (who filmed his Othello partly in Essaouira), Jimi Hendrix (who legend has it wrote his song "Castles Made of Sand" about a structure you can still view to this day off the shores of Essaouira), Mick Jagger, Maria Callas and many others. Part of this fascination with Essaouira undoubtedly stems from the significant number of Gnaoua (or Gnawa) who reside in Essaouira.
The Gnawa are one of several Moroccan spirit music brotherhoods whose music is used as a means of celebrating Allah and the spirits of their ancestors. There is a unique ancestral kinship between the Gnawa and African Americans who were enslaved from the same regions of West Africa. While African American ancestors made the journey in bondage across the Atlantic known as the Middle Passage, Gnawa ancestors from the same tribes and families were trekked across the Sahara Desert and up the Nile to North Africa in bondage, thus becoming the core of Morocco's black populace.
Gnawa music consists primarily of the use of a 3-stringed, camel-skin lute known variously as a guimbre or hajhouj, which is pitched in the cello to bass range and played by a lead musician known as the Maalem (master) who generally issues the call or lead voice, drums known as tbel, and ensembles of responding singer-chanters who employ the hypnotic large metal castanets known variously as qaraqabs or qarqabates. Numerous jazz musicians, including Randy Weston, Archie Shepp, Pharoah Sanders, and the Cuban pianist Omar Sosa, have found much musical kinship between their music and that of the Gnawa. Weston has often remarked that when he first heard Gnawa music as a recent Moroccan settler in the late 60s-early 70s he heard echoes of the great jazz bassist Jimmy Blanton in the playing of the Gnawa Maalems; he heard blues roots in Gnawa (or Gnaoua) music. The music of the Gnawa is a healing music that is based on a meticulous color chart and generally performed at their spiritual ceremonies known as Lila.
In 1998 the Essaouira Gnawa and World Music Festival (Festival Gnaoua and World Music) was launched as a means of celebrating Gnawa music and culture. The festival is entirely free of charge and held at several large outdoor venues with simultaneous performances on its four nights in late June. The festival has grown into a mega-event which now draws upwards of a half-million festival goers including over 10,000 foreign visitors to the town whose usual population is upwards of 70,000. The heart of the festival is Gnawa music performed by ensembles from across Morocco. Each year the festival also invites musicians and ensembles from other parts of Africa and from the west, including U.S. musicians, from jazz, pop, rock and contemporary world music. These visiting musicians are invited to interact with Gnawa ensembles as well as perform their own unique music. This sense of musical interaction or world fusion often produces performances of startling brilliance and has led to lasting collaborations.
One of the more notable aspects of the Gnaoua and World Music Festival is that it is produced by A3 an all-women communications and production company based in Casablanca, Morocco. This is truly remarkable for an Islamic country and is representative of the progressive nature of Morocco.
Gnaoua and World Music Festival past participants
Past participants in the Essaouira Gnawa and World Music Festival (or Gnaoua and World Music Festival) have included: Youssou N'Dour, Joe Zawinul, Wayne Shorter, Toumani Diabate, Orchestre National de Barbes, Troupe Samulnori Molgae, Cheikh Tidiane Seck, Omar Sosa, Ali Farka Toure, Pat Metheny Trio, Ba Cissoko, Corey Harris, Steffano Di Battista, Hmadcha brotherhood, DJ Click, Le Trio Joubran, Oumou Sangare, Hamid Drake, The Wailers, Adam Rudolph, Hassan Hakmoun, and hundreds of Gnawa musicians from across Morocco and even Tunisia.
Importance of the invitation and this project
The idea of bringing together the Mardi Gras Indian tradition with the Gnawa music is rich in its implication of bridging two cultures which resulted from shared ancestry and are both triumphs over the historic tragedy of slavery. The Gnawa who perform at the Essaouira Gnawa and World Music Festival are vividly festooned in costuming of a vast color pallet representing an incomparable visual spectacle. This opportunity to bring together the vivid colors of the Gnawa with exquisitely costumed Mardi Gras Indians will further enhance this unprecedented opportunity to bridge Gnawa music and songs with songs and chants from a New Orleans tradition that also dates back centuries. There is additionally the interesting perspective of bringing together two music cultures that have also been informed by French and Spanish culture. And since the opening of the festival includes a colorful processional of Gnawa (Gnaoua) through town, it is anticipated that the processional will be joined by the Mardi Gras Indians who themselves come from a rich marching tradition. Donald Harrison has never performed at the Gnawa festival nor have any others representative of the Mardi Gras Indian tradition. This will be a historic first collaboration.