Greg Osby focuses his pragmatic view on entering the record business
Saxophonist-composer Greg Osby has recently taken his career into the dangerous waters of establishing and developing his own record label, Inner Circle (INCM). Not only is he intent on swimming these shark-infested waters bearing his own records on his back, stroking furiously to the other side and ultimate success, he's also nurturing the debut releases of several promising young artists along with him for the journey. A few months back when he launched Inner Circle with a week of programs at the Jazz Standard in New York (the best place in town to combine serious jazz and fine dining), the erudite Mr. Osby waxed rhapsodic in his characteristic thoughtful manner on the launch between sets on the night promising young vocalist Sara Serpa was being introduced. Clearly this demanded further communication and illumination, not only on the why and how of Inner Circle but also on how Osby's past record label experiences are informing his new activities.
How would you characterize your personal experiences working with record companies?
GREG OSBY: I've had two major label associations — JMT/Polygram 1986-89, Blue Note Records 1990-2006. I'm very fortunate that I didn't have to jump around to a number of independent labels in my career. My experiences have all been positive as I made sure to negotiate "hands-off" policies and clauses in each of my contracts. I never cared to enter into agreements where I would be governed by representatives from a record company or would be expected to adhere to decisions that were not compatible with my artistic vision. To date, I have always documented my works (for better or worse) as I had originally conceived them. They haven't always hit their mark, but they were honest.
What brought about the end of your relationship with Blue Note Records?
GO: I would characterize the end of that professional relationship to be similar to that of a marriage that had grown apart in terms of intent as well as communication. CD sales were low and whenever I paid visits to the company, I didn't feel that certain members of the staff were passionate enough about my music or creative direction. In fact, I didn't think that some of the newer employees there "got" or cared what I represented as an artist at all. It simply became obvious to any alert observer that I had reached the end of the line and there was nothing more for me to offer there artistically or that could be done to satisfy their bottom line. Also, the priorities there had shifted as a result of the success of some of their signed pop artists. There was simply no way that a cat like me could compete with those kinds of numbers nor could they justify keeping me signed by contrast. However I have absolutely no regrets. Sixteen years at Blue Note is a healthy stretch by any measure and I'm proud to have contributed some of my best work to that amazing catalog. I'll always be grateful to Bruce Lundvall for his support.
Why have you determined to jump into the often treacherous waters of record company ownership yourself?
GO: Actually, I had set the wheels of independence in motion in my mind before my lengthy Blue Note tenure ended. It simply became time for me to stop surrendering my best works to a battery of disinterested office workers and to work towards the production, promotion and total ownership of my projects myself. No one is going to embrace the development and promotion of my music as passionately as I will, especially in the current marketplace. No one wants to work that hard for something that they don't fully believe in or understand. So it was a timely dissolution and I like the idea of moving forward with projects without going through and enduring the channels of red tape.
What went into your planning for the launch of Inner Circle Music?
GO: I wanted to launch multiple releases simultaneously as opposed to a one-project independent label release. Everyone seems to go that route [self-producing/releasing only their own recordings] and to me, owning a label where yours is the sole project isn't really saying much these days because everyone has their own independent label. Most artists can't secure a major label deal anymore so their only alternative is to self-produce. However, it's infinitely more difficult to secure distribution without some sort of catalog. Distribution companies will hardly consider a single project label at all. This is why so many independents default to online download outlets; they can't get anyone to sell their hardcopies anymore.
How did you make the determination to record and release the music of other, lesser-known young artists on Inner Circle — as opposed to some perhaps more established artists?
GO: Since the decline (or implosion) of the major jazz labels, very few new artists are being signed anymore. Well, actually they ARE being signed to hack labels run by greedy mercenaries who shamelessly prey on desparate young players. Many of these jack-legged labels are run by European so-called "producers" who descend on clubs in New York and indiscriminately offer contracts to anyone holding an instrument. These contracts are morbidly one-sided in the favor of these companies, who never promote the product or the artists. They build huge catalogs of cheaply produced projects, and later auction off the entire lot to the highest bidder. Meanwhile, the artists continue to sign and volunteer themselves to getting ripped off. It's a continuation of the old model that will prevail as long as young players continue to be uninformed and desperate. Fortunately I always keep my ear to the street in terms of knowing who's making some noise and/or impact on the scene. The clubs and schools are bursting at the seams with talent. There's definitely no shortage of amazing young players. [Editor's emphasis to further illustrate a point we're constantly making to "old heads" who want to insist there's some shortage of talented young musicians on the scene.]

Saxophonist Meilana Gillard launches her robust tone on Inner Circle
How did you go about selecting the artists for your initial release?
GO: I find artists either through recommendation or I have been aware of them for some time already. For the first batch of releases, I wanted a select group of young thinkers who had a fully developed body of work pre-prepated.
Did they make these records on their own and bring you finished product to license or were you overseeing the process throughout?
GO: So far, we've been producing the completed works from start to finish. Of course, I can't do this indefinitely since some projects naturally do better than others in terms of sales and popularity. I'd surely go broke by continuing to pay for everything. So we are now considering some semi-completed or finished projects.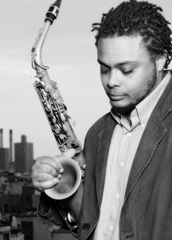 Greg Osby also provides a platform to the brainy Logan Richardson
There's a lot more to running a record label and putting out records than just going into the recording studio and subsequently pressing finished products. How are you managing the other, residual aspects of releasing records (distribution, publicity, etc.)?
GO: Everything at INCM is being run on a shoestring budget by a small army of employees and volunteers who all are in tune with the direction of the company and who all share an intense love for the music. I have friends in various channels in the music business who have also been very instrumental in the building of our business.
In this digital age when some folks have begun releasing their recordings as purely computer-accessible products, why and how did you decide to go the hardcopy route instead of purely downloadable materials?
GO: We are doing both. Many consumers rip newly bought CDs directly to their iPods or other listening devices and never play the CDs again, so it's important to offer digital only product for those who don't require hard copy product.
What's next for Inner Circle Music?
GO: We are preparing for another round of releases, some by veteran artists on the current jazz scene. This will give some much needed balance. It was never our intention to exclusively offer only new artists.
Stay tuned…