I first met drummer-bandleader LaFrae Sci back in '97 when we decided to honor Ella Fitzgerald with a "Remembering Ella" theme for the 1997 edition of Tri-C JazzFest. In Ella's honor we placed an emphasis on women artists on the festival, particularly for our artists-in-residence education component. Among our artists-in-residence that year were Joanne Brackeen, Terri Lyne Carrington, Marion Hayden, Ingrid Jensen, and Cecilia Smith. One afternoon Ingrid Jensen was giving a masterclass for students and came to a point she wanted to illustrate with a rhythm section. Usually when that happens some eager trio of students is recruited. But on this occasion seemingly out of nowhere a trio of women materialized to assist Ingrid, with LaFrae on the drums. Even a surprised Ingrid exclaimed "where'd you guys come from!"
LaFrae was impressive enough in that role that I made a mental note to watch out for her. But not long afterwards I lost track of her, in part because at that time she went by the name Olivia Sci. Seems she relocated to New York and worked under the name LaFrae Sci, as she does today. Among her many current professional affiliations she's now an educator herself, including serving as a faculty member for Jazz At Lincoln Center's Middle School Jazz Academy. In addition to working in jazz, blues, pop, rock, world music, and hip hop settings LaFrae is also a Jazz/Cultural Ambassador for the U.S. State Department. Lately that assignment has taken her to Eastern Europe, including Siberia. For more on that assignment dig this clip from what LaFrae refers to as "the Siberian 60 Minutes"…
The Independent Ear caught up with the fast-moving LaFrae Sci recently for some questions about her far-flung enterprises…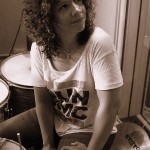 Please give us some background on yourself and how you got to this point.
Willard, I moved to NYC with $600, a drumset, & a backpack of clothes. My foundation is church, to blues to jazz, but I'm an Air Force kid, born in Okinawa, and traveling for my whole life. I also spent early years in dance studios as my Mom was a choreographer for the Dayton Contemporary Dance Company in the 70s. Lots of drumming there. Later Mom was the director of the Paul Lawrence Dunbar house for over 20 years, and tours with a solo presentation of the African American elocutionist, Halley Q Brown. I studied political theory and economics at Oberlin, and did several internships in D.C. before I was inextricably bitten by a love of swing, jazz, and drumming. I mention these details to suppose that the sum total of those experiences led me to become a cultural ambassador, composer, educator, band leading drummer, firmly rooted in the tradition, and with a developed sense of myself, and my place in the world as an African American woman.
How were you chosen for this cultural ambassador opportunity and where have your travels taken you?
Initially I auditioned for the program that is formerly known as the Jazz Ambassador program that first sent Louis Armstrong, and Dizzy Gillespie to showcase this beautiful jazz music of ours that embodies the very best of what America can be… democratic, and free.
What's been the response to your work in the different countries you've visited?
The world loves the blues, and every culture has their blues. I teach the folk music of my culture, and in turn I learn other folk traditions. The whole world respects the concept of tradition in some way. This is a real great starting point. Additionally, the music builds a community in the moment, connecting cultures, generations, and experiences. The response has been exponentially positive as social media facilitates international connection. One example is getting 75 friend requests from Montenegrin middle school students who are now finishing college, or getting married, and still say hello.
Talk about some of the education programs you've presented as part of this program.
I was an educational consultant/mentor to outgoing groups for the State Department program. I would meet with the bands before their tour a couple of times in seminar settings in the big studio room of Jazz at Lincoln center. What I realized is many "cats" are rightfully convinced of their ability to teach based upon their stature, experience, and station in their career. But this is a different challenge, not a theory class at a Jazz School. Chalk and talk doesn't constitute teaching in this setting where Masterclass participants may or may not be musicians, may or may not have instruments, AND most assuredly English is not their first language, and with or without an interpreter, it makes things simpler to have clear ways to express ideas in succinct sentences, which requires preparation. Honestly, you can walk into a room and sing Twinkle Twinkle for and hour and smile a lot and talk to people and probably achieve a positive outcome, but I always thought, why not optimize this once in a lifetime mutual exchange moment, find ways to make sure that everyone walks out of that masterclass understanding maybe 3 main points, and a positive personal experience that they can cherish for a lifetime? This requires finding a way to relate the music to every day life, not just potential professionals.
Once we were in Suriname and we arrived to find 70 participants ages 5 – 75. Some with instruments, some without. We had no way of knowing this many people would come in advance, so I had about 10 minutes to assess the space, and formulate a plan for the 2 hour masterclass. Each member of my band is a engaging educator, so we broke the group up and in a speed dating style, rotated the groups and gave them 15 minutes to lean each musical element with their voice, body, and or instrument, then for the second hour, we came together, reflected on the first hours experience, then launched into an amazing jam integrating everyone and creating a vibration that could have thrown the earth off its axis. 🙂

Detail the music you wrote for the Siberian orchestra and how that all came together.
I first traveled to Russia for the state Department. We played a concert for the U.S. Ambassador, and some festivals around the country including Krasnoyarsk, Siberia. While in Siberia I connected with some people who were interested in my work, and I was invited to teach Masterclasses there in December 2012. Someone suggested I read the novel by Bulgakov, The Master and Margarita. I was intrigued by the chapter of the devils ball where the Author described a one hour annual celebration in a great hall with Strauss and his orchestra in one hall, and a jazz band in another hall. I began to imagine, " what if my band was invited to the ball, what music would we play?" And I wrote that music. I also wrote themes for the main characters in the book.
(Editor's note: LaFrae recently wrote that the Putin government has now banned the novel "The Master and Margarita" – the first time that's been banned since the draconian Stalin government.)
I returned to Siberia that summer and taught at a camp for village kids 10 hours out of the main city. Unpaved roads through beautiful, natural nothingness. I met later with the music school director and the head teachers and pitched the collaboration, then I secured the sponsorship of the festival there, which is the largest international festival in Russia that almost NEVER has American participantsts. Next I wrote the American Ambassador appointed by Obama, Hon. Michael McFaul, and he answered my email within 30 minutes on a Saturday, the weekend before the New Year- the biggest Russian holiday season. I'm grateful that this international musical collaboration also has international partnership in funding. It is my dream come true.
Dig LaFrae Sci & 13th Amendment in performance in Paris…
http://culturebox.francetvinfo.fr/sons-dhiver-2014-lafrae-sci-and-the-13th-amendment-147925