The alluring city of Perugia is the capital of the central Italian region of Umbria. Located approximately equidistance between Rome and Florence, Perugia covers a high hilltop with magnificent views of the verdant valleys below from numerous vantage points. In 1973 a group of intrepid jazz fans founded Umbria Jazz, much in the manner of grassroots jazz enthusiast formations and volunteerism-generated efforts down through the history of jazz music's inherent fan base. Now 50 years later Umbria Jazz has established a rich tradition as one of the signature events in the jazz festival firmament, the tall, distinctive presence of founding member Carlo Pagnotta still at the helm.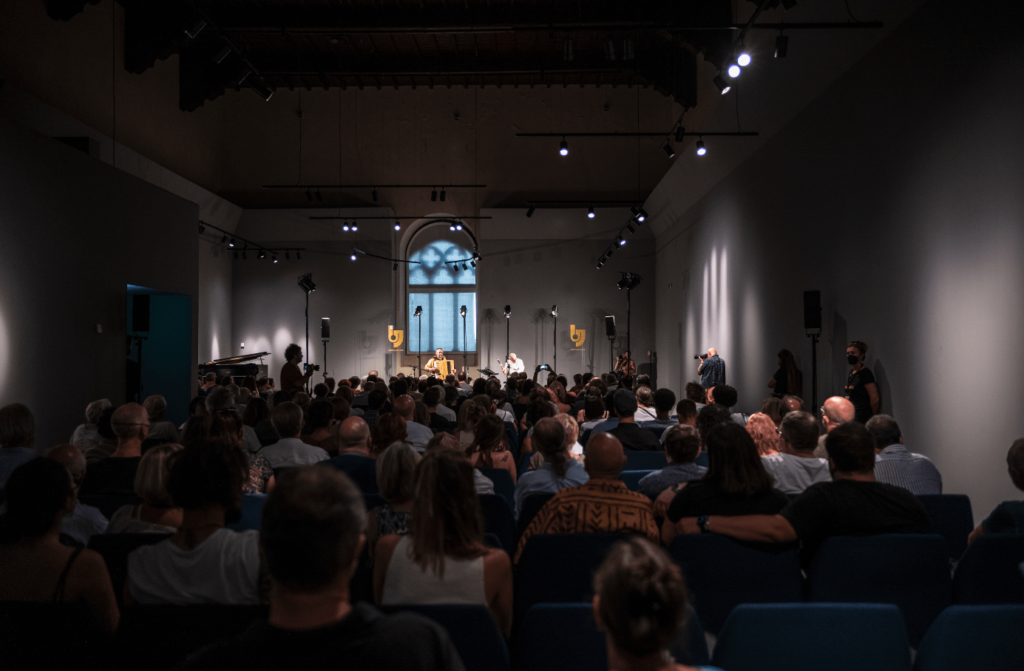 The scene at the Galleria Nazionale daily matinee concerts
This year's 50th anniversary Umbria Jazz ran July 7-16, with ticketed programs primarily taking place at noontime and 3:00pm at the Galleria Nazionale dell'Umbria for the Jazz goes to the Museum daily series, 5:00pm at the classic opera house Teatro Morlacchi, which dates back to 1781, and at 9:00pm down the hill (accessible by escalator, which jazz romanticism suggests may or may not have been the inspiration behind Carla Bley's opus "Escalator Over the Hill") at Arena Santa Giuliana, an open air facility and soccer stadium.
The Arena facility is quite comfortably configured for Umbria Jazz, with a patio restaurant and bar just outside the admission gates, and Jumbotron performance viewing options that are particularly inviting for those in the back rows of the venue's 5K seating capacity. In between times there are free public performance spaces at each end of the teeming Corso Vannucci, Perugia's bustling main promenade with it's steady stream of festival revelers. With the huge free Piazza IV Novembre stage at one end, and the bustling nightime scene at Giardini Santa Giuliana at the top end of Corso Vannucci, and the main festival hotels, plaza restaurants, inviting retail, and numerous gelato shops in between, the Corso is the main festival artery linking all of the performances. This festival geography lends itself to a splendidly inviting scene, quite encouraging to those who may wish to simply ease into one of the cafes or ristorantes that line Corso Vannucci, have a gelato, a pizza, or perhaps a Campari spritzer and gaze at the passing crowds.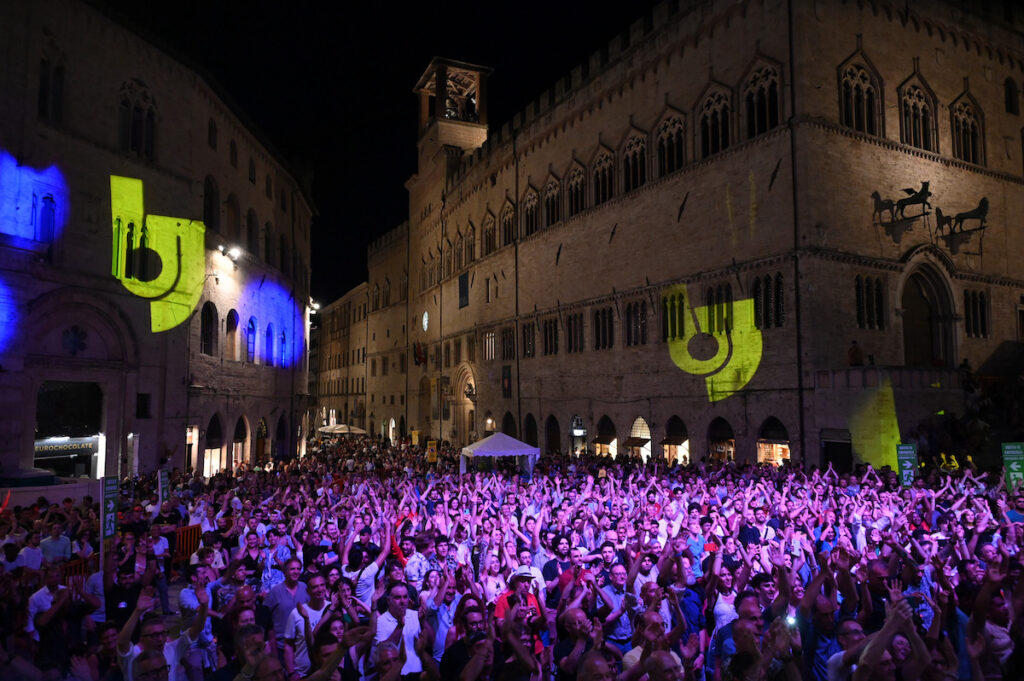 The Umbria Jazz scene on a typical evening on teeming Corso Vanucci
The series of escalators which wind down the hillside to Arena Santa Giuliana through the brightly-lit cave interior also provide a glimpse of Perugia's Etruscan-era past with its distinct brick work and ancient architecture, interrupted by a few tasteful shops along the way. All contribute to the unmistakable charm of hilly Perugia, with it's magnificent vistas on each side. This is a walking town par excellence; across the ten days mercifully the only times we encountered vehicular traffic was the roundtrip to the airport in Rome (approx. 2 hour drive), easefully crossing the street to the Arena, or the occasionally gripping sight of a car gingerly navigating Etruscan-era pavement, often at seemingly impossible angles; it was actually a quizzical treat witnessing a few cars daring those moves, even more so the occasional small tour bus!
A major attraction to visiting Perugia is the array of culinary delights. From basic pizzas (order it in Perugia at any one of dozens of options and you'll never go near or call a Pizza Hut or Dominoes again!) to incredible plates of an array of pastas; and any trip (in season of course) you gottta have the pastas with truffle sauce at least a half dozen times before you leave! Recommended place for that: La Taverna. Perugia is a gourmand's delight of great variety. Musicians, crew and assembled media eagerly dined twice daily at La Rosetta, the central festival hotel. And the nightly scene at the lovely bar and terrace cafe at Hotel Brufani, adjacent to the happenings at Giardini Carducci was an opportune site for catching up for a chat with festival musicians.
The late night sets at Giardini Carducci (last hit at 12:30am) featured a rotating cast of Italian artists and visiting U.S. bands, including a contingent from New Orleans. At this year's Umbria Jazz the nightly band at Giardini Carducci that made many friends was the big fun assemblage known as Mwenso & The Shakes, led by the magnetic, excitable singer-bandleader Michael Mwenso. Many of the artists who play the big stages at either end of the Corso are esentially in residence throughout the festival, playing a carefully curated rotation of slots between the two platforms. That band rotation also included the highly entertaining South Carolina-based unit known as Ranky Tanky, which specializes in jazz-influenced arrangements of traditional Gullah music. After midnight intrepid nightowls were treated to nightly jam sessions anchored by the "Dear Dexter" Quintet of Italian musicians inspired by tenor titan Dexter Gordon. The Plaza IV Novembre stage often hosted high school and college student ensembles in town for Umbria Jazz's robust jazz education intensive anchored for years by Berklee College of Music. Late nights at the Arena Santa Giuliana free "after shows" featured many of the bands from the rotation of bands playing up top on the Corso.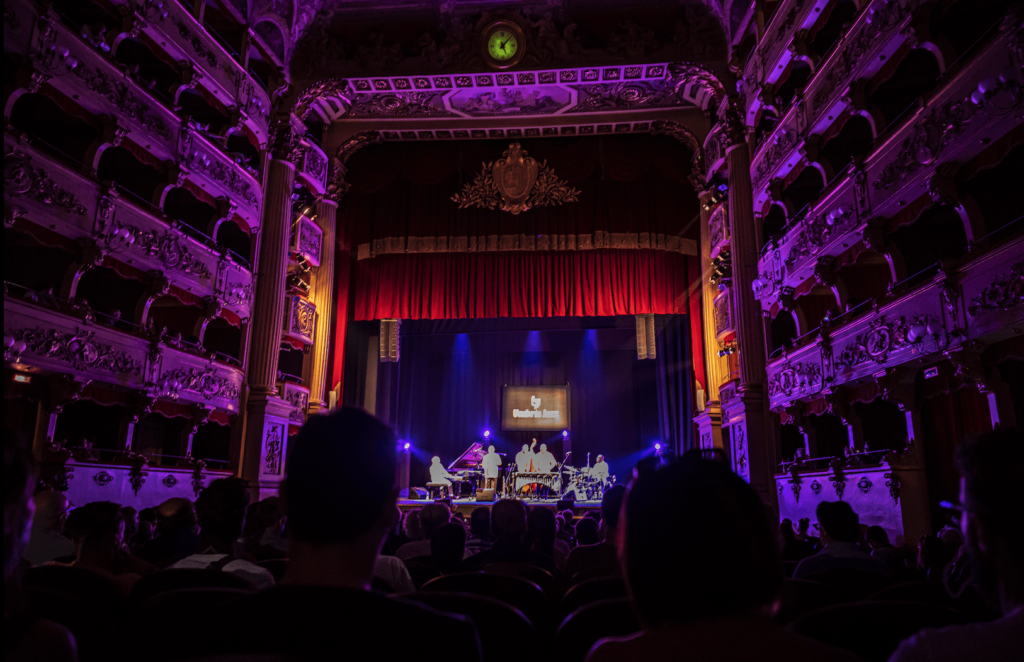 The historic Teatro Morlacchi provided many Umbria Jazz 50 highlights
Teatro Morlacchi hosted one of the festival's peak performances, delivered by one half of Wayne Shorter's longtime quartet, pianist Danilo Perez and bassist John Patitucci, joined by drummer Adam Cruz. And you know their setlist had some sweet nods to the grandmaster Wayne! Morlacchi proved to be likewise a marvelous platform for Spanish pianist Chano Dominguez's tribute to Michel Petrucciani. Speaking of piano trio music, none is more resplendent than the masterful Kenny Barron Trio, with Kiyoshi Kitagawa on bass, and the very-promising young Savannah Harris on drums. Our Teatro Morlacchi experience topped off with the uncanny guitar master Bill Frisell's "Four" project with Gerald Clayton on piano, Greg Tardy on clarinet and tenor sax, and Jonathan Blake on drums. Sunday evening's Teatro Morlacchi treat was another of the 3 festival love-ins we heard this summer from the young wunderkind voice of Samara Joy. I had previously been impressed with her luxurious lower register. This time she thrilled with her resplendent upper register as well, not to mention her easeful sense of command. And to think she's literally just getting started! Don't allow yourself to get bamboozled by some sense of "flavor of the month" with this young comet; she is the absolute truth!
Our first day in Perugia delivered the rangy edge of South African pianist and Blue Note recording artist Nduduzo Makhathini. He was followed at 3:00pm by one of Italy's essential jazz musicians, the bop-informed , ever swinging Dado Maroni, a master of the blues aesthetic. Other Galleria treats were delivered by the "Dialogues Delight" duo of vocalist Olivia Trummer and drummer Nicola Angelucci, delightfully edgy Cubano pianist David Virelles solo.
Sunday evening brought Herbie Hancock's summer tour to the Arena for an evening that opened with the charming Afro-centricity of vocalist Somi. Herbie's performance delivered a set list with a distinctly retrospective aspect, per reports of other sightings along his 2023 tour trail, including such gems as trumpeter Terence Blanchard's – who blew an electronically-enhanced trumpet throughout – kinetically-charged arrangement of Wayne Shorter's "Footprints" as a tribute to Herbie's "best friend", "Cantaloupe Island", "Actual Proof", and the seemingly obligatory keytar-processed Hancock vocal on "Come Running to Me," an exercise that has frankly grown quite tired. Herbie, if you need a vocal element there are all manner of qualified "guest singers" you might call upon… perhaps even show opener Somi! New drummer Jaylen Petinaud was a fresh revelation. Bassist James Genus and the endlessly inventive guitarist Lionel Loueke rounded out Herbie's top shelf cast.
Two of the highlights of the nightly Arena Santa Giuliana shows were provided by the brilliant double-billing of the Branford Marsalis Quartet and the Brad Mehldau trio Tuesday evening, and the amazing Rhiannon Giddens, whose vocal and banjo prowess are a true force of nature. She truly embodies the Duke Ellington adage of being "beyond category". Branford's longtime quartet of pianist Joey Calderazzo, bassist Eric Revis, and drummer Justin Faulkner deliver on the time-honored benefits of having a long-term, stable band. And it was great seeing them hang out together at the Brufani before and after their performance. These four musicians have worked out uncanny lines of communication that they navigate comfortably with great gusto. Ditto Brad Mehldau's trio with Larry Grenadier on bass and the facile Jeff Ballard on drums.
Drummer Stewart Copeland made many in the audience yearn for the decidedly missing element of Sting's voice (some of us fondly recalling in our hearts & heads that great evening at the same venue (though different configuration) years ago when the Police mastermind fronted the Gil Evans Orchestra (with Branford in the band). Copeland's charge was leading a program billed as "Police Deranged for Orchestra," the "deranged" part perhaps alluding to Copeland's manic presence on traps and leading the orchestra, members of which appeared properly bemused by Copeland's excited mania.
Umbria Jazz 50th anniversary certainly flew its banner high as one of the real highlights of the European summer jazz festival circuit.