Trumpeter Mike Wade is based in Cincinnati, OH.  I first heard Mike as a judge on the old BET Jazz show Jazz Discovery, a show which invited unsigned jazz artists to compete via video submissions before a panel of judges.  Mike has gone on to perform with all manner of jazz royalty, and R&B notables, as well as within his hometown DC-centric go-go music tradition.  His affiliations have included David "Fathead" Newman, Gary Bartz, Mulgrew Miller, Rene Marie, Marc Cary, Bootsy Collins, and Ricky Wellman.  For his latest release Mike Wade has further expanded his stylistic umbrella to embrace the New Orleans brass band tradition to produce his new Nasty Nati Brass Band release, a Cincinnati take on that indelible sound.  Clearly some questions for Mike Wade are in order.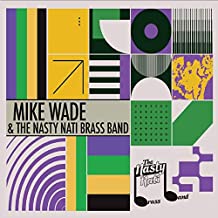 Mike Wade & The Nasty NATI Brass Band
This record represents a bit of a departure from your previous efforts.  What was the idea and the plan for this Nasty Nati Brass Band record?
 The ultimate plan and concept for The Nasty NATI Brass Band is to pay homage to the Midwest horn bands of FUNK music, capture the rich, syncopated rhythms and joy of the New Orleans second line, blend the strong, driving rhythms of DC Go-Go music (MY HOMETOWN), and last but not least always create and have the presence of funky Latin rhythms as inspiration! These are the four musical building blocks that we THE NASTY NATI BRASS BAND hang our hat on. We plan to record two more CD's this year (2021). Another TNNBB CD and a TNNBB Christmas CD.
There's obvious inspiration here from the New Orleans brass band tradition.  What was it about that tradition that you wanted to bring to this project?
 Mainly to create music inspired and enriched with the incredible, contagious ability that the New Orleans second line has to bring people together for a good time, NO MATTER WHAT!
When I hear the spoken word of Dr. G. Scott Jones on this record, I'm reminded of one of the voices in the Last Poets.  Talk about the spoken word element on this record, and particularly your social justice intent. and whether the Last Poets were part of your inspiration.
 Dr. Jones wrote the music for our Tribute to Tamir Rice. I created the groove fir this song and the arrangement. The poet is Maurice Suttles, a former student of mine in high school, that played tenor drum in my Drumline. Maurice has recorded three of my CD's since graduating from high school.
These are Dr. Jones responses: The melodic concept is influenced by the music of John Coltrane. The desire to include spoken stems from years of studying Gil Scot Heron, The Last Poets, and Charles Mingus.
Our intent for social justice as a group is through music try to get people to listen to each other and understand the pain and suffering that exists in all of the terrible incidents that have taken place and continue to take place among these cases.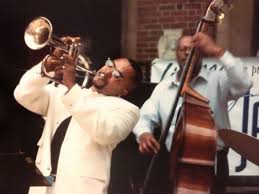 You've contributed several of the arrangements on this record, but have kind of deferred to the whole, rather than have this be a complete showcase for your trumpet artistry.  What was your overall sense of this record in that regard?
My overall sense of not showcasing all of my trumpet artistry on this CD is to SHOWCASE more my ability to produce, bandlead, compose and arrange great music projects to the world. As we go forward in music production, they'll be plenty of opportunities to add more of my trumpet artistry within our productions, but only if needed and desired through our compositions and concept.
Do you view this Nasty Nati Brass Band as an ongoing project or a special one-time project, and what are your plans going forward?
This recording is one of many recordings that TNNBB plans to record. This is definitely not a one and done band or project. We're just getting started!
You've spoken about your efforts at, as you characterize it: "introduce other talent, musical styles, group collaboration & group musical concepts".  Please tell us about your work in that regard.
I have a CD called Mike Wade "Reality" where I collaborated with two different production teams and The REALITY BAND who recorded 4 to 5 songs in the studio to finish the CD off. On this CD I challenged rappers to create original raps to original music that also used different arrangements and road maps from top to bottom. I also challenged myself in my approach to these tracks, from creating selective horn parts to heavy or sparse improv. The Band was challenged because we had to sound and do a bit more than just cover our material, we had play in such a way to where the band did not come off sounding dated. In the end, I introduced several new rappers to the world, created some original music that was blended with a few old famous jazz samples and several different styles of music! Mike Wade's "REALITY" CD is available at 
www.mikewademusic.net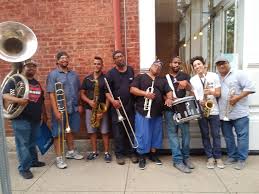 Is this brass band project something you are planning on taking on the road?  And do you ever envision this as New Orleans-style marching band music that you'll literally take to the streets?
 The Nasty NATI Brass Band is first and foremost a BRASS BAND! We do funerals, weddings, parades, etc., etc. just like any BRASS BAND for our communities! I have and plan to continue to take the Brass Band on the road. We've performed at Blues Alley in the Georgetown section of Washington, D.C. before the pandemic! We've performed in West Virginia opening for the Force MD's and Dru Hill. We've performing in Louisville, Lexington, Akron, Cleveland & Columbus, OH. As far as taking New Orleans second-line to the streets, this group has been there and done that, and continue to do that!!!!!